tomsm44
Trad Bowhunter
Member # 36742


posted
---
I haven't really been in a position to buy any bows for a while, but I still like watching the used market. I came across one on the big auction site last week though that caught my eye.

It was a recurve that was spray painted camo and the only information in the description was "vintage longbow". I looked the pictures over real well and decided I was at least 95% sure of what it was, a Ben Pearson 709 Hunter, and there weren't any obvious signs of abuse or major issues.

The asking price was around $70 and it had an option to make an offer. Since paint could potentially hide defects, I decided to offer $50, and after one counter offer, the seller agreed to $55. I figured even if it ended up not being shootable, I've spent that much on decorations before, so I could hang it on the wall and not be out too much. It arrived yesterday, and I could tell even with the paint that I'd been correct about it being a BP Hunter. Here's how I got it: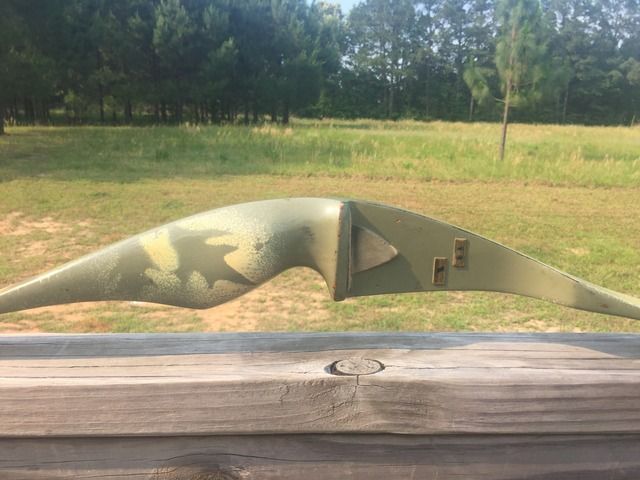 This was my first bow with paint on it, and after asking around with guys that had dealt with it before, I settled on lacquer thinner and extra fine steel wool as the safest option to remove the paint without damaging the bow. I was curious as to the draw weight, so I cleaned off left side of the grip and got my next good surprise. 47#, my absolute favorite hunting weight. Literally, I have one custom bow where I specified the weight, and its 47#. Couldn't get much luckier than that.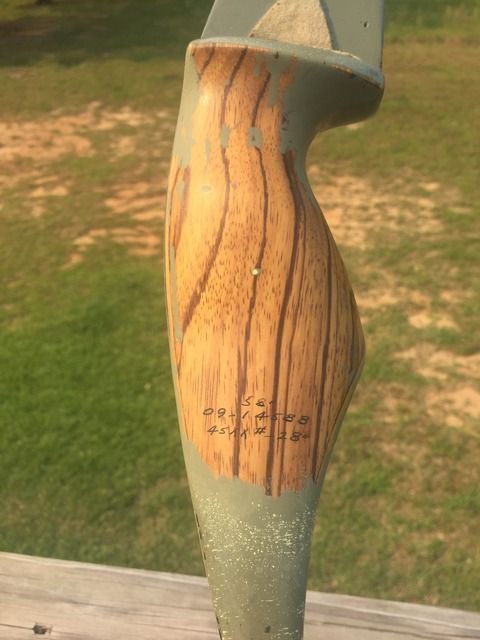 After removing the rest of the paint, I found it to have no major issues. There are a few dings in the riser, a little crazing in the clearcoat on the backs of the limbs, and some very faint stress lines in the glass near the riser. Overall, it's a really nice bow, especially for $55. I've seen this model bow in similar condition go for $125-$150, and slightly better condition as high as $300 recently. I'm tickled pink at how it came out. I did rub all the way through the clearcoat in a couple of spots where the paint was tougher to get off, so I'm in the process of putting a few coats of poly on today. I did get a few shots off of it, and I think I may have a new go to hunting bow come October.

Ben Pearson 709 Hunter
58"
47#@28"
Zebrawood riser, black glass back, green glass belly.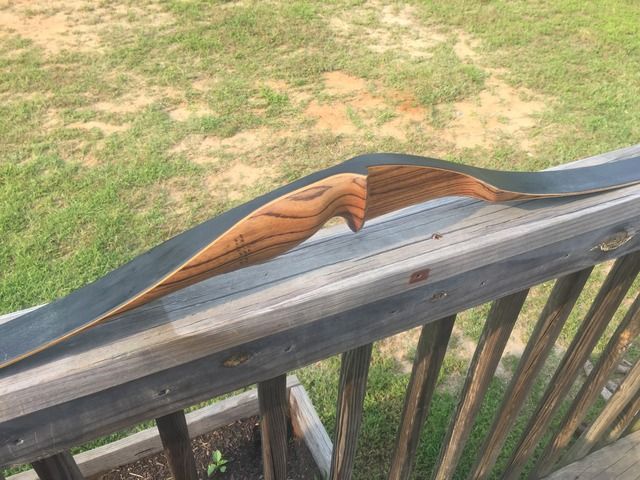 Here she is on the rack above her 42# little sister that I already had. A pair of BP Hunters at 42 & 47# should make for a nice primary and backup bow when the leaves start changing. .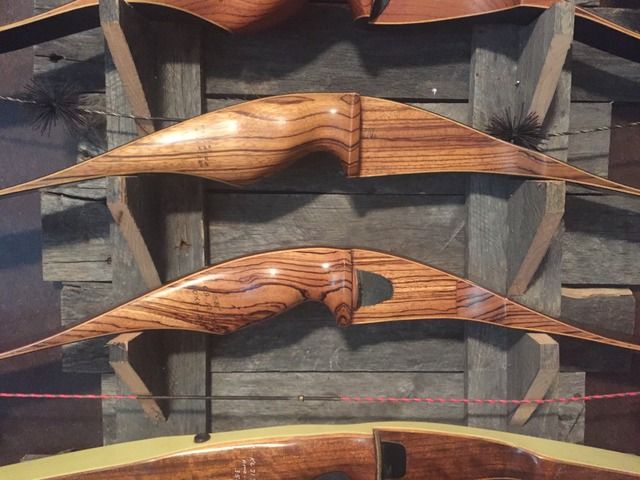 --------------------
Matt Toms

Flatwoods Custom R/D: 64", 47@28
'66 Kodiak: 60", 55@28
Redwing Hunter: 58", 53@28
Ben Pearson 709 Hunter: 58", 47@28
Ben Pearson 709 Hunter: 58", 42@28
Hoots Recurve: 56", 42@28

---
Posts: 1331 | From: Ackerly, Texas | Registered: Jul 2012 | IP: Logged |