tim roberts
Assoc Sponsor
Member # 6228


posted
---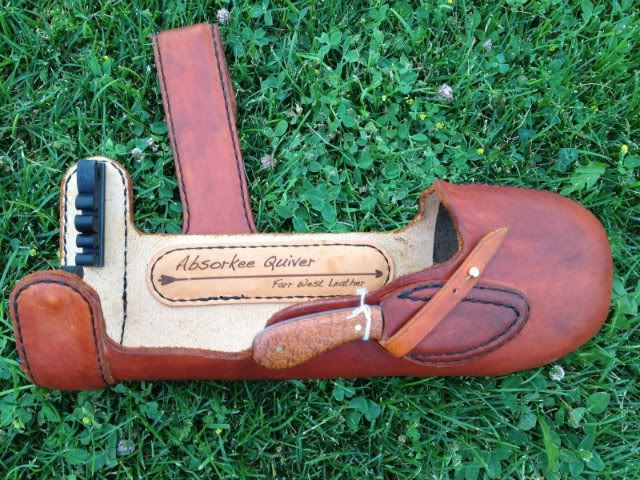 For sale an Absorkee Quiver with Knife. The knife is one that I get from Skullworks, and has an Xlay Afzelia handle, the blade is 1095.
The Quiver; This is the Absorkee Quiver developed and made by Farr West Leather, with a lot of help from Mark Baker! It is a 5 arrow quiver that slips over your belt, pack belt, or can hang from your pocket. This is a hip type quiver that does not require the user to get undressed to put it on or take it off!
This one is $250.00, shipping included.
All products made by Farr West Leather are made by hand to insure the highest quality, and to give each piece it's own unquieness.
Any questions please feel free to send me a message,
Thanks for looking, and supporting the Sponsor's Classifieds!

--------------------
Tim

Farr West Leather

TGMM Family of the Bow

I guess if we run into the bear that is making these tracks, we oughta just get off the trail.......He seems to like it!
My good friend Rudy Bosner, while hunting elk up Indian Creek.

---
Posts: 1157 | From: >>>>Livin' in Utah-Huntin' in Montana!-------> | Registered: Apr 2005 | IP: Logged |