Hooked
Assoc Sponsor
Member # 1227


posted
---
Hi, everyone! Been a while...last couple years I haven't been on here much and haven't accepted any new orders for the carving/wood burns that I do. Job and family stuff cut down on my time to spend on the computer and to do my art. I see alot of familiar names and alot of new ones. It's good to be back!

Got a little burnt out on the wood burning. At one time a couple years ago I had 25-30 orders on my waiting list who had sent in deposits. I think having all those to do weighed on me and contributed to my burn out. So, this time around I am going to do things a little different. But I am excited to be taking orders again!

This time I am only going to take one or two deposits at a time. If there is enough interest, I will keep a waiting list of people to contact as I finish each piece to see if they are still interested.

Of course, the first question I get is always price. Until I see what you want me to do, it is really hard to give you a definite price, but I will try to give you some ideas of where I start. For a Carve/Woodburn with one person and an animal, two people, or two animals with limited background detail I start at $400. The actual area of the carve/burn is usually about 8 x 10. I can do straight burns with no carving on archival watercolor paper (this is really thick paper and it burns great, just doesn't smell as good as burning wood, lol) or wood. I would start at $300 on those, but, again, alot depends on the photo you want done.

I do require a 50% deposit. Then when it is near completion I will ask you to send the remaining amount. The deposit is nonrefundable once I start your piece. I will gladly return it for any reason before I start your piece.

The piece below would be a good example. It took me over 60 hours. So, even at $400 I am only making around $6 per hour.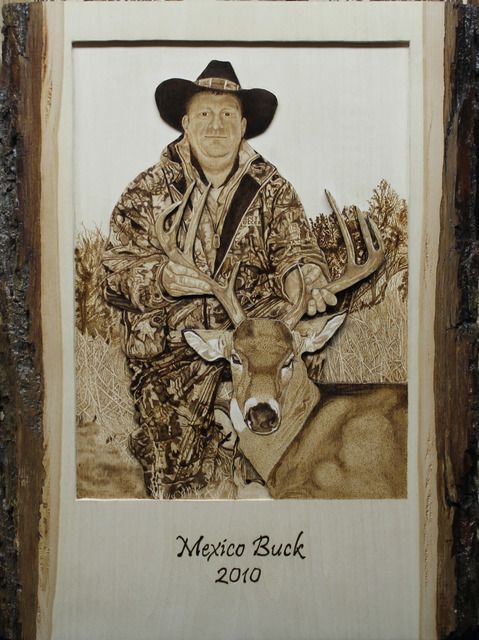 Second question is always about time frame. I don't give a definite completion date. I do this around work and family, so the amount of time I get to work on them can vary quite a bit from week to week. I will try to give you a guestimate on time frame. If you have sent in a deposit, it is nonrefundable once I start your piece. I will gladly return it for any reason before I start your piece.

some more examples:

Ya'll may have seen the post I did years ago on making this one, it was brought back up to the top yesterday. I can't remember the exact size, but I know it was bigger (had to be to get Biggie in the pic, lol) and had lots and lots of trees and brush, etc. This one took me atleast 120 hours and that is a conservative estimate. Today I would probably charge $1000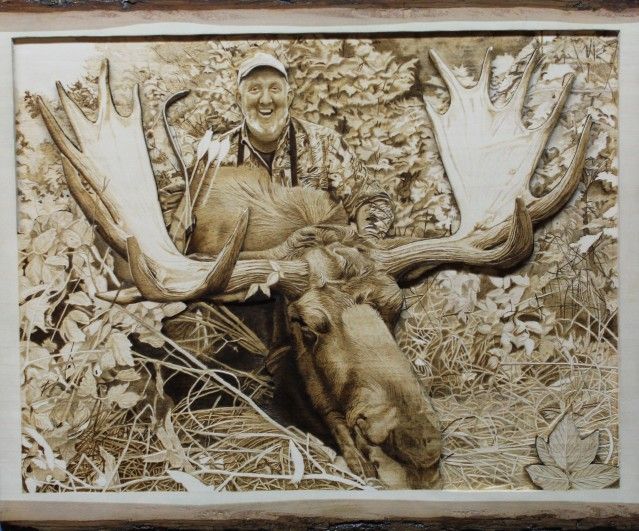 I just completed this one for a repeat customer, Buff. It is similar to Biggie's because there was tons of background detail but it is the normal 8x10 size. He paid $700.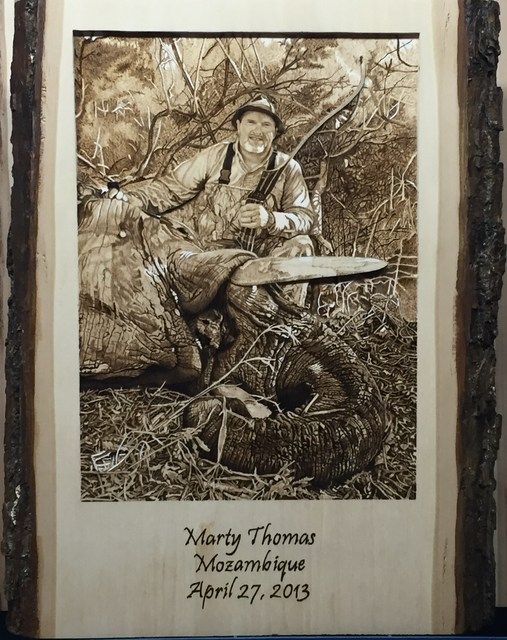 following posts will show case some of the pieces I have done in the past for TradGang members.

--------------------
"But, the bestest doctor of all is God!" Katie Jones (7 years old)

---
Posts: 1375 | From: Olathe, KS | Registered: Jun 2003 | IP: Logged |