This is topic Who's killed a cougar with trad gear? in forum Dangerous Game at Trad Gang.com.


To visit this topic, use this URL:
http://tradgang.com/noncgi/ultimatebb.php?ubb=get_topic;f=10;t=000353

---
Posted by Etter (Member # 26482) on :

Me and a good buddy are booking a hunt for lions in Idaho with Korell Outfitters. We're going in February of 2013. I just took up trad shooting and am hoping to be hunt ready come next deer season. Has anyone killed a lion on here? How far up are the typical shots?

---
Posted by Rabob (Member # 3654) on :

I took a Lion in Colorado back a few years ago.I was hunting in area 61 with Garvey Bros Outfitters.The shot I had was about 60 feet up in a cottonwood tree.Make sure you practice shooting up in a tree.Good hunting.

Regards,Ray

---
Posted by Steve H. (Member # 362) on :

One in 1992 in Wyoming, shot was pretty close, maybe 15 feet up and 25 feet from the base of the tree.

Second cat was 2009 in Arizona. Cat was way back in a "cave" in fractured rock after baling twice from trees.

---
Posted by mnbwhtr (Member # 9523) on :

Mine was shot about 30 ft. Cat was maybe 15 ft up the tree. The shot will be an anti climax, it's all about the dogs and the experience!

---
Posted by Flatshooter (Member # 10184) on :

Took mine in AZ in 2006 . AZ Fish and Game aged him at 12 1/2 and that made him one of the oldest desert cats ever taken with a bow. About eighteen feet up and some twenty feet out, he dropped out of the tree and ran about 50'before falling dead. Quartering shot put broadhead just out of his right shoulder and made a "star" impression on his cheek as he apparently turned his head into it. http://s530.photobucket.com/user/EVANSON/library/

---
Posted by cacciatore (Member # 17855) on :

I killed mine in Montana under a very heavy snowfall.We walked from 6AM till 5PM down and up a canyon.The lion was some 45' up.Recurve bow and POC arrow.

---
Posted by dnovo (Member # 6889) on :

I took one in CO in '05 hunting with Fred Eichler. Shot was about 30' feet up standing 10 yds from tree. JD Berry bows with ash arrows. 7th day of a 7 day hunt.

---
Posted by Roughcountry (Member # 2496) on :

Great mount Flatshooter, most taxidermists don't do well with the big cats.

---
Posted by Tradesmen4 (Member # 5049) on :

Took mine in Idaho with steel mountain outfitters.The hardest part about shooting is blocking out the dogs barking and focus. Practice all fall and it only cost me aswimming pool liner. Arrow deflected of a target I had hauled up a tree.

---
Posted by oldbohntr (Member # 5733) on :

Like the others said, it's not the distance, it's the uphill angles. And the noise of the dogs, chasing up and down through the snow, and all the adrenalin, pure excitement! It's not your typical peaceful whisper quiet bow hunting experience - it's a zoo going on out there! And you have to calm down and hit that little spot up in that tree! It's hard to remember that cat is not likely to come down unless something makes him.....so just relax, shut it all out, and make a good shot. That said, I'd practice some steep uphill shots into tight spots on an embankment or similar slope before the hunt. There will be limbs in the way and a pure broadside shot may not be possible. Mine was only 12 yards away. Have fun.

---
Posted by mb bowman (Member # 22653) on :

Nice looking cats!

---
Posted by Walt Francis (Member # 1901) on :

MY friend Lenny Brown with the kitty he took with a Robertson Longbow




Here is the one I took, Osage selfbow, 10-12 yards 45 degree shot.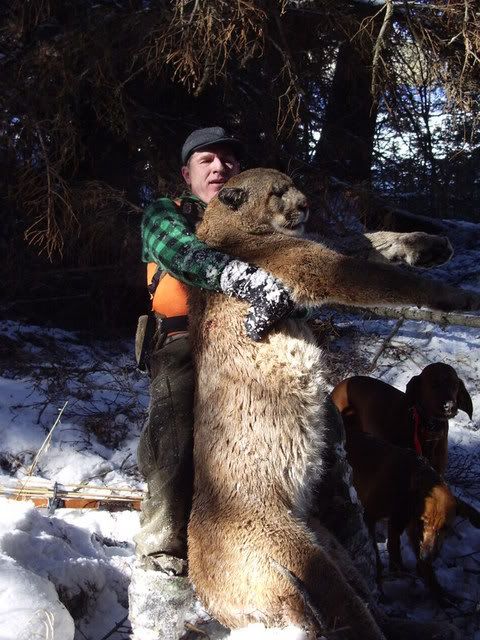 ---
Posted by FerretWYO (Member # 13052) on :

1998 here in wyoming with a pronghorn longbow.

---
Posted by twitchstick (Member # 19043) on :

There is some good looking kitty's post here. I sure wished I was hunting cougars yesterday verses cutting juniper staves. I could hear the hounds in chase while I was cutting,get's you alittle excited! This is one hunt I need to do since I live in the hart of cougar country. I have a few people I know with dogs but never could justify paying a guide and would feel guilty to have a friend take me out for free. I might just have to bite the bullet and bribe some friends.

---
Posted by SERGIO VENNERI (Member # 1441) on :

Took mine hunting in montana with Dave Windauer in 1996 at least 60 ft straight up,tough hunt physically!!

---
Posted by crazyhorse86 (Member # 21986) on :

Wow, that things a beast Walt. Im always thinking i hear one sneaking up on me.

---
Posted by tpanic41 (Member # 29498) on :

Here is one I took in Utah day after Christmas 2009. 7' 3" long, and just had him scored at 14 2/8" P&Y. Taken with a 55# Habu at 5 yds.
Never mind on the pic, not sure I have that figured out!

---
Posted by sagebrush (Member # 8194) on :

That there is a big cat Walt. Congratulations. Gary

---
Posted by Bill Turner (Member # 2264) on :

Holy, Smoli Walt. Thats a big cat. 12 yards seems pretty close for that big boy. Thanks for sharing.
---
Posted by Greg Dearth (Member # 4614) on :

I shot one in Utah the week before Christmas in 2008. Pretty neat Christmas present to myself and a great experience to boot.

---
Posted by whitetail_downer100 (Member # 14371) on :

Awesome pictures and posts gents... now I have to do this!

---
Posted by H A Hggins (Member # 3206) on :

Back in 2001, I traveled to Twin Falls Idaho.
Was able to have an awesome adventure - and even harvested this beautiful lion. The hike out was a killer - I was a bit over 1/2 way up the mt on all fours when the guide returned and took the pack with the hide and skull. Even though I wanted to pack it out, I realized there was NO WAY I was in the right shape.
I hope to do it again someday, and be in the right shape to handle those Mts.
I was a tad bit nervous, with the dogs carrying on and the guide telling me it was time to get down to business before the cat bailed - again. He also told me that the hole he would bail out of was the one I had to shoot through!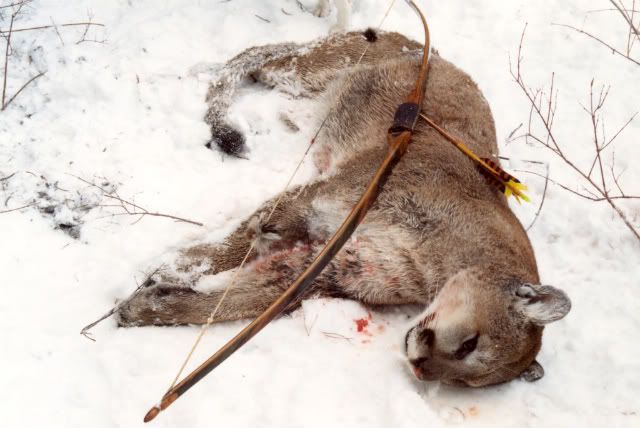 I even got to meet Mr. Ted Fry on this hunt - an awesome beginning to a trad life!

---
Posted by EL Mejor (Member # 14453) on :

CONGRATS GUYS,ALL BIG CATS,,,

---
Posted by JimB (Member # 17284) on :


---
Posted by JMSmithy (Member # 34748) on :

That's a monster on that Bushnell Game camera!!
---
Posted by chilcotin hillbilly (Member # 26010) on :

This winter Tred Barta is coming up to try for a lynx and a lion with his Trad gear from a wheelchair, it should make for some awesome TV. I will keep everyone updated of course.

---
Posted by Coonbait (Member # 18193) on :

I'd have to put the big cats on the top 5 American animals that I would love to try! But I think physically it would be TOUGH! Being a flatlander and all!
Glenn

---
Posted by RedShaft (Member # 4897) on :

coonbait.. lets go!! lol maybe someday. when i can afford it. would love to go aswell. snow, dogs, snareling cat up in a pine, bow in hand. be awsome man!

---
Posted by Jack Shanks (Member # 2168) on :

Short story of my 07 Arizona lion hunt.

http://tradgang.com/noncgi/ultimatebb.php?ubb=get_topic;f=1;t=041179;p=1

---
Posted by NormanDale33 (Member # 35078) on :

Those are some big cats. Wow! You would need some nerves of steel. Walt that cat is awesome, looks like a beast.

---
Posted by Friend (Member # 15967) on :

Nice thread!

---
Posted by Big Ed (Member # 2241) on :

Awesome fella's!!

---
Posted by Gentry (Member # 9762) on :

This will be my first year and my hounds first year hunting lions. we have done good in the past on bobs though and I got a friend thats got some good lion hounds so he is going to let us tag along this year. I would not consider shooting one with any thing other then my long bow.

---
Posted by bayhunter (Member # 34419) on :

unforunately here in cal its illegal to hunt cougars
...but id love to do it someday in another state

---
Posted by Gun (Member # 226) on :

Mine was about 12 feet up. Not much of a hunt. Been in on two others. (Friends) Didn't work up a sweat on any of them. Luck of the draw I guess. Hope you have a great hunt tho!

---
Posted by Horne Shooter (Member # 7907) on :

I killed a nice lion a couple of years ago on the Colorado/Utah border. I really enjoyed it but really the best part of the hunt was the chase and the excitement that came with it. The shot was somewhat difficult but a little anti-climatic. I'm glad I got my lion and I would love to go on another lion trip (for the chase) but I don't have any desire to kill a second one. I'll have my mount back in a couple of months and it will look great in our home.

---
Posted by Shedrock (Member # 14750) on :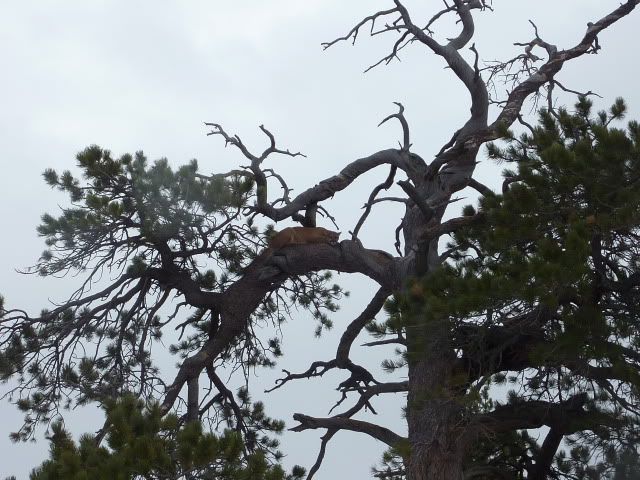 My shot was right at 20 yards.

---
Posted by Etter (Member # 26482) on :

I'm super pumped. We are going next February to Korell Outfitters in Idaho. I did end up killing a deer with my recurve this year and will be practicing really hard and working out right up until this hunt. This is a hunt of a lifetime for me. I've killed a bunch of bears, deer, and turkeys but a lion, to me, is the king of north american big game.

---
Posted by 187BOWHUNTER (Member # 36015) on :

great pics, sounds like a really good time!

---
Posted by carpsniperg2 (Member # 35888) on :

Very cool guys!!!

---
Posted by Gen273 (Member # 24602) on :

Wow, I would love to hunt one.

---
Posted by Bill Turner (Member # 2264) on :

This post comes back every year and I never get tired of it. Every time I think about lion hunting Walt Francis and his cat come to mind. Now that is a cat. Good luck and be sure you get in shape.

---
Posted by SheltonCreeker (Member # 31787) on :

Good stuff! Id like to put a cat on the lodge pole before I'm finished!

---
Posted by wyo kill stick (Member # 36929) on :

Be prepared for anything. I shot mine about 15ft up and about 10 yards from base of tree. I've had them close enough you could jump up and grab their tail to way the hell up there where you would be hard pressed to thread a bullet through much less an arrow. In the country we hunt most the lions we tree are about 15 to 25 ft up and 10 to 15 yards from the base and most of them open enough to get a good shot through.You can't be in too good of shape.Enjoy the hunt and remember the hunt is about the dogs and the country- a lion is just icing on the cake. let me know if I can be of any help.

---
Posted by Faithful (Member # 36478) on :

There are some nice cats posted here. I used to run dogs for bobcats and cougars in Oregon. It is certainly all about the dogs. Usually not much to the shooting part. However, hunting big cats in the snow is a lot of fun and a great experience, particularly if you do it with friends and family.

---
Posted by pamike (Member # 34368) on :

i killed a 200# tom in Utah about 3 years ago. shot was 25 yds. i will try to post pics later. one of my favorite hunts - awesome experience!!

---
Posted by boinky (Member # 37582) on :

there is to be ZERO discussion about any non-trad bowhunting weapons.

[ December 14, 2012, 06:29 PM: Message edited by: Rob DiStefano ]

---
Posted by Etter (Member # 26482) on :

Sorry guys. I don't know why he joined here either.

I'm so pumped up. We are less than two months away from departure for Idaho. It gets worse every day!

---
Posted by chilcotin hillbilly (Member # 26010) on :


quote:

---

Originally posted by pamike:
i killed a 200# tom in Utah about 3 years ago. shot was 25 yds. i will try to post pics later. one of my favorite hunts - awesome experience!!

---
Did you actually see it being weighed or did the guide just tell you that. ???

---
Posted by Etter (Member # 26482) on :

I have talked to dozens of outfitters in the planning of this hunt and only one ever claimed to have killed one that weighed 200lbs.

Most claim that adult toms weigh about 120lbs. These have all been Idaho hunts which are the largest cats in the US. I'd love to see a sure enough 200lber.

Not doubting you. I just know how a lot of guides and hunters exagerate.

---
Posted by Etter (Member # 26482) on :

Not long now!!!!!!!!!!

---
Posted by gehrke145 (Member # 13879) on :

Haven't killed one but I've seen one or two. As far as weight goes, it really depends on where your hunting. The high country cats I hunt are way bigger then the ones in the desert country.

---
Posted by jon (Member # 3414) on :

These are some nice cat pics. Got a tag that I drew in my pocket and I'm just waiting for the right track. Been looking behind my house(unit 200) for 3 weeks. The houdsmen are in another unit because of these %#&* wolves. One of them lost 3 dogs that had treed a cat to the wolves last week. The biggest one I have personally seen was shot by a 12 year old girl last month. They ran it for 3 days and it was a real monster, easily pushing 180#'s. I have a pic if anyone can help me figure out how to post it.

Jon

---
Posted by JimB (Member # 17284) on :

Make sure it was a trad kill if you post it.

---
Posted by Etter (Member # 26482) on :

Getting pretty concerned about the snow conditions in central Idaho.

We are leaving this thursday.

---
Posted by freebird134 (Member # 37942) on :

Great thread! I'm from Idaho originally but never hunted cats there. One day!

Where abouts are you going? Unit/town?

---
Posted by Etter (Member # 26482) on :

We hunted near Lowman and Garden Valley. I'm sorry to report that I didn't get a lion. We had no snow to speak of and had to bare ground hunt the entire time. We did tree an adult female on the first day and I lost the coin toss to my buddy who killed her. It was awesome.

I saw thousands of elk, mule deer, whitetails, and walked a TON of miles in those mountains. Our guides were incredible with great dogs but without snow, lion hunting is nearly impossible.

Even without a hide to bring home, it was probably the greatest hunt of my life. I will be back for sure.

---
Posted by Etter (Member # 26482) on :

I do want to add for sure that if somebody is looking for a good lion hunt in the western US, Korell Outfitters is who you need to call.

I'm certain that the only reason I didn't get a shot at a good tom was because of the horrible snow conditions.

I know hound dogs, and have walkers myself and these guys are the best houndsmen I've ever met. They have an awesome bear hunt as well. Do yourself a favor and consider them for your next western big game hunt.

---
Posted by TxAg (Member # 17471) on :

Sounds great....i have this on my to-do list

---
Posted by shirikahn (Member # 25196) on :

We have a long season here in Wa state...I've never went after one, but will as soon as I have all my gear up!

---
Posted by Horne Shooter (Member # 7907) on :

I took one on the Colorado, Utah border a few years ago. He was probably 25 ft. up in a tree and (as said before) the hardest thing was that there were dogs barking and people getting in position and telling me "not yet, not yet". Anyway I (fortunately) made a good shot. It was a very exciting hunt!

---
Posted by grizz (Member # 3532) on :

I finally managed to harvest a nice tom just last december. Get in shape, practice shooting uphill at a steep angle, and last, have patience!

---
Posted by DGW (Member # 14270) on :

Shot one in Utah early 90s with a Bighorn recurve and one in Colorado with a Robertson longbow, The Colorado hunt was with Lyle Wilmarth 2002 and finished my big eight in Colorado, a personal goal.

---
Posted by brianbfree (Member # 41764) on :

I jumped one last year while deer hunting crazy close he jumped across a creek bed and all I could say was Holy $h!t its a lion.

Brian

---
Posted by Lady Frost (Member # 43292) on :

WOW

---
Posted by acolobowhunter (Member # 14760) on :

I got a nice tom after chasing them for 3 years. I got up on several smaller lions but just took photos. I held out for a bigger one. We put on MANY miles in deep snow throughout those years. Finally got a big tom, but he missed the book by 1/8". That was OK, just wanted to get a nice one. Had it mounted on a ledge, similar to the mouth of a cave. He is stretched out about to eat a grouse under his left paw, with feathers on his whiskers. Several other bones around him, like this is his place to rest and eat.

---
Posted by aim small...release (Member # 40733) on :

That sounds like an awsome mount! Do you have a picture of it?

---
Posted by Horne Shooter (Member # 7907) on :

I killed one about 10 years ago with Randy Horne hunting with me. We were on the Colorado/Utah border (on the Colorado side). Really enjoyed the hunt. Hunting with dogs was interesting as they seem to enjoy it more than the hunters. Like everyone said, practice the shot because it's unlike most of the shots you normally take on game.

---
Posted by HornHunter (Member # 768) on :

I took one back in the early 90's
probably the tougest hunt I have ever been on
treed him twice bailed both times, chase went 10 hours, and traveled 10 miles,started off with 5 dogs and 7 people, I shot him backed out on a cliff ledge with two dogs (pups) and by my self just before dark
but he was a good one measured 8 foot from head to tail, skull qualified for B&C


---
Posted by Paul Collins (Member # 174) on :

I'm not sure it makes sense to post something that is bound to be unpopular, but hunting cats with hounds is the one type of hunting where I am hesitant to use arrows. The dogs will get tied up before a shot with an arrow, but if the shot is bad, the cat will jump and the dogs will have to be cut loose. An arrow sticking out of a cat with hounds mobbing it is bad business. Your call, but I choose to leave the bow at home for this kind of hunting.

---
Posted by HornHunter (Member # 768) on :

You've never hunted lion

---
Posted by Paul Collins (Member # 174) on :

Sure have. And have a close friend who is a serious houndsman.

---
Posted by Etter (Member # 26482) on :

Even a very big cat is a very thin critter. I cant imagine any of my arrows not passing through a cat no matter where it was hit. I recently had an arrow pass through both scapulas of a black bear and sail on out across a valley. With a tree shark! I doubt a lion could be any worse.

---
Posted by Etter (Member # 26482) on :

Besides, if a cat gets to fight the dogs on the ground, the arrow is probably low on the list of concerns

---
Copyright 2003 thru 2018 ~ Trad Gang.com ©

Powered by Infopop Corporation
UBB.classic™ 6.7.1