This is topic Hog Wild @ Wild Things '13 - the Truth and nuthin' but the Truth in forum PowWow at Trad Gang.com.


To visit this topic, use this URL:
http://tradgang.com/noncgi/ultimatebb.php?ubb=get_topic;f=1;t=134013

---
Posted by rbcorbitt (Member # 35446) on :

Okay fellow TG members! Thread is up. Forgive me, as I and several of the others are just getting in from traveling!

Hogs - yes, there were plenty of hogs. Successes - that is all subjective, but, yes, there were successes!

New friendships made - oh yes!

And so, the stories (and pics) shall begin!
---
Posted by Bisch (Member # 17432) on :

Tuned in!

Bisch

---
Posted by huntnmuleys (Member # 11779) on :

yep, im listening...

---
Posted by sticksnstones (Member # 24842) on :

I'm not exactly sure how 9 guys are going to tell one hunting story, but I'll start off with the cast of characters to help everyone follow along:



From left to right:
Thom - sticksnstones
Terry - Terry Green
James - Nattybumppo
Joe - smokin joe
Tom - suburbanirma
Bud - Bud B.
Brian - Bel007 (aka Big Sexy)
Bob - rbcorbitt
Todd - herndondt
Andrew - TrueBlue
Harry - the wonder dog

---
Posted by Cyclic-Rivers (Member # 21222) on :

I recognize a few folks here
---
Posted by Aggie1993 (Member # 9164) on :

This should be good!
---
Posted by rbcorbitt (Member # 35446) on :

First and foremost, a BIG THANK YOU!
to the companies, TG Sponsors and others, who made this trip such a success!

No particular order here.

Steve Angell, SimplyTraditional.net
Andrew Harper, Hunt Wild Things
Big Jim, Big Jim Bows
South Cox, Stalker Stickbows
Tim at Braveheart Archery
Tom Colstad with Trad Archer's World
Todd at Spot 360
Confederate Forge
Blue Stone Block
AllanBlock.com

I hope I have covered them all (if not, forgive me as I am just off of 9 hours of stressful traveling).

Oh yes! A big shout out to Terry Green for sharing a couple days in camp with us! Terry shared his own expertise on hunting hogs in the swamps (and Armadillos too
- Terry, Terry! Is that an armadillo hole??)"

Stories and pics to follow!

Do business with these first class folks that were so gracious to a bunch of TG hog hunters!!!
---
Posted by maineac (Member # 15727) on :


---
Posted by herndondt (Member # 34508) on :

Just let me get to a keyboard and I'll jump right in. There's way too much to type for this phone. I had a blast! More to come!!!

---
Posted by awbowman (Member # 24545) on :

Dang it Bob, I'm here wait for stories nursing my drink. Better get on with the stories or the Crown Reserve will soon be gone.

---
Posted by rbcorbitt (Member # 35446) on :

Fred,

Just sip, my friend
!

Bob

---
Posted by Nattybumppo (Member # 35027) on :

Harry ain't just a wonder dog. That's a super dog. He'd rule the world if he didn't think Andrew already did.

---
Posted by wooddamon1 (Member # 26099) on :


---
Posted by Manitoba Stickflinger (Member # 18657) on :

Somehow I think this'll be a good one!!

---
Posted by awbowman (Member # 24545) on :

SOMEBODY show me a bloody broken arrow

---
Posted by wapiti792 (Member # 8137) on :

I was supposed to be there but signed up for the St Jude's Marathon which got promptly canceled...oh well probably saved me a heart attack but COST me a hunt with this crew


Can't wait for the stories boys
---
Posted by suburbanirma (Member # 9621) on :

Great team photo, Thom! Let me say that this group of men was a most pleasant, interesting, caring and sharing bunch. Some really good yarn spinners with great senses of humor. Glad to have been there for Hog Wild Hunt #1. I had a great time, ate too well and certainly would like to do it again. I have a pic to share of the strategizing session held the evening before the start of the hunt.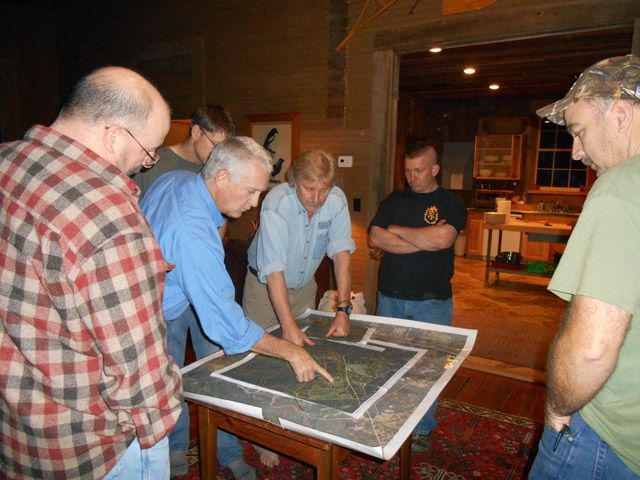 ---
Posted by Bud B. (Member # 24907) on :

Day 1

I was the first dropped off. I hunted just N/E of the new camp. The wind was hard to figure. I had to reverse course and set out in a different direction than originally planned. There was a hardwood stand encircled by mature pines. With acorns falling I thought it would be a good spot to check. Upon hitting the pines I saw a good trail. Plenty of fresh tracks to follow on the well worn dirt. I had been on this trail before at Andrew's property. I knew it led to the swamp. I followed it for a while until the tracks were fewer. Figuring the hogs left the trail I set out to find the hardwood stand and the patches of river cane set among the forest floor.

Sign was aplenty. Some old. Some relatively fresh. Some probably only hours old. I maneuvered my way to the hardwood stand hoping to find loads of fresh rooting as the acorns were everywhere. Surprisingly the only thing working these acorns were squirrels. I sat a while hoping a deer might meander by, but the only thing I saw, other than squirrels, were two turkey.

As lunchtime approached I started stalking my way back towards camp. I came upon two fresh wallows not far from where I was dropped off earlier. There was also plenty of sign of rut activity. I have never seen more scrapes made by bucks in three days of hunting.

No hogs on the morning hunt.

---
Posted by Mike Vines (Member # 7379) on :

Looking forward to all that's about to come.

---
Posted by VictoryHunter (Member # 37511) on :


---
Posted by Nattybumppo (Member # 35027) on :




First and foremost let me say something. I've not been around here long or a whole lot. I only recently met some of the people you guys hold dearly here and I am honored to have done so.

I've been hunting Andrew Harper's lands since sometime in 1999 including being apart of the lease BEFORE Terry and the guys got what they called the bacon strip. Andrew, his cousin Doug and I quite frankly may be related we know so many of the same people and have run around that country for so long...

In any case back on topic...

There is no place like Wild Things Lodge and Estill, SC. Here's a view that I truly enjoyed from drinking coffee to drinking whiskey.

---
Posted by Bel007 (Member # 21385) on :

And nine fellers stepped off into the woods in pursuit of something wild....

This would be my third trip into the woods of South Carolina's most beautiful landscape. The new camp was a treat to explore during the evening after we arrived. It features a bunk house that reminded me more of a vacation cottage and a main house that made you want to move right in and settle down into a southern retreat from the busy world you just left.

We were near the last to arrive and everyone piled out to welcome us and help us carry in out gear. I could tell right away this group was going to be fun to share the adventure with.

---
Posted by Nattybumppo (Member # 35027) on :

Day one for me- I have enjoyed hunting the low country for years. I've never killed a hog in the morning so after listening to a FEW of these guys SNORE LIKE YOU HAVE NEVER HEARD BEFORE!!! I slept in a bit. Or rather drug myself out of bed and over to breakfast... Then gradually made my way about. Andrew took Thom and I out last and dropped us off at the Turkey Foot. Thom took the center road and I the right.

I saw hog sign fresh, old, massive and light the whole road for the most part. Wallows, rubbed trees, tracks, rooting. To me it looked like the hogs were feeding mainly on acorns. And I kind of stayed on that line the whole weekend.

Towards the end of the road out to white oak stand I spotted my quarry. He was a nice one. Feeding along the edge of the road and without a care in the world.

I made my stalk. Perfect wind, light, not a sound. He just fed. Never looked up. At 10 yards or rather there abouts I got to full draw and released. I KNEW I had picked the exact hair, just perfectly in the boiler room.

Ladies and Gentlemen.

I missed.

A boone and crockett... Grey Squirrel.

---
Posted by Bel007 (Member # 21385) on :

Appetizers of humus, cheese dip, crackers, summer sausage and veggies arrived on a table by a toasty outdoor fire while our host, Andrew Harper, put the finishing touches on baked chicken, roasted taters, and carrots for a welcome dinner. A few beverages helped everyone get acquainted and the stories began flowing. Bows appeared from trunks and cases and the bow rack began overflowing. The evening stretched on as plans for the morning took shape. I would be heading for my old favorite area… the mile of pines.

---
Posted by suburbanirma (Member # 9621) on :

Andrew dropped me off last on the first morning near a couple of clearings. One was high weeds surrounded by hardwoods and the other was a green field that had pines and hardwoods around it. There was some hog sign, especially around a feeder, although there was still corn there. I climbed up in the nearby ladder stand to test it out, and the thing was very comfortable and sturdy. After guarding the feeder for a while, I still hunted through the hardwoods back to the pickup point but didn't see any hogs. Just a gazillion squirrels. Here are pix of Day 1 morning as it turns to daylight.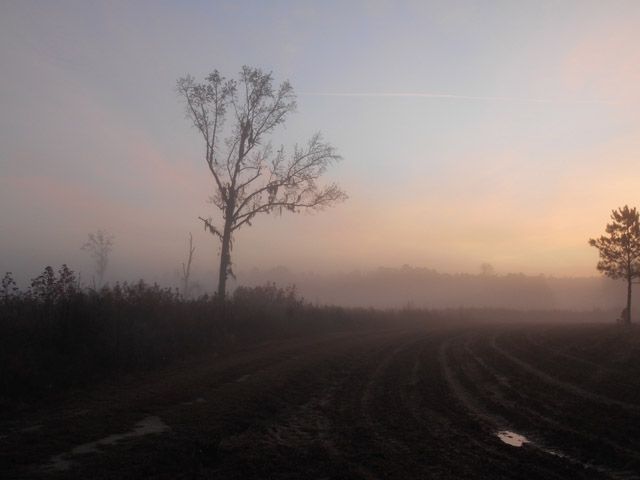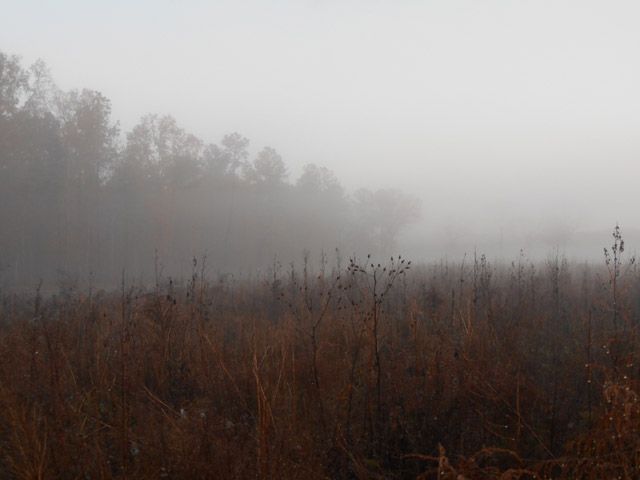 ---
Posted by Bel007 (Member # 21385) on :

The mile of pines is where the hogs like to hide themselves away, thinking they are safe and warm. I worked a zigzag through the pines, into the thick scrub areas full of thorns and underbrush, into the swales and pans that usually hold hogs. I saw little sign and no porcine creatures. The day was warm, perhaps too warm for the hogs to go hiding into the pines. Near noon I headed back to the camp.

I would hunt a feeder in the evening. The feeder was located in a hardwoods fringe bordering fields on one side and the swamp on the other. There was sign at the feeder, but no pigs showed up to enjoy the corn during my watch. Day one had concluded without an encounter with and hogs but already I could tell I was relaxed and had forgotten worries left behind. A good day hunting, Black Widow in hand.

---
Posted by S2 Bowstrings (Member # 16091) on :


---
Posted by Bud B. (Member # 24907) on :

Entering the pines...looking back at the misty sunrise



Hollow based Oak.



A monarch of the cutover was spared.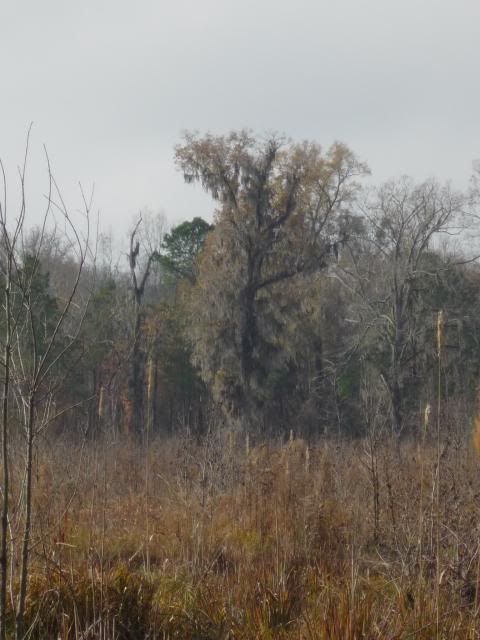 Bunkhouse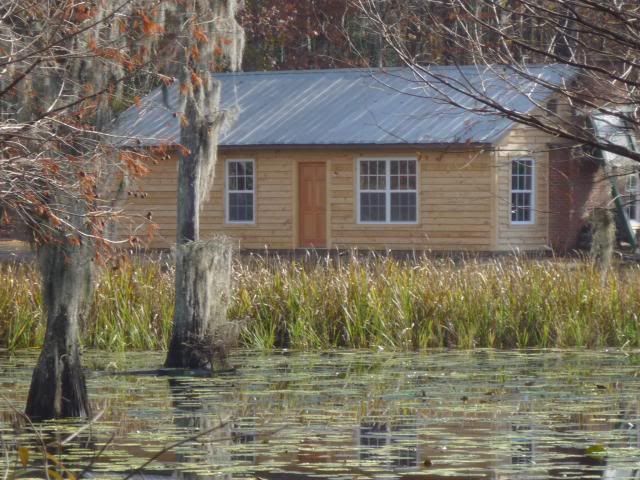 Main house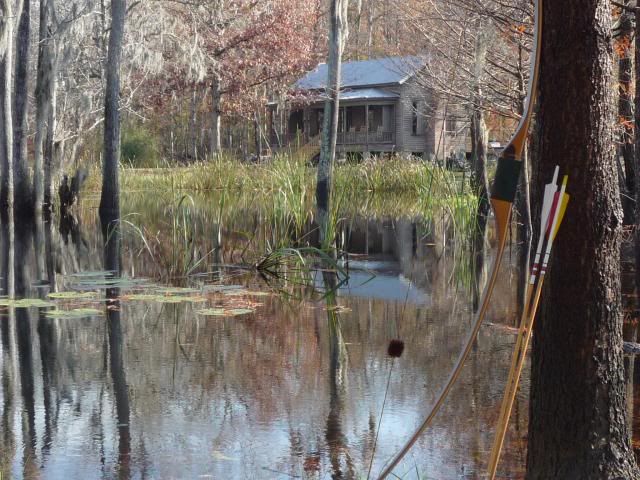 Pond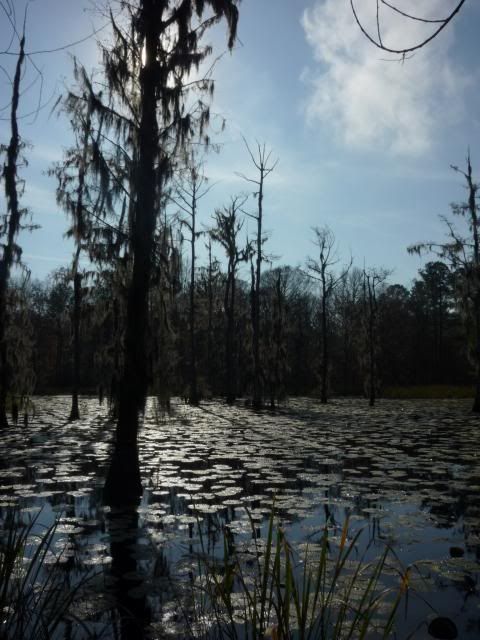 ---
Posted by Bud B. (Member # 24907) on :

Day 1 - pm hunt

I, like several others, chose to sit in one of Andrew's many ladder stands across the property. The PM hunt was uneventful other than the beauty of the swamp forest and God's beautiful sunsets. Peaceful times at Wild Things are magnetic while there. I look forward to a soon return.


---
Posted by Got2strum (Member # 7889) on :


---
Posted by suburbanirma (Member # 9621) on :

Conditions were perfect Friday afternoon for hunting. The leaves were dried out from a warm breeze and if anything was moving, I'd be able to hear it from quite a ways off. I was in a ladder stand about 12 yards away from a feeder. I was examining the inside of my eyelids when the feeder went off at @ 4:30 and I nearly jumped out of my seat. That perked me up for the remainder of my sit but nothing showed up or was close enough to hear. Andrew picked me up at 6 p.m. and then picked up the rest of the crew. We got back to camp, cleaned up and went outside for some snacking and testing of some libations. The crew shared their experiences in the woods. There were many sightings of the infamous arrow-evading squirrels but none of the legendary swamp armadillo that Todd sought. There was plenty of hog sign throughout most of the property, but the pigs stayed out of sight. They must not have gotten the memo that there was a hunt going on.


---
Posted by Longbowlogan (Member # 25677) on :

I need to get down there asap!!!

---
Posted by Longbowlogan (Member # 25677) on :

I need to get down there asap!!!

---
Posted by jrchambers (Member # 8771) on :

I suddenly find myself with a strong bloodlust.
some one help me please.

---
Posted by rbcorbitt (Member # 35446) on :

Ok, fellow TG members! A good night's rest under my belt.

Off to the office at 7 to battle the alligators and put out the fires that always seem to appear when I'm away.

I'll be back on as soon as I can to add some more perspective!

---
Posted by sticksnstones (Member # 24842) on :

Yeah Bob, I know the feeling! I'd much rather be back in the swamp where things make sense!

All I have time to do is drop a quick post or email here or there, oh and an occasional teaser pic:




If anyone was wanting a higher resolution version it's out HERE.

LOTS more to come later.
Thom

---
Posted by smokin joe (Member # 15756) on :

After those glorious days at Wild Things with all those wonderful hunters, I came back to the crazy world of work. I'll have time to post a story of our hunt tonight. For now I'll just say that I had a wonderful time.
Joe

---
Posted by Cyclic-Rivers (Member # 21222) on :




Looking forward to your Tales Joe. And the rest for that matter.

---
Posted by awbowman (Member # 24545) on :

Hogs are anything but easy.

---
Posted by Izzy (Member # 10828) on :

Excellent. The place looks dream like.

---
Posted by kat (Member # 8939) on :

Really looking to getting down there in March. Great looking digs.

---
Posted by rolltidehunter (Member # 21755) on :

looks like a neat place

---
Posted by Terry Green (Member # 3) on :


quote:

---

Originally posted by rolltidehunter:
looks like a neat place

---
UNDERSTATEMENT !!!


---
Posted by Jerry Russell (Member # 2613) on :

Sounds like a great time.

---
Posted by rbcorbitt (Member # 35446) on :

Ok, where to start.

After meeting in Estill with 4 of the 8 (Thom was already in camp and Tom C, "Big Sexy" Brian, and James were still enroute), we arrived in "camp" around 5:30 or so.

I use the term camp loosely, as the facilities exceeded my expectations greatly!


We all chipped in with the help of Andrew's "right hand man", Charley to unpack all the gear and coolers. Always the eternal optimist, I had brought (along with others) our largest coolers and more gear than any one trad archer can justify (part of the fun)!!
---
Posted by awbowman (Member # 24545) on :

This is painful! Somebody post up some blood!

---
Posted by Knawbone (Member # 29397) on :

Looks and sounds great guys! Someone must have had a shot at a hog. I'll be hoging it myself in a couple of weeks in SC. Thanks for sharing your time.
---
Posted by Bud B. (Member # 24907) on :

I'll lead off this post to say no blood was drawn by me. I did get blood drawn from me by some oysters that were steamed for the group. Those shells get kinda sharp. Has someone mentioned that Andrew can flat out cook!!! And Andrew's friend Doug did the steaming of the oysters.

On day two I had two close encounters. One was while working a swamp area in tandem with Bob Corbitt. We had decided to try to push some hogs out of their beds. We entered the area about 100 or so yards apart. After about 1/4 mile into the swamp I had just knelt and glassed the area and looked over a thicket as best as it would allow. I stood back up and took about 5 steps. Then saw and heard movement to my right and inside the thicket about 20 yards away. What looked like a snapping turtle's back scampering across the swamp floor was actually the muddy back of a hog. As it moved quickly away it stirred more hog movement and sent them directly away from me. I hoped they would head towards Bob. I heard the whole herd thrash through the swamp creek in a N/E direction. It sounded like many hogs, but I had only seen the one.

I'll let Bob take it from here.

---
Posted by rbcorbitt (Member # 35446) on :

Sorry, fellow TG members! Dinner called
!

We shared a wonderful dinner of roast chicken Thursday night, strategized around the map and then set about to prepare for our first morning hunt!

I chose to hunt some familiar property - the area surrounding Blue Lake. Dropped off before dawn, I slowly worked towards this area as the fog lifted and daylight took over the darkness.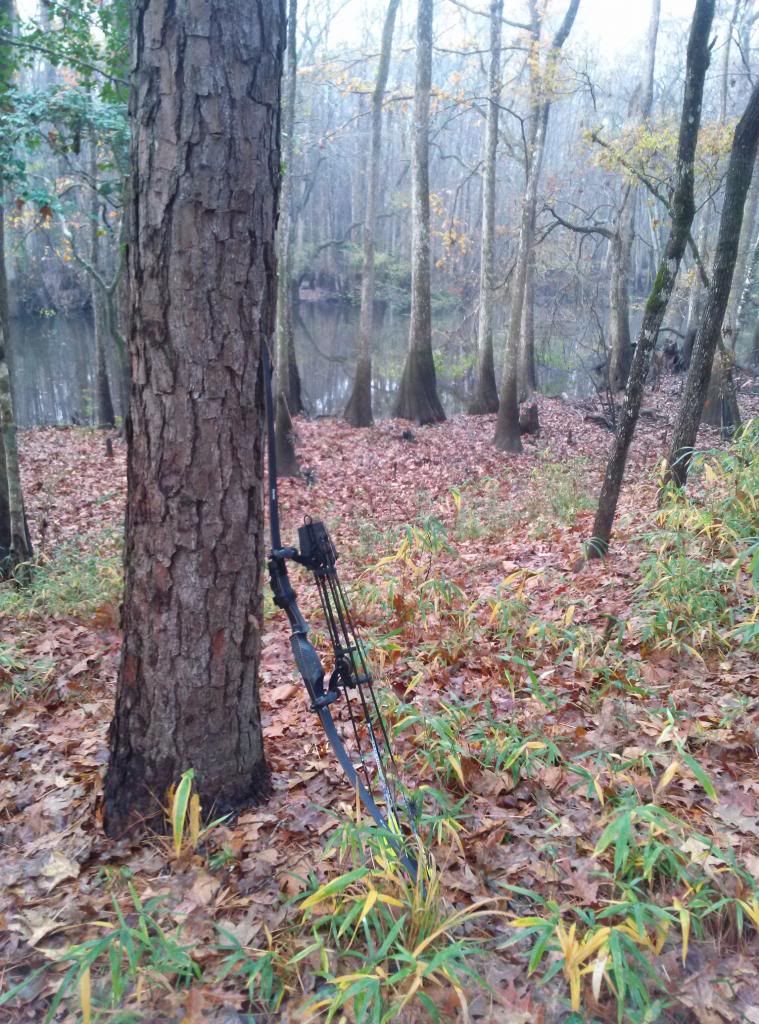 Blue Lake at daybreak -beautiful!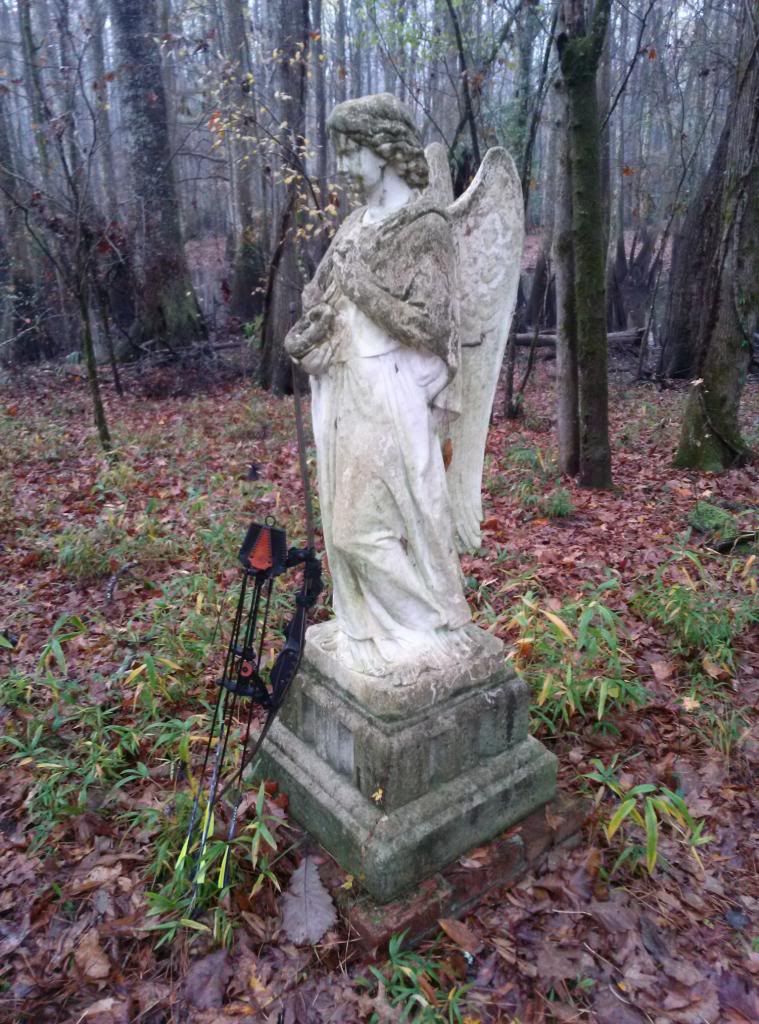 The Angel of Blue Lake!

---
Posted by sticksnstones (Member # 24842) on :

OK, if we really need to jump right to the first blood picture, here it is: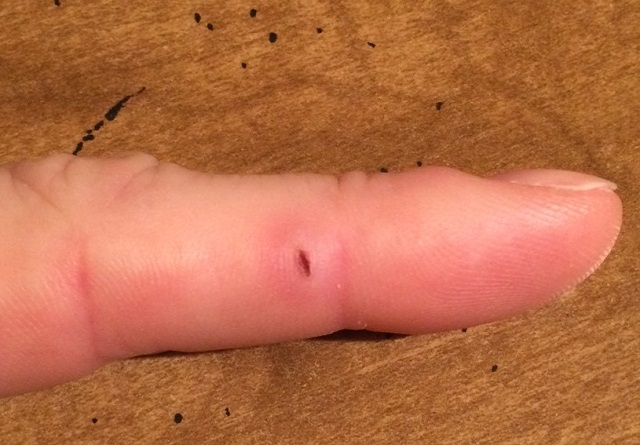 Luckily it was just a nick and I didn't leave much of a blood trail in the new digs

Thom

---
Posted by rbcorbitt (Member # 35446) on :


!

Thanks, Bud and Thom!

Where was I? Oh yes, Friday Am at Blue Lake.

I worked the wind around the Lake in a counter clockwise direction. Hog sign EVERYWHERE! It was obvious that acorns and grapes (Muscadines) were the preferred food choice. Apparently, the grapes had a sugar flash from an earlier frost and were super tasty to the piggies.

As I worked around the lake, I had a couple tense encounters with pig-a-stumps and deer-a-bushes
! Around 9:45 or so, I remembered a piece of advice that my hog tutor, Ray Hammond, told me - "if it looks piggy, it most likely is"- and worked my way slowly towards a huge old oak down blow. When I was only 5 yards or so away, the brush exploded with pigs heading in the opposite direction. I only laid eyes on three porcine critters, but by the amount of noise that was made as they splashed through the swamp, I know there were more in attendance
!

---
Posted by Marc B. (Member # 2157) on :

Bob good to see you wised up and went to a bow quiver
and a Kanati at that.

---
Posted by smokin joe (Member # 15756) on :

I started my hunt on Friday morning at a dirt road called the cable Road. Brian and I took my Jeep down Highway 3 and parked at the junction of the Cable Road and Highway 3.

The strategy was that Brian would walk down the lane past where I was going to hunt. He was heading to a large section of pines. What we were all going to do was hunt in differing kinds of cover on the first morning and then report back to each other about the hog sign we saw. Brian headed out just as it was light enough to walk without stumbling around in the dark. I waited about another 20 minutes or so before I started so that he could get away without any noise from me.

I headed down the lane to an old clear cut that had a recently bulldozed muddy road encircling it. It was to the left of the lane as I was going in and the bulldozed road made a big half circle around the overgrown clearcut with the two ends of the C-shaped half circle about 250 yards apart where they met the road.

The wind was quartering from my right as I got to the first junction -- the lower leg of the big C I was going to explore. And right there I saw just what I was looking for. The ground was torn up where the hogs had been rooting and there were tracks everywhere. Some of the hog tracks were very big -- nearly twice the length of one of my Bear razorhead broadheads. It was time for me to slow things down to real stillhunting and work to be silent and invisible. The tracks were very fresh -- obviously made since the rain on Thursday afternoon.

---
Posted by herndondt (Member # 34508) on :

Day 1:
Consisted of sitting in one of Andrew's new 20 foot ladder stands. I was in the hardwoods with the swamp approx 100 yards to my right. I had good sign in front of me at the feeder but all I got to see is squirrels. I sat there from 6:30 - 11:00. Andrew came around and picked us up for lunch which was great!

After lunch we took some practice shots and got suited back up for the evening hunt. I asked Andrew if I could hunt a stand I saw as we were coming in for lunch. The stand was call "The Pocket" and it had 2 good size wallows within 25 yards of the stand. Andrew dropped me off at this stand and I was pumped. I climbed up into the stand and got settled in. I heard turkeys off in the distance and saw more squirrels. One squirrel was so fat he looked like he was wearing sagging pants. The sun finally disappeared but no hogs.


---
Posted by fdlz58 (Member # 16830) on :

I've seen the picture of the angel statue several times before. It looks like a place that would cause me to pause and pray. What is the story behind that statue? How did that angel find it's way to the swamp?

-Jeremy
---
Posted by Pokerdaddy (Member # 24679) on :

I'll let Andrew or Ray tell how the statue came to reside in the swamp, but Ray shared the tale last time I was in camp. Very nice story.

---
Posted by Homebru (Member # 3018) on :


quote:

---

Originally posted by rbcorbitt:
Always the eternal optimist, I had brought (along with others) our largest coolers and more gear than any one trad archer can justify (part of the fun)!!

---
Bob,
The hunter who doesn't bring a large cooler doesn't plan to take home any meat.
homebru

---
Posted by Lefty (Member # 91) on :

Love the story so far. Any bloody arrows coming up soon?

---
Posted by suburbanirma (Member # 9621) on :

Eight hunters filled up the bow rack in the bunk house with at least 15 bows. Eight bunks, two bathrooms with toilets and showers, a fridge, fireplace and a really comfortable couch. Great accommodations.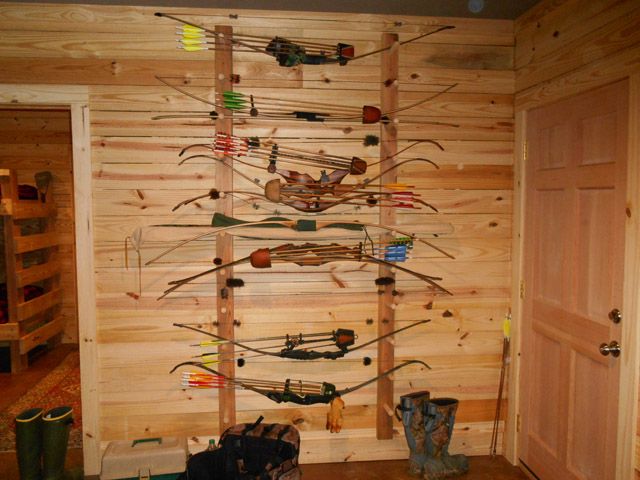 ---
Posted by suburbanirma (Member # 9621) on :

On Day 2, we took a group pic (the one Thom posted at the beginning of this thread)and then headed out in search of the elusive wild hog. Thom and I hiked out of camp and soon found fresh hog sign under some oak trees in the hardwoods. We still hunted for most of the morning and bumped either three deer or the same doe three times. While there was much hog rooting activity in the woods and along the pond near the cabin, there was little indication that the hogs were eating any of the corn below the feeders or on the various roads and two tracks. We did find a world class burl on a tree overlooking one of the rooted up areas.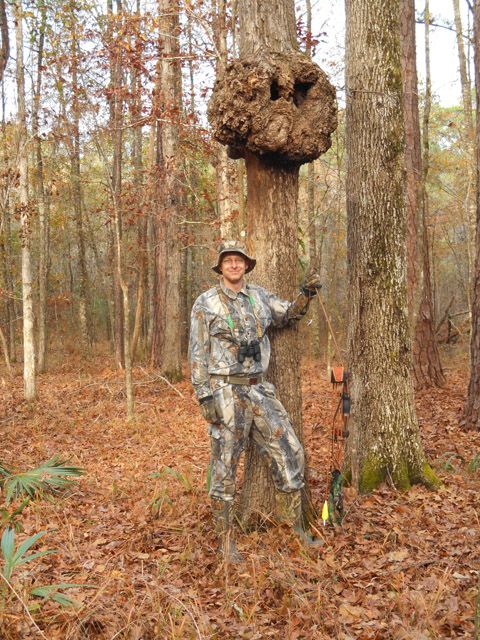 ---
Posted by rbcorbitt (Member # 35446) on :

Back in, folks! Thursday PM I chose to sit in one of the many new blinds that Andrew has set up with feeders (I believe the total is around 17), as I had walked my butt off that morning.

Plenty of pig sign everywhere and more squirrels than one could count.



View from the 15' stand - approx. 12 yards from feeder.

Very relaxing evening. Right at dusk, I heard pig noises on the other side of the road. Talking about squirrels scattering!


Alas, no pigs that evening, but a great day. Encounters with pigs, deer, multiple sightings of Herons, tons of squirrels - a game rich environment!

A delicious meal of bone in pork shops and collards (yum) and then the "goodies" were drawn.

Oh yes, forgot to mention that TG's own Terry Green joined camp just after lunch that day. It was a pleasure to finally meet Terry in person and share some stories (again, some even true
)!

Terry drew the names as each of the eight hunt participants came away with a nice "goodie" package. Again, a big THANK YOU to all the sponsors who helped put this together.
I was fortunate enough to be drawn for a Sling Seat donated by Steve Angell at Simply Traditional! Thanks, Steve!

We all looked over the prototype Jackal longbow from South Cox at Stalker Stickbows that will be used in the TG pass around. Really sweet looking bow!

Later that night we retired to the firepit outside. Discussions ranged from the events of the days hunt, the comparative medicinal properties of Gentleman Jack vs. Woodford Reserve
, a tutorial on fine cigars from Terry, Big Sexy (Brian) and James, and a conversation about the impact of Miami Vice on the renovation of Miami as it is today
!

A great first day overall!
---
Posted by rbcorbitt (Member # 35446) on :

Oh yes, forgot to mention that each hunt participant also received a really nice hardwood base leather strop that came from Steve at Simply Traditional, and a really neat commemorative long sleeve performance tee shirt donated by AllanBlock.com/Blue Stone Block!

Thanks so much!
---
Posted by sticksnstones (Member # 24842) on :

Hey Bob, that was a Hammock Seat right? I set mine up in the tree in front of the porch one afternoon so everyone could try one out.

It's very cool when you've got a bunch of trad hunters together so we can compare different gear that works for our needs.

I was glad to bring a few things, and I am very appreciative for the things I learned last weekend!
Thom

---
Posted by Guru (Member # 616) on :

Miami Vice and cigars...two of Terry's favorite subjects!!

This is very enjoyable fellas
---
Posted by rbcorbitt (Member # 35446) on :

Yep, Thom, sorry about that - old age - Hammock Seat!

Looking forward to trying mine out!

Here is one of the excuses for spider bite/snakebite "medicine"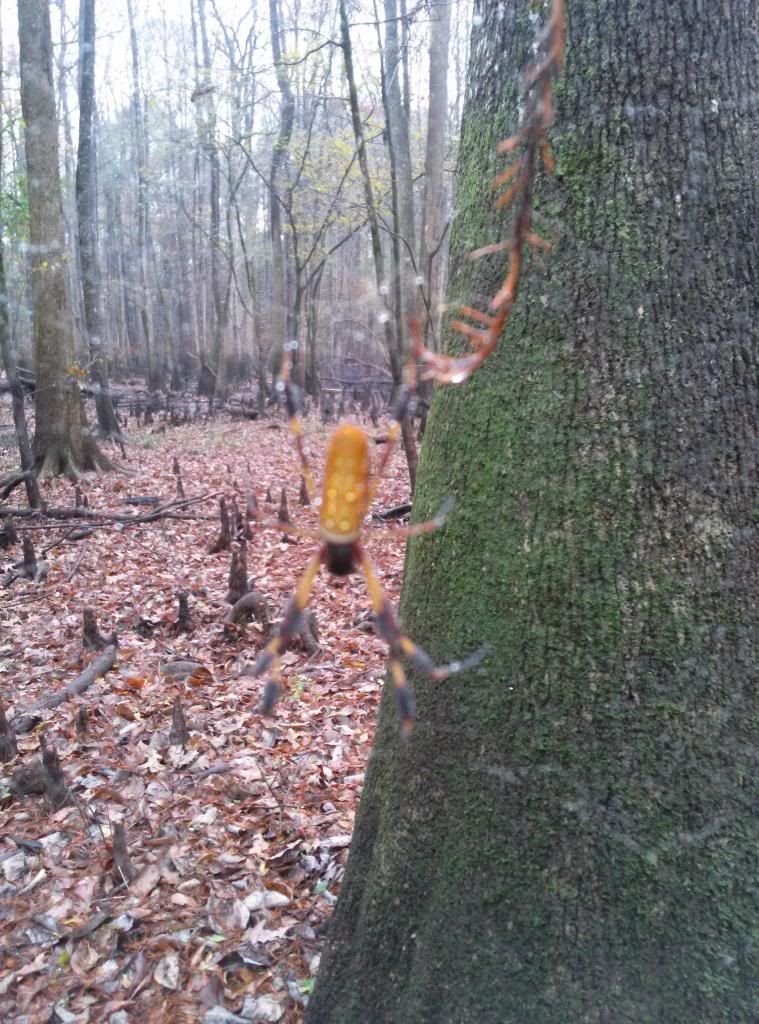 No snake sightings, but with the temperature up near the 80's on Friday, a couple of the group heard a gator roar. Fun stuff!

---
Posted by David Mitchell (Member # 85) on :

Where's da' pigs?
---
Posted by Sam McMichael (Member # 17671) on :

The truth and nuthin' but the truth? Remember, this is a HUNTING story, so truth is automatically suspect! However, it is a very good story - or set of stories, as the case may be. Congratulations to all you guys. It seems like a very great trip.

---
Posted by rbcorbitt (Member # 35446) on :

Ok, a wrap up for me!

Saturday found Bud and Todd working our way through a section of swamp down from Blue Lake where I had close encounters with critters of the hog kind in future trips with Ray.

We were all working towards the left-hand road off the turkey foot. I had just crossed a slough about 8-10' wide with about 10-12" water in it when I heard splashing ahead of me.

I look up and see multiple pigs coming my way.

I plant my feet, nock an arrow and get ready. At approximately 18 yards to my left, approximately 12 pigs ran by at a fast trot and splashed through the slough that I had just crossed. I bleated, grunted, whistled - I did every vocalization that came to mind - just trying to get one to stop long enough to send a personalized 300 grain WereWolf tipped arrow via my Centaur their way.

The group consisted of approximately 8-9 piglets (I lost track in all the commotion) about 16-18" tall at their back, what looked like two sows and one, VERY definitely a boar (had a lot of stuff swinging from his undercarraige
) and a very visible set of cutters.

Remembering advice that I had gotten from Ray, Mike, Terry Green and Andrew, I aggressively took pursuit, but they never broke stride. I trailed them as best that I could, and later Bud and I connected with one another. Apparently this was the same group of pigs that he bumped my way.

Exciting stuff!


Actually, the hogs did cross within about 75 yards of here!

At lunch that day, I played around with the Jackal prototype that South with Stalker had sent us (60", I believe 52#). With just minimal adjustments to brace height and nock height, I had the bow dialed in shooting my standard VAP 400's with 300 grains up front. Love the grip design
. Smooth and quiet and would really zip a 595 grain arrow with authority!

That afternoon, Bud and Brian and I worked through the stretch of pines where Brian had seen so much sign and had his close encounters that morning. Pig sign everywhere! Pig tracks, pig scat, pig beds. They apparently where holing up in the Phragmytes (sp) - the tall grass that grew inside the pine thickets. Talk about thick!

That night Andrew and his cousin, Doug, treated us to a good old Low Country oyster roast. DELICIOUS! I honestly do not think I have eaten more oysters in one setting in my life
! I never even got a taste of the chili that Andrew had fixed - too busy eating oysters!!


The weather had turned cold with light rain, so we enjoyed the fire even more that night and shared many a laugh before calling it a night.

I chose not to hunt Sunday AM, and instead spent some time Terry, Andrew, Doug and a couple of the other guys who chose not to "weather the storm" so to speak.

After Andrew and I picked up the hunters that had gone out that morning, the trophy for the "Best Story" was awarded to Todd Herndon for this attack squirrel and armadillo stories.

The group decided that the "Most Successful Hunter" award should go to Harry, the wonder dog, as he is one heck of a mouser, armadillo chaser and pig hunter in his own accord!



All in all, a great time spent with great TG members in a first class facility! 100% first class folks and facility!!

---
Posted by rbcorbitt (Member # 35446) on :

One last post.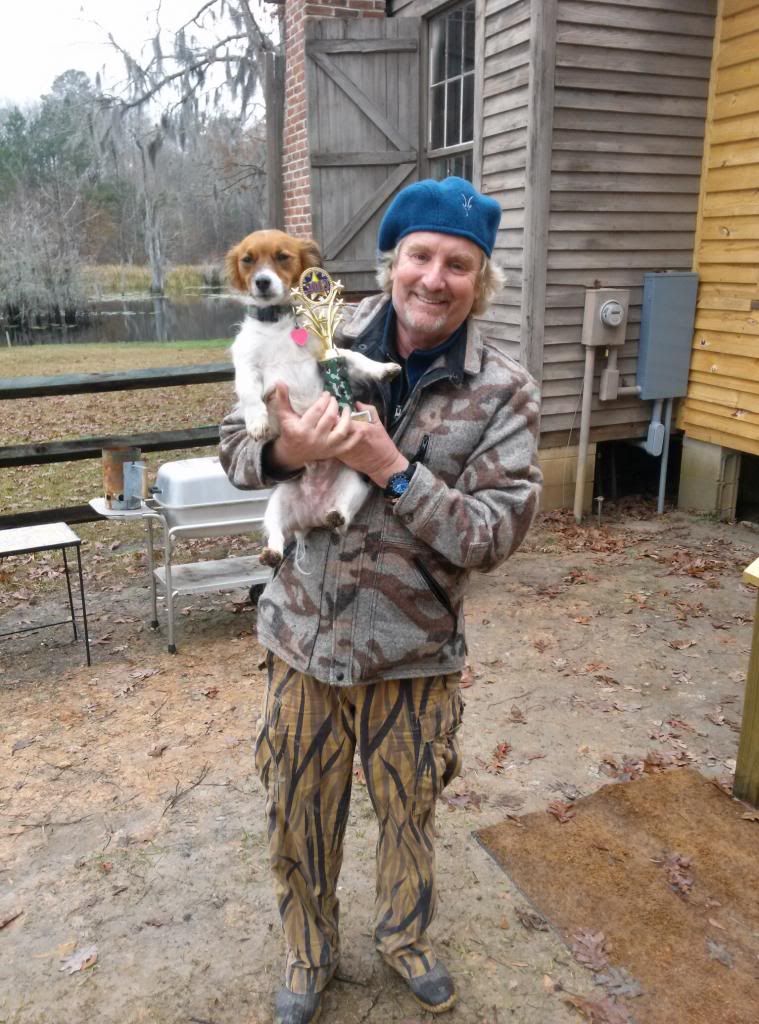 Harry (modestly) accepting his trophy!
---
Posted by awbowman (Member # 24545) on :

I love hunts when the top priority doesn't have to be killing something. SOOOOOOOO calming!

---
Posted by smokin joe (Member # 15756) on :

I will finish my story.

I continued stillhunting the arc of the bulldozed road around the old clear cut. It was still early in the morning and the rain had stopped at sundown the night before. The hog tracks in the mud were telling me that there had been tons of hogs active here since the rain stopped. There were literally tens of thousands of fresh tracks there in the mud.

About two thirds of the way around the overgrown old clear cut I saw a corn feeder in the distance. The weedy clear cut was to my right and there was a patch of hardwoods with standing water to my left. I was going so slow that I was hardly moving. I had never seen a place that had so much sign and so many fresh tracks -- that is, until I got close to the feeder.

The area around and under the feeder was torn up as if someone had been through there with a giant roto-tiller. There were tracks, signs of rooting and wallows -- and the water in the wallows was still roiling and swirling with mud. I could not have missed the hogs by more than an hour or two.

I continued on around the clear cut moving slowly and listening for hogs. In all I took three and a half hours to walk around the clear cut.

It was an exciting morning to know that I was into so much hot sign the whole time. The hogs were there, I was too. Would I get close enough or be at the exact right place at the right time?

I decided to let that spot cool down, so in the afternoon I hunted in another spot in on of Andrew's new tree stands. I saw tons of birds and a few squirrels before dark.

Saturday morning Terry Green and I went to a section near the clear cut. The sign was fresh there too. We followed trails and came upon a wallow. The water in the wallow was freshly stirred up. The tracks were fresh. There were imprints of hog hair in the mud that had not even started to soften. The trails out of the wallow were still wet. We couldn't have been more than 30 minutes behind the hogs that were wallowing there.

The wet trails out of the wallow were all going toward the clear cut.

Terry and I were pretty confident. Fresh hog sign headed to a place where I had seen fresh sign the day before. Working with the wind in our favor we hunted the perimeter of the clear cut. The sign was like the day before, but we did not see or hear hogs. We decided to hunt right through the chest high weeds in the old clear cut.

In the clear cut we could see where the hogs had been tearing up logs to get to bugs and grubs. And we saw lots of hog beds, but no hogs.

Back to the the lodge we went for lunch and a strategy session.

I hunted alone that afternoon and had a mexican standoff of a stare down session with a huge doe at about 40 yards. She finally had enough of trying to figure out what i was and just trotted away without acting alarmed.

The hunt the next morning was delayed by rain. When it cleared up I went out and found the pelvic bone of an armadillo and the lower jaw bone of a hog. Unexpected and unusual trophies of a memorable weekend.

It was a great weekend of hunting, wonderful accommodations and the best people I could imagine. The hogs gave me lots of exciting moments, but I was just a step or two behind them all weekend. That's hunting.

Wild Things is a beautiful place.

---
Posted by Terry Green (Member # 3) on :

Yeah...Joe and I had a good LONG hunt that morning, 'everything but a dead hog'....not 300 yards into our hunt we found brand new sign, and followed these hogs for some 400 yards and like Joe said, we mush have just missed them when they got to the wallow as it was recently destroyed and the trails leaving the one side we wet and covered with lots of sloppy soaking mud.

Don't know how in the world we didn't see one. With all the FRESH sign I figured we'd get run over any second.


I really enjoyed hunting with Joe...what a pleasure. We hunted hard and smart, but just couldn't but our eyes on any, and the strange thing is, we didn't even hear one squeal in any direction.

---
Posted by Nattybumppo (Member # 35027) on :

Ok... I'm back in... Been traveling a lot lately. Tough to jump in and out and play catch up...

Thursday afternoon for me wa spent back in the White Oak stand. Wouldn't you know it. The SAME boone and crockett grey squirrel showed back up. This time I waited and waited and waited till he got under the feeder.Easy shot.

It seems to me that the squirrels on the Savannah river seem to possess magical qualities. They levitate faster than any arrow I shoot.

I missed.

But about 15 minutes later here he comes again... Other side of the feeder this time. Well...

I swear they are magical. I missed.

That evening when Andrew and Terry picked me up all I could report was shamefully that I lost the battle of White Oak stand. I retreated.

However I redeemed myself later when Andrew laid out that Rib roast... I'm just saying guys... I've never eaten like that in a hunting camp.

---
Posted by Terry Green (Member # 3) on :

Just to back up a bit...I got there late Friday afternoon, and the only one in camp. I've been to this property many times but stayed in the other camp. I was not expecting the beauty or layout that was on the horizon before me.

I remembered what a guy told me when I took him to a place like this once...."all you need is a front porch and a bologna sandwich"...well, there was a front porch, so the sandwich was all I needed.




I took several pics, that Thom now has on the Wild Things web site in the guest photos section. The bridge was calling me to cross and explore....so that's what I did.





Found a smattering of sign, and the water oaks were a plenty, there wouldn't be any hungry squirrels this winter for sure. I also ran across this interesting find.....

The Tee Pee Stump....




View of the cabin from across the bridge after I returned an hour and a half.....


---
Posted by Terry Green (Member # 3) on :

Yes...the rib roast was INSAINLY good.

When I got back Andrew was in the cabin and he welcomed me into camp and we had a great conversation. He's really looking to make Wild Things a premier hog hunting destination in the south no doubt. We were his 1st big group and he did pretty good, and he learned a few things about how to streamline food prep and placing and picking up hunters. He'll have it down soon and it will be even better than what we had....which was nothing to complain about for sure.

Over time, he'll even start to fine tune annual patterns and stand locations. He is very interested in hearing about improvements. I'd like to personally thank him for the invite to join this group.

During my surgery rehab...I'm going to try and make it back over when there's no hunters in camp and take a good look at all his set ups. That will be some relief for me being I wont be able to hunt for a while.

Thanks again Andrew.
---
Posted by Terry Green (Member # 3) on :

Oh....I have another hunt to tell about Todd 'nodillakilla' Herndon.
---
Posted by Terry Green (Member # 3) on :

The 1st monring I was there I was up eaarly and started helping Andrew getting breakfast cooked....Andrew had made two pots of coffee....sort of. One he forgot to put the grounds in and we ended up with a pot of hot water.

The other pot Andrew thought he'd not put water in yet but he had, and proceeded to flood the floor with water.

I said to Andrew....

"Sometimes you gotta have your coffee before you can make coffee"

Todd got a kick out of that quote.

I think there's a few more quotes yet to be spoken of.
---
Posted by Cyclic-Rivers (Member # 21222) on :


---
Posted by Izzy (Member # 10828) on :

Awesome hunt fellas. Can't wait to get there.

---
Posted by MCNSC (Member # 2161) on :

I will be down that way (not at Wild Things) next week. Been trying to pick up a few pointers from this thread as to where the pigs are hanging out. Any pointers as to what kind of cover they were in. Of course it was warm last weekend, so does the weather effect where the pigs hang out?
Also, the accommodations at Wild Things look greatly improved got to get back there some time.
Thanks.

---
Posted by rbcorbitt (Member # 35446) on :

Mike,

In my experience, the hogs were hanging out anywhere there was a combination of acorns, grapes (if the area still has some) and water's edge. Any time after mid-morning, investigate any "hoggy-looking" downfalls with extreme prejudice
.

Seem to like to bed up in standing pines and the tall grass (Phragmytes) that grow in the center of these areas.

Bob

---
Posted by Red Beastmaster (Member # 820) on :

Terry,

The photo of the bridge gave me a flashback.

Labor Day weekend, Andrew and my wife & I were on the bridge checking out the pond. I noticed the big hornets nest under my feet and the next thing I hear is Andrew shouting "RUN!". It felt like we were being shot with a BB gun. The stings left a mark and still itch.

I can't wait to get back down in March. Maybe you can visit the tribe during our hunt. We can send you out on the bridge first just to check things out.


Glad you all had a great time.

---
Posted by Terry Green (Member # 3) on :

Ouch....so there really were trolls living under that bridge!!!

Anyhow, Todd had found an area with a lot of sign, and he wanted me to go help him 'figure it out'...

Upon arrival the more we walked the more sign we saw, sign on top of sign on top of sign on both sides of a field leading to the back corner were there was a feeder....once at the feeder, I saw 4 different routes leading into the woods only a few yards and then down they would go into the cypress bottom....do down into the bottom we went as well....

we walked across the bottom to the water's edge where the little stream had risen out of its banks and ran out of the flats. This 'bottom' had a berm running for I don't know how long just along this cypress bottom....the berm is what we climbed down to get in.

Once we got to the water's edge, there it was as suspected....sign...mud n bubbles along the edge. We followed the water's edge by turning left and bobbing and weaving in the yet flooded edge just beyond the water.....this kept our footsteps quiet, and any sticks we likely were to bread would do so under the mud making for a pretty quiet stalk downstream....

Now, I'd heard talk of Todd and armadillos since I'd been there...and that morning I was told, by an un named attendee, that Todd was OBSESSED with killing one. That was the reason for all the dilla jabbering I'd been hearing about. Now that I was on a hunt with Todd, he had already mentioned dillas a couple of times earlier but now we were serious about hogs....or so I thought...

---
Posted by Terry Green (Member # 3) on :

So here Todd and I are, me in the lead...staying on hog disturbed terrain that was soft....pure stealth mode. We'd move calulated for 10 yards and stop and scan the 100 to 150 yards ahead for any movement of 'the wild boar'. Taking careful note of every foot step. Eyes scanning...scanning...scanning...then more forward movement...scanning ....scanning....

The out of no were I get a TAP TAP TAP on my right shoulder and I look over at Todd who's just behind me with his bow tip pointed to a smallish cypress with a beautiful little volleyball sized hole in the bottom....you know, a hole like the Kebbler Elf would live in, only without the door.

Well, like I said, all seriousness with "Ze Wild Boooar" was now blown as Todd asked in a loud and low DEMANDING tone.....
.
.
.
.
.
.
.
.
.
.
.
.
.
.


"IS THAT AN ARMADILLO HOLE"!!!!



---
Posted by rbcorbitt (Member # 35446) on :

I can see Todd now on his knees peering up inside that Cypress
! I'm truly surprised that he didn't call in Harry the Wonder Dog to root that dilla out!!

---
Posted by Bud B. (Member # 24907) on :

Mike,

I imagine once the grapes get eaten up they'll turn to acorns, then to the corn. The grapes were dropping all over the swamp floor and were hitting the water as I walked through. Along the water's edge the grapes floated to settle by the banks. This is where the hogs were tearing up the mud.

If you go to the Hog Crossing sign, where the Jon boats are leaning on the tree, the thicket I ran them from and towards Bob was about 1/4 mile or less from there in a S/W direction up on the other side of the main creek and up on a high spot.

PM for more info if you'd like. I would love to see some success pics from Wild Things. I'm sure Andrew will share our sighting spots with you.

---
Posted by MCNSC (Member # 2161) on :

Bud, I have been down to Wild Things when it was Hog Heaven with Ray. I will be hunting property that is a few miles down river. A friends family owns it. So just trying to find out generally where hogs seem to be hanging out most.
Thanks

---
Posted by Terry Green (Member # 3) on :

Oh...now I know what 'grapes' y all are talking about. ....NOT what we call grapes down here As those have been long gone ...but y all are talking about the gum drops falling out of the Cypress trees!!!

---
Posted by RC (Member # 162) on :

I was about to say grapes/muscadines are gone by mid Sept here. I did have a Yank friend calling tupeloes grapes once. Only thing I`ve seen eat them were squirrels. This time of year here and there probably you will find pork coming to late dropping water oaks. Cane thickets with water oaks dropping or a thick palmetto flat is good this time of year. Pigs feel good in the cover and you can put the sneak on them there too.RC

---
Posted by Bud B. (Member # 24907) on :

Y'all got a pic of these gum drops? The ones I saw were oblong like a grape and were deep purple in the inside. The fruit seemed fermented also as the taste was strong and wine-like.

---
Posted by MCNSC (Member # 2161) on :

I was wondering about the grapes too. Never saw grapes this late in the year. Although I have seen muscadines refuse to fall before.

---
Posted by Terry Green (Member # 3) on :

Yeah Bob.....thems gum drops u
r talking about....not grapes or dines.

I'm OUT !!!!!!

Back home n got a steak in me
---
Posted by suburbanirma (Member # 9621) on :

It was raining Sunday morning when I got up and went to breakfast, which happens to be my favorite meal of the day. The rain soon let up, so Thom and I went to hunt in the swamp. There were hog tracks and rooting activity that occurred overnight. We put some tree sling seats to use but didn't see any hogs before our pickup time. I harvested about a dozen river cane stalks to take home for making into arrows.
When we got back to camp, the other guys were shooting their bows and arrows at the hog, turkey and deer 3D targets. They also had already packed up their stuff from the bunk house.
Soon, it was time to go our separate ways. Before that happened, though, most of us gathered for a group pic with Andrew, to whom we presented the TradGang Hog Wild Hunt #1 commemorative arrow which all of the hunt participants signed. Hopefully, there will be many more of those Hog Wild Hunt arrows to come.



Andrew




And the gang...
Thanks, everyone!

---
Posted by Over&Under (Member # 8273) on :

Sounds like fun!

So were there any shots????

---
Posted by Bud B. (Member # 24907) on :

Yeah, "Right here."

(inside joke...look on the left side of the above pic)

I'll let Todd explain if he wants.

---
Posted by T-Bowhunter (Member # 35398) on :

It looks like a great time for all! thanks for sharing.

---
Posted by sticksnstones (Member # 24842) on :

Here is my best shot of the weekend

Thom


---
Posted by rbcorbitt (Member # 35446) on :

Thanks, Terry and RC, on the correction! Flora was never one of my strong suits
. I'm more of a carnivore!!

---
Posted by smokin joe (Member # 15756) on :

It was a great time with great hunting companions. And the hunting was very good -- as Terry said, "everything but a dead hog."

That just about says it all. We were all into fresh hog sign all weekend. It was a terrific hunt.

When did you guys take that photo of the arrow presentation? I must have still been out hunting hogs.

---
Posted by Terry Green (Member # 3) on :

Yeah Bud.....just what you described. ...I'm pretty sure that you were in a Cypress bottom correct?

---
Posted by Terry Green (Member # 3) on :

Oh.....and I really enjoyed my hunt with Todd.....he's a hoot
---
Posted by Bud B. (Member # 24907) on :

Joe,

I think you had just pulled out in your Jeep for the trip home.

---
Posted by rbcorbitt (Member # 35446) on :

2nd that, Joe! Last minute idea. Sorry that you were not in the picture! You are definitely part of the Hog Wild group!!

---
Posted by Cyclic-Rivers (Member # 21222) on :

Looks like a great Time with a great group of Folks.

Congrats on a Fine Hunt!!!! Thank you for sharing your trip with us.

---
Posted by Kirkll (Member # 11471) on :

That's the way hunting goes some times. All of you guys seemed to take the lack of hanging meat pretty well.

I'm curious.... Why didn't you guys try night hunting for those beasts? I've heard some great stories of guys doing that, and only got to try it once myself. It was kinda cool listening to all the movement of the night creatures... Kinda like telling spooky stories around a camp fire and hearing something rustling in the brush just outside the light....You can feel the hair standing up on the back of your neck one by one....

---
Posted by suburbanirma (Member # 9621) on :

We had three important things we had to do after dark... like eat, drink and be merry.

---
Posted by Bud B. (Member # 24907) on :

Tom,

Sent you padded envelope today with a few extras tucked inside.

Terry,

Yeah, I was in the Cypress, Oak swamp near the Jon boat stand. On the west side of the main creek that comes under the road that leads to the turkeyfoot split.

---
Posted by smokin joe (Member # 15756) on :

The food, drink and hunting stories (all of which were true
) after dark were way too good to miss. So, there was no night hunting going on.
"Everything but a dead hog" for the Hog Wild Tribe -- this time. There will be a full-house "Revenge on the Hogs" hunt next year.

Sorry I missed the photo op, guys. That arrow is, I'm sure, the first of many that we will sign and present to our great host, Andrew.
Joe

---
Posted by TrueBlue (Member # 11212) on :

Thank all of you for your posts and responses. The group last weekend was my first full house and I was very nervous about everything going well. You all were great, patient, and always helpful.
To cut to the chase about the hogs: very few hogs were seen by the group. I believe, by my best count, around twenty. Hog signs were plentiful but signs don't photograph well nor do they tast very good. I'd like to think that it was the 80*+ weather and the record acorn crop. Nonetheless, we all had a great time. Maybe next year........
Again, thank you for your kind words but especially for the new friendships. Please, let's stay in touch.
I wish you all a wonderful Christmas with family and friends.
All the best,
Andrew

---
Posted by Nattybumppo (Member # 35027) on :

Sorry all I got tied up with work and family this week. Just now getting back to this.

Saturday was the day for me... The AM hunt found me getting to within 30 yards of a feeding doe in the hardwoods across from the old trailer before getting picked off. Then hearing 2 boars fighting in the pines. I managed to get to the big bend in that road and discover a good sized pig in a wallow there. But he either spotted me or decided he had something better to do cause he left...

But I can't believe no one posted any pics of the OYSTER roast!!! I mean come on guys!!! Andrew and Doug took CARE OF US!!! Man what a roast. Some good food and a great time!

As soon as I got in and had a shower I promptly sat down in front of the fire with a good cigar.


And a glass of whiskey.

Andrew's cousin Doug (who it turned out has run with most my buddies so we had a big time talking fishing and hunting and development down there) cooked the best oysters... I mean these were big juicy wonderful oysters! Fit for a cold fall evening and a group of friends!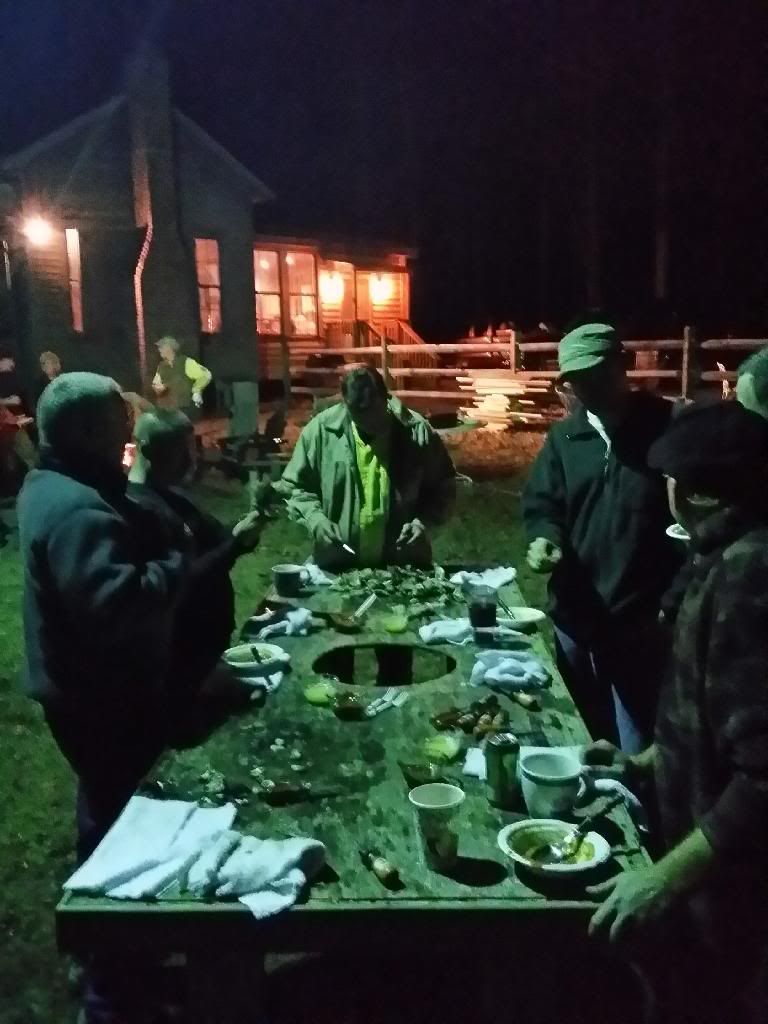 A true pope and young oyster...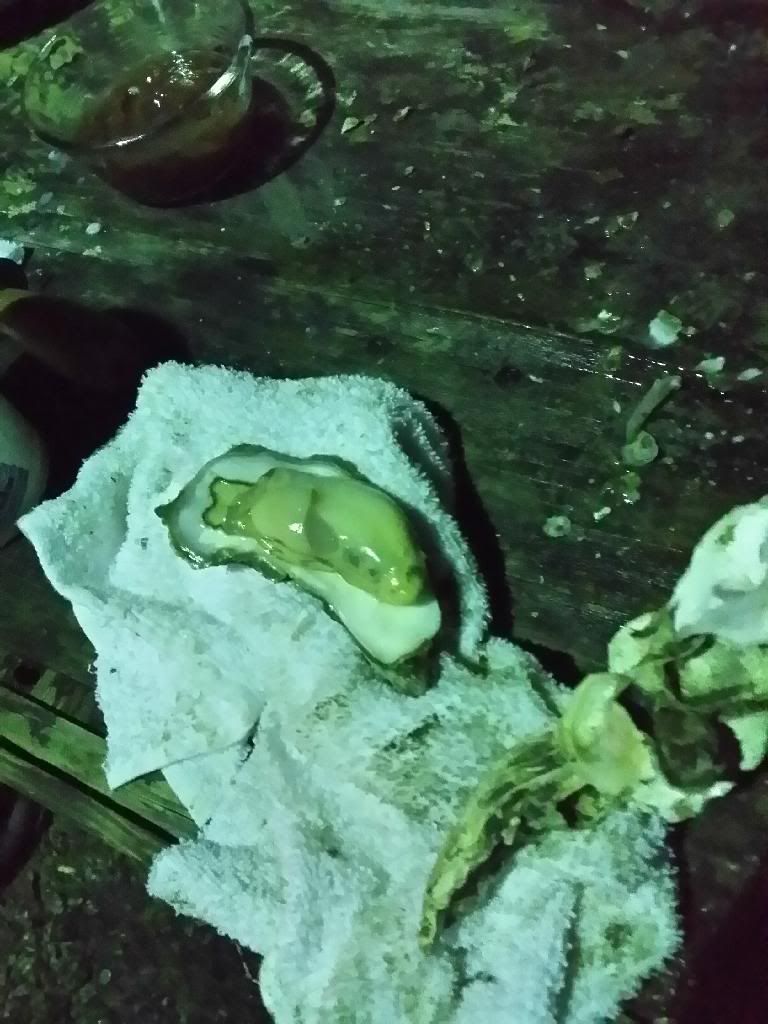 ---
Posted by Nattybumppo (Member # 35027) on :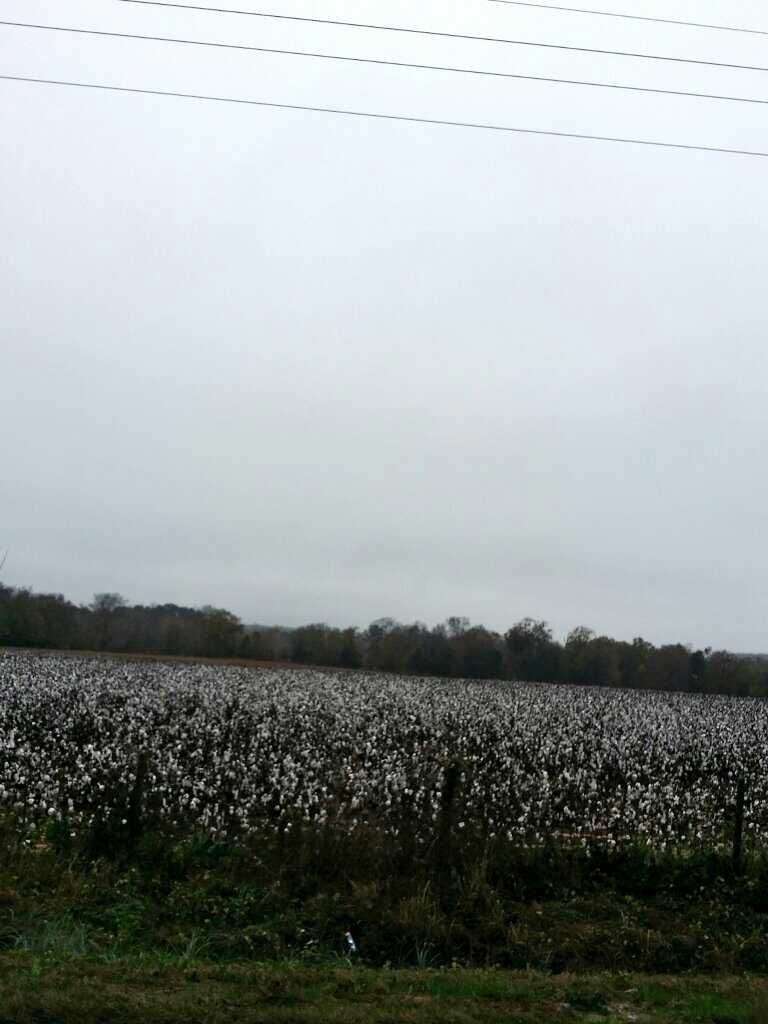 Guys- I know a lot of you are from northof Atlanta and are suspect... but if you want to see why we love it so much down here. Come and visit Andrew. Someone said he's a true Southern Gentleman. He is. He's steeped in the land and water and history of the area. He's as much a part of Estill as the river. And you will not regret spending time in his company.

---
Posted by smokin joe (Member # 15756) on :

James is, of course, absolutely right. Andrew is an especially great host, and a true example of why the term Southern Gentleman is part of the American lexicon. I do love the photo of the cotton field -- what a great slice of the True South.

I must also mention Andrew's incredible chili. Once I tasted it I knew that Estill, SC is a bit of heaven itself -- or at least in the same zip code. I have never had anything better in my life. I would make the trip just for the chili, but there is so much more there to enjoy.

Andrew's place is one of the most beautiful places I have ever been, and I have been in some beautiful locations from the beaches of Southern California, to the Great North Woods, to the Rocky Mountains, and the autumn woods of New England --- and the haunting pine woods and cyprus swamps of SC are something special.

I know I will go back to Andrew's place as often as my budget allows.

---
Posted by Bud B. (Member # 24907) on :

So you're why I got only one bowl, huh Joe?


That stuff was GONE in no time!

True words James and Joe. Andrew's place is tops. The only thing better is the company and food.

---
Copyright 2003 thru 2018 ~ Trad Gang.com ©

Powered by Infopop Corporation
UBB.classic™ 6.7.1