This is topic Camp (h)Ambush 2014 at Wild Things! in forum PowWow at Trad Gang.com.


To visit this topic, use this URL:
http://tradgang.com/noncgi/ultimatebb.php?ubb=get_topic;f=1;t=136904

---
Posted by sticksnstones (Member # 24842) on :

Us Michigan boys made our annual pilgrimage to Estill South Carolina to hunt some wild hogs. We had a full camp with 8 guys at Andrew Harper's Wild Things for 5 days last week/weekend.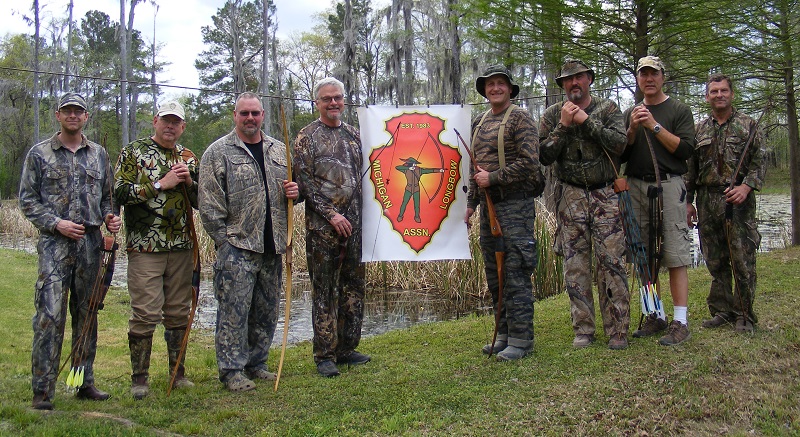 I'm still catching up on work, but I figured if I put this thread up the guys can post up their stories as they have time. Some cool pictures coming soon too!
Thom

---
Posted by 4dogs (Member # 19996) on :


---
Posted by sticksnstones (Member # 24842) on :

While we're getting our stuff together, HERE is a link to our story from last year. That trip we finally broke our streak of bad luck and we killed a couple hogs. We had very high hopes we'd keep our mojo going this trip.

Michigan Longbow Association was well represented so we decided to snap a picture with the traveling banner. In the picture above from left to right:
Thom (sticksnstones)
Rick (Rick Butler)
Gary (flingblade)
George
Andrew (pokerdaddy)
Donavan
Brad
Doug (doug g)

---
Posted by pdk25 (Member # 12864) on :


---
Posted by rbcorbitt (Member # 35446) on :

This should be good!!!!

---
Posted by doug g (Member # 16288) on :

Come on Donavan.....

---
Posted by T-Bowhunter (Member # 35398) on :


---
Posted by sticksnstones (Member # 24842) on :

I know Doug! Geez I might run out of teaser pictures before any of the story gets told!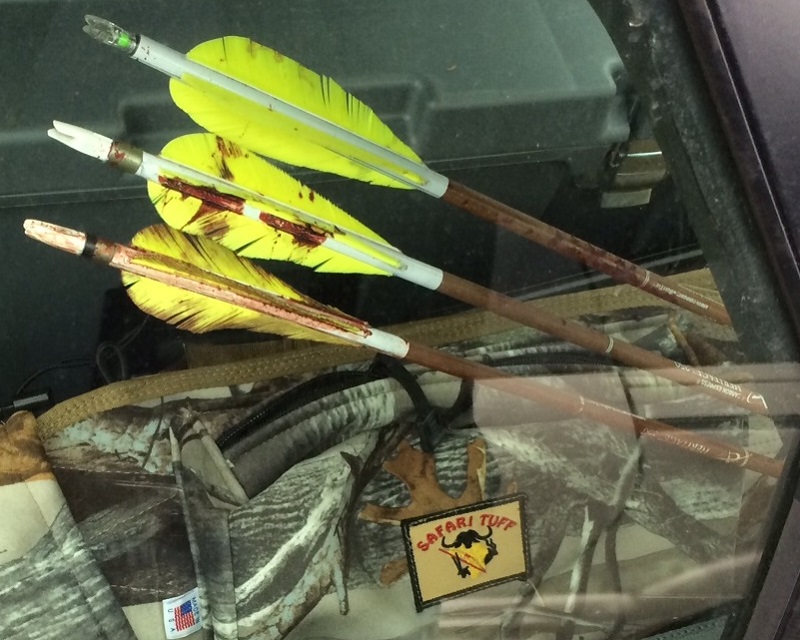 Got any pictures of your new friends to share?
Thom

---
Posted by Pointer (Member # 11915) on :

OK so we have a bloody arrow...where's the porker???
---
Posted by pdk25 (Member # 12864) on :

All 3 look bloody to me.
---
Posted by sticksnstones (Member # 24842) on :


quote:

---

Originally posted by pdk25:
All 3 look bloody to me.

---
Too bad it's a 4 arrow quiver
---
Posted by Pointer (Member # 11915) on :

OK PDK...3 Porkers then!!

---
Posted by Matty (Member # 10632) on :


quote:

---

Originally posted by sticksnstones:


quote:

---

Originally posted by pdk25:
All 3 look bloody to me.

---

Too bad it's a 4 arrow quiver

---
Ha ha. That's great. Bring it on fellas!!

---
Posted by Flingblade (Member # 21996) on :

Thom,
I'm surprised noone has taken notice of your "tracer round".
The devil's in the details boys. This is fun, it's like I was there for the making of the motion picture and now I'm waiting for the book.

---
Posted by Mike Vines (Member # 7379) on :

Another excellent story in the making. Thank you for being great Ambassadors not only for traditional bowhunters, but for the MLA too.

---
Posted by smokin joe (Member # 15756) on :

Looks like you got a little revenge on those pigs. Looking forward to the stories.

---
Posted by sticksnstones (Member # 24842) on :

Well Joe, this was a pretty interesting trip. Us experienced hog hunters didn't do exceedingly well. The guys who've never hunted hogs, or never even hunted with a trad bow before were the ones with the best luck.

While all us "experts" were out spot-n-stalking in the whirling wind and getting busted, most of the "newbies" stuck to stands and blinds and got their shots. Even my missing arrow story will be from a hasty strand I hung over a trail that day, but I'm getting ahead of myself...

Before Donavan posts his part of the story, take a look at the group picture. You might be able to tell he is hunting a longbow and woodies all built this winter of his own hands. That is a heck of a way to show up for your first hog hunt!

Anybody got a picture of the bow racks with his bows on them? I checked and I don't.
Thom

---
Posted by Red Beastmaster (Member # 820) on :

"While all us "experts" were out spot-n-stalking in the whirling wind and getting busted, most of the "newbies" stuck to stands and blinds and got their shots."

Thom, don't forget pure dumb luck! Probably half our encounters with hogs at Wild Things have come from random encounters. The hogs are on the move to nowhere in particular and the hunter is just walking down the road. Two moving points will eventually bump into each other. It happens to each of us on every hunt.

The other half of our sightings come from moving through "hoggy" areas fully expecting to run into them. Still hunting is the ultimate thrill!

Something we never really did until this last trip is setting up and just waiting for something to come along. I sat in a stand for a couple hours, and on a ground seat for an hour. Some of the other guys did the same. Kinda boring and not much fun. We may have to give it another try next time.

Great story, sounds like another exceptional hunt at Wild Things!

Dave

---
Posted by sticksnstones (Member # 24842) on :

Well looks like I'll be the first one to post after all.

Weather held highs in the upper 80s each day, dipping to low 60s at night. I can't imagine more perfect hunting weather. One layer was perfect day and night and no rain gear was needed the whole time. Absolutely the best weather I've had on any of my trips.

And here I will begin.

---
Posted by sticksnstones (Member # 24842) on :

I took off out of Michigan at 5am on April first and blasted straight through to camp arriving just after 9pm. All the guys had been in camp for hours preparing gear and settling in.

I climbed up the stairs to the porch and walked through that door to many hearty welcomes from many friends old and new. After some half-hugs and handshakes I was handed a plate of baked chicken. No it was something like a 6 pound chicken on a platter. It was as monstrous as it was delicious! A few stories were told and some drinks were drank as I ate, then we gathered around the big maps and talked about our plans for the first day of hunting.

Warmed by a little of Doug's Yopper Lemonade and weary from a long drive it was a race to see who could get to sleep before all the snoring started
---
Posted by sticksnstones (Member # 24842) on :

We successfully got to sleep early and got up early to some sausage biscuits and bacon for our first day of hunting. Weather was perfect and the coffee was especially delicious.

Donavan and I loaded up in his truck with all our gear plus my extra hang-on stand, sticks, etc, and headed out to this new picnic area Izzy was talking about. It ain't just a parking spot any more! We wished each other good-luck and went out our separate directions.

I tracked back on the right toe of the turkey foot and button-hooked left back behind the Swamp Field. I wasn't 20 steps off the road when I saw the first hog of the trip. Finding an arrow head on the first day is a good omen, but seeing pigs is even better!

I checked the wind and started working my way towards him. About a hundred pound pig, solid black and as beautiful as a pig can be! We played a little cat and mouse around some flooded sloughs and seasonal rivers that were flowing for a ways. We went right back to the banks of the Savannah River together before he broke out in a hurry. At our closest we were at about 30 yards, but that was so rewarding I had already chalked up the entire trip as a success to just be in the zone with a wild pig living with no fences.

I kept kicking around Swamp Field slowly for the next hour or so, good sign most places I looked. I decided I had a spot I wanted to put my hang on stand and I started shuttling everything in from the picnic area back to the field as sneaky as I could.

I waded out into a flooded plain next to a couple nice trails, setup 3 sticks high, added some hooks for bow/quiver/backpack/binos, then hung the platform of my stand at eye height. I spread a little corn along the edge of the trail and water level and promised myself I wouldn't come back in here for 24 hours.

I met up with Donavan at the truck and we headed in for a white chicken and ham bean soup. Really, really good soup! After a couple bowls of that a couple of us decided to skip the afternoon hunt and get a good nap in instead so we could stay out extra late.

---
Posted by sticksnstones (Member # 24842) on :

Gary and I had arranged with Andrew to stay out extra late in case we had a chance at an after-dark shot.

I should say we cleared this with him months before we went, and we both practiced shooting in complete darkness with the aid of LED lamps. Charlie had also removed a section of ladder from a few different stands so we could be lower to the ground and closer to the feeders and trails. This was a deliberate plan from it's inception.

It was still in the high 80s and sunny when we arrived at our stands. I was setup very early and plenty of time to get familiar with the spot. At 5:28 six fox squirrels appeared almost in unison. At 5:30 the feeder went off and the little buggers started gorging themselves. Several birds came in right after that including two male cardinals. Next guest was a red headed sap sucker, or maybe it was just a woodpecker that happened to sucking sap about 10' away at eye level. Next guest was also very cool, a iridescent emerald green hummingbird flew up by my left knee, flew over by my right knee, turned to face me, then flew up to eye level before departing. I really like hummingbirds. As the daylight slipped away so did the daytime creatures.

Nighttime in the swamp can be a little scary, and with all the dangers there I think it should be. Between the day and night there was a very quiet the where no creatures stirred. There was nothing to do but watch the light fade away and the green glow of my hunting light to take over.

A short time after nightfall a horrible racket began, and close. A possum wandered into the light and would spend the rest of the night crunching sticks in that eerie glow. The possum was joined a short time later by two raccoons. I didn't know if these were something that Andrew wanted gone or not (or if there was a season to consider) so I just let them carry on about their business.

The rendezvous time came and I could see Gary's flashlight in the distance so I climbed down and broke up the circus that I'd been watching for many hours.

No hogs sighted that night, but I've never had an experience like that in the swamp. It's a whole different world at night.

We pulled back into camp late but Andrew had plates with steaks, peppered mashed potatoes, and broccoli ready for us by the time we got our face paint off. A delicious dinner before entering the echo-chamber of snoring. Hate to bust you guys out, but dang!
---
Posted by sticksnstones (Member # 24842) on :

Day two was a little less interesting. Got up to eggs and bacon and a little joking around with the guys. Andrew was juggling a lot of stuff so I offered to take a few of the hunters out to their spots. Gary did some spot-and-stalk from the picnic area to Blue Lake, and I took George way over by the old camp to the stand he'd sat the day before. After that I did some shooting in camp, sharpened my other half dozen broadheads (yeah I was optimistic enough to pack two quivers and a dozen arrows with broadheads on this trip.)

Just about the time all the hunters came in for lunch I was all caught up on my chores and we had some chicken noodle soup and french bread for lunch. After lunch I took some corn and headed back to my hasty stand. Other than some telltale raccoon tracks, nothing had hit the corn I dropped in front of my hang on stand. I walked back down a trail I'd "accidentally" dropped a little corn on the day before. I found that every kernel had been vacuumed up! I accidentally had some corn kernels fall out of my backpack in all the places that were rooted that morning as I walked out.

I decided to get up into my short stand extra early just to be really settled in. Also if I heard any hogs getting run by other guys getting into their stands I'd have a chance to get down and get ahead of them.

What a great plan! To bad nobody told the hogs. Second night I saw those same squirrels, cardinals, sap sucker, raccoons, and possum as well as an armadillo. In spite of my reputation, I decided I was here to hunt pigs and I let the dilla walk.

Again at rendezvous time Gary and I met up and walked out. His night was a little better than mine but it didn't involve a dead hog. I'll leave it there in case he wants to tell that story later.

We got back to camp and had leftover spaghetti and salad. Now regardless of what you read above I usually go light on the carbs, that was the thickest and meatiest sauce I'd ever had and it was made with nothing but pork sausage. No burger anywhere in it! I ate it without noodles with a fork. I can't say enough about how delicious that dinner was.

Again we were off to the six-man-snore-jam to get some rest. (Man, am I gonna get some flak about this next year...)
---
Posted by sticksnstones (Member # 24842) on :

A couple days of early mornings and late nights were wearing on us. Gary and I slept in a while and just caught the end of breakfast with most of the guys. Poor Andrew had got up with one of the fellas who wanted to leave out early. It had only been two days but it was obvious that having day and night hunters in camp at the same time was way too much work.

When breakfast was a hearty banana nut bread I was a little worried about my caveman diet, but there were platters of both link sausage and bacon too! Yummy.

Now the guys were all going to Lester's for some BBQ for lunch that is right out of my diet plan so I made the plan to go out and stay out until basically midnight.

I started off by checking the stands that Gary and I had been sitting. I see where the pigs had ran the road rooting between 3 feeders but they hadn't stopped at any of them! This was the catalyst for my "change everything" plan. I pulled gear from both of those stands, went back to my hang on to find similar sign. I pulled that down too. I moved my hang on to a spot 5' over the trail I'd put some bait on the two days before. Longest possible shot was 12 yards. I dressed some more corn lightly around a mud hole at 10 yards.

At this point I needed to kill about 5 hours so I went to the end of Hog Lake and worked my way back towards Swamp Field as the flooding would allow me. I got back to my new spot a little after 4pm and settled in. I strapped into the tree and got ready for what I expected to be a boring night. I expected the trail was getting run early in the morning and not late at night, but where else would I rather be?

At 9:50 a helluva ruckus started off to my right. Clearly the sounds of feeding and fighting pigs going on. They came right into my light in little groups.

4 little footballs in the first group, gotta pass on them.

Next one came in alone and was in the 75 pound range. He looked like a good eating pig, but he buried up in with the little ones before I could shoot.

Nearly a minute passes with him bossing around the littler ones. See more shadows coming in, but not very fast... waiting game...

---
Posted by sticksnstones (Member # 24842) on :

3 more footballs break across the trail and push into that mud puddle too. When is a good one gonna come in?

2 more meat pigs come in a few seconds later. One is brown and I'm surprised how hard it is to make out in the green light compared to all the black ones. The other one is farther back and those little ones are in between. If I shoot low enough there is too much chance I might hit a piglet. Still waiting...

Some of those shadows are taking shape, and I can see that there are three really big ones that are holding back. I also see some more shadows dancing around beyond them.

After a few minutes I'm starting to question how many kernels might be left and so I start looking for one of the meat pigs to get alone and sideways. A few times I'd have a second to start to draw, but they were an ever moving mass of pork at this point and the opportunity never held for long enough to loose an arrow.

---
Posted by sticksnstones (Member # 24842) on :

Then out from the trunk of a tree a brand new hog wandered right in front of me and stopped sideways. I let the arrow fly and watched it fly right into the spot I picked. And so a squeal echoed through the swamp and I watched all the pigs flee in all different directions splashing through the flooded ground. I let things settle down and I picked up Gary at the rendezvous spot. We went back to camp for flagging tape, a bottle of peroxide, and about half a dozen charged up guys willing to go tracking into deep water in the dark. Anything I said about their snoring, this makes these guys all top shelf in my book.

A dozen pigs can lay down a lot of tracks and muddy a lot of different puddles. We worked in circles until well after 2am before deciding to resume in daylight. Daylight came and a few of us resumed on the tracks. It took a long time to get back on blood but Gary found it. We followed the scant path for a few hours as temperatures hovered around 90. Although I'm tenacious, the timing of spoilage, the lost trail, the overall lack of blood, and having no clues after hours of cutting circles. I eventually came to grips with the reality of the situation.

This is the story of my missing arrow and why I sat out the hunt that night. I spent the rest of the afternoon helping Gary and Donavan setup in two new spots for their last night of hunting. Part of that whole "change everything" plan. Then I retired to camp to replay the shot and the tracking over and over in my head and be generally inconsolable.

I figured I was done for the whole hunt, but someone else has the story that did change that.

---
Posted by Izzy (Member # 10828) on :

A tale well told. Way to try new approaches.
---
Posted by riverrat 2 (Member # 25061) on :

Great story Thom! I am glad you guys had a good time down there. Awesome. rat'
---
Posted by Shinken (Member # 18740) on :




Good stuff!

Keep it coming!

Shoot straight, Shinken


---
Posted by Flingblade (Member # 21996) on :

Nice story telling Thom! Hopefully Donavan is along shortly to tell his tale as his needs to be told.
This was my first trip to Wild Things. I must say the food, lodging and accomodations were all first class. Andrew is a kind, gracious southern gentleman and I'm glad to now call him my friend.
As Thom stated I decided I wanted to hunt the third shift. This was my first time night hunting and with any new hunting tactic there is a learning curve. I moved well along that curve during the week and will be back for more in the future.

---
Posted by Flingblade (Member # 21996) on :

One of the things that made the spot and stalk type hunting during the day difficult was the dry conditions. When I stepped off the logging roads I couldn't move without making all kinds of noise. The other was the constantly changing wind directions. I've honestly never hunted anywhere where the wind changed directions so frequently. In 10 minutes time the wind would be coming from all compass points. Very hard to keep the wind in your face unless you walk in tight circles.
One of the first things I noticed at night was as soon as the sun went down the wind stabilized and stayed from one direction. My first night on stand I heard a sounder of pigs move through about 50-75 yards out. They stayed upwind but didn't come in to the feeder. I really enjoyed my time on stand at night. It was peaceful and cool and there was always something moving in the woods.

---
Posted by Cyclic-Rivers (Member # 21222) on :

Great Story telling so far.
---
Posted by Flingblade (Member # 21996) on :

On the second night my feeder light came on at 7:55 pm. As soon as the woods were dark three raccoons came to feed. I was watching them when I heard something approaching from in front of me and to the right. It was walking toward me at a steady pace and I could tell right away this was no coon, possum or any other small critter. My heart started racing and I started my combat breathing to ready for the shot I just knew was imminent. Relying solely on hearing it sounded like the beast was 30 yards out when he passed directly upwind and I caught a whiff. HOGG!!! He continued moving passing by and walking directly behind my stand. I surmised he wanted to scent check the feeder before coming in and I hoped my scent stream would stay above him. Maybe I shouldn't have asked for the stands to be lowered. He stopped right behind me at no more than 5 yards and stayed there still for several minutes. I was starting to think he was gone when he moved again and them I heard him grunt twice. At that point I knew this was a big hog! He started walking back in the direction he had approached. I thought sure he would cut over and come into the feeder giving me the shot in the green glow. He continued moving and exited stage right. Thrilling and very frustrating to be that close to a big hog and not be able to get a shot off. Although I never had a visual I am assuming this was a big mature boar as he was alone and obviously not a young hog by the way he moved steady and deliberate.

Hats off to Thom for his "change everything" plan that put him in place to get a shot off, but in my defense an encounter like that could keep me in the same stand all week. I did hunt different spots the next two nights.

---
Posted by Flingblade (Member # 21996) on :

On my way back to the truck on the last night of the hunt I walked up on a sounder of about 8 or 10 hogs rooting in the road. I had my head lamp on and they didn't spook from the light. I was about 25 yards fromhem and I nocked an arrow and drew. At full draw my head lamp was pointed to the right and I couldn't see the hogs so I let down and slid it to the left. I did this twice and by that time the hogs decided this was a party they didn't want to attend and took off into the swamp. I figured out how to make that shot on the way back and next time I will be ready for that situation.

Would I hunt the night again? You bet!! I've never been afraid to be in the woods at night. I'm only afraid of being in the city at night. More dangerous critters there for sure.

I decided to sleep in sunday morn and get ready for the long trip home but my on time departure was interrupted by someone's success!!

Donavan; you're up buddy!!

---
Posted by DGF (Member # 35052) on :


---
Posted by 4dogs (Member # 19996) on :


---
Posted by killinstuff (Member # 13670) on :

I really don't believe you all caught anything down there. Need pics so lets get with the story boys.

---
Posted by DanielB89 (Member # 37294) on :


---
Posted by sticksnstones (Member # 24842) on :

Man, I know a few guys said that they weren't real "computer savy" but I figured we'd have another story before now.
---
Posted by stujay (Member # 23799) on :

Getting good!
---
Posted by sticksnstones (Member # 24842) on :

Alright, I'm running out of coffee and campfire wood so I emailed Donavan. Hopefully spell checking won't take him too long. In the meantime I stole a few pictures to share:

Here is someone who shared a ground blind with Doug for an evening: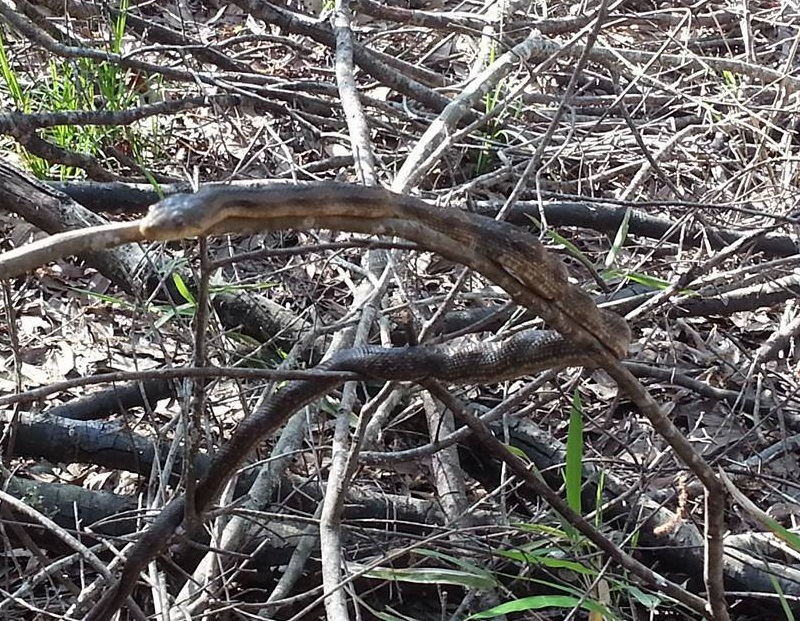 And here is one that Doug wouldn't share a blind with: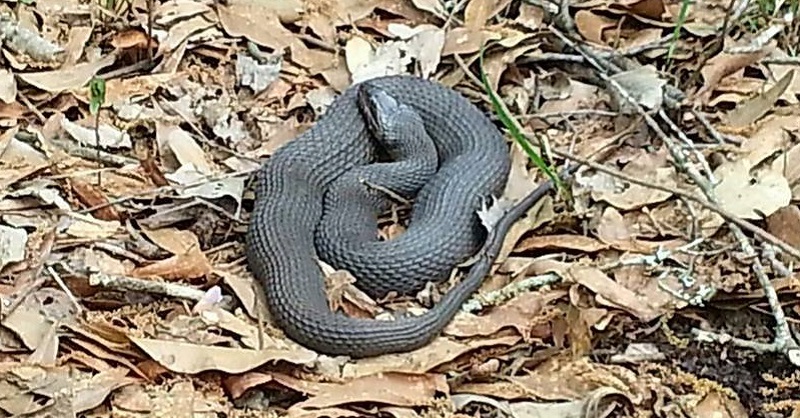 Here is a cool one of a very special Two Tracks Ambush: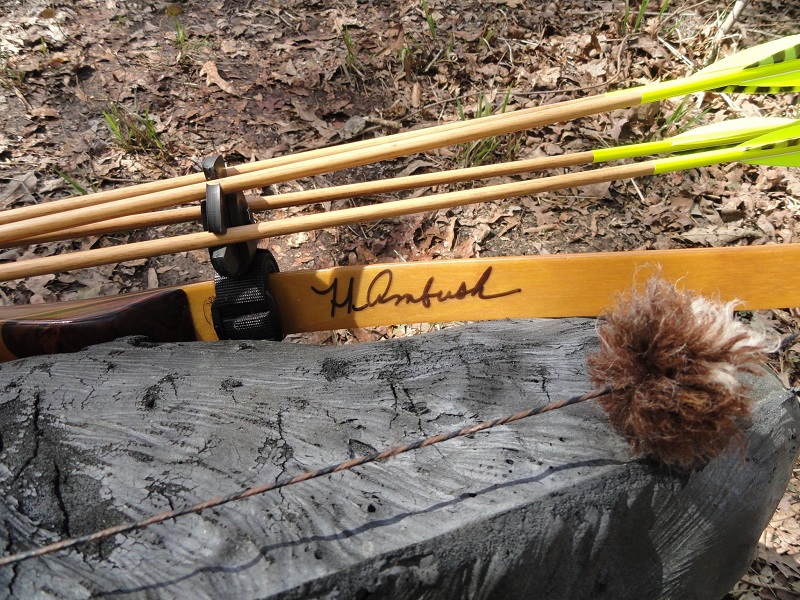 Rick and Doug, sorry I stole your pics but they are too cool not to share!
Thom

---
Posted by Rick Butler (Member # 7393) on :

Not a problem Thom!

---
Posted by sticksnstones (Member # 24842) on :

Normally I wouldn't pull up an old thread like this, but there has been a big question mark hanging of the rest of this story. Turns out one of the lucky hunters wanted to put pen to paper and publish his story in StickTalk,the Michigan Longbow Association magazine.

The article was published recently and all of our members have had a chance to read it. I got permission to link just his article for non-MLA members to enjoy. I've only got it in PDF right now so be sure you can read that file type before you click this LINK. Enjoy!



Thom

---
Copyright 2003 thru 2018 ~ Trad Gang.com ©

Powered by Infopop Corporation
UBB.classic™ 6.7.1