This is topic Barefoot Traditional Archers at Wild Things in forum PowWow at Trad Gang.com.


To visit this topic, use this URL:
http://tradgang.com/noncgi/ultimatebb.php?ubb=get_topic;f=1;t=144753

---
Posted by herndondt (Member # 34508) on :

They have been on me for a week or so to write this thread. I finally got around to it. Sorry for the delay but I'm not one for writing stories since I left the police department. LOL


I will try and post some pictures when I can but please enjoy the story.





Hog Hunt at Wild Things

Wild Things what a great place, three of us from Barefoot Traditional Archers here in NC booked a hunt at Wild Things in Estill, SC for the middle of May. Andrew told us it would be hot and that the mosquitoes were bad but we were excited anyway. It was Bud Blalock (Bud B.), Lee Hinton (LCH), and me Todd Herndon (herndondt).

Bud arrived earlier Wed. and started scouting, he could only hunt a day and a half due to family obligations, but Lee and I were staying till Sunday. Bud was on hogs almost immediately, when we arrived he met us at the lodge and informed us on what he had seen; Lee and I grabbed our gear and started scouting. Lee didnítt see any hogs that evening but I saw 2 hogs in the road on the way back to the lodge they weighed I guess around 100lbs. We were scouting but Bud was hunting that first day and stalked up on a nice boar but shot right over him at about 25 yds.

The next morning Bud and I hunted and Lee slept in. We didnít see any hogs so we came back in and ate breakfast. We decided to ride around and check feeders to see if any looked real active. Lee and I saw a big black sow cross the road in front of us. Lee tried stalking her but she disappeared in the swamp. When he came out in the cut pines there was another hog a little smaller 150 lbs. feeding in the road bed, Lee got within 30 yds but didnít have a shot (too thick). Charlie (the man who looks after Wild Things) took Lee and I to some active feeders and we made plans for an evening hunt.

We went back to the bunk house had lunch and sharpened our Simmons Sharks broadheads, we shot our bows some. I went out at 4:30 the feeder where I was hunting was set up to go off at 5:30, Lee went out at 5:00 his feeder was set up to go off at 7:00.

I was hunting out of one of the shorter Big Game Ladder Stands, which was located on the back corner of a field where three trails funneled out of a swamp with a steep ravine on the right side. The feeder went off and almost immediately I saw two nice boars stand up across the ravine approx 75 yds from me. They come running to get the cornfeeder. I barely had time to get stood up before the first boar came in. The other came in and stopped just short of the feeder. I drew and shot the big boar at the feeder. He was quartering away and I hit the spot I was looking at. The arrow went completely through the boar and stopped on the backeside of the opposite shoulder. The Simmons interceptor broke the opposite shoulder, the hog ran about 50 yards and piled up into a tree. The other hog stood there and was still eating corn. When I tried to get another arrow out of my quiver he my fletching scarped and caused him spook and he ran off. It didnít matter ďI had got it done at Wild ThingísĒ for a second time, THIS PLACE IS AWESOME!!! I got my hog field dressed him and had him in the walk in cooler before 6:30, he was too big for me to lift by myself so I just left him in the floor with ice in his belly until I could get some help from the guys to lift him up.

Lee saw 4 100lb hogs in the road on his way to his stand at 5:30.
Lee was in his stand(he used his old man climber to go up a nice pine) behind the feeder. This was located behind a planted Chufa field on the other side of some cut pines. The feeder went off at 7:00 and a hen turkey came in with her poults, at 7:30 an armadillo came in behind him but offered no shot. At 8:00 a big hog came in and circled down wind then walked right up to his tree. Then the hog circled around behind him and came into the feeder. He made a double lung shot at 15 yds. The Simmonís interceptor stuck in a root on the other side of the hog. The hog doubled back at the shot and circled back toward the stand and dies 10 yards away. It turned out to be a nice sow.

When Lee was walking out at 8:15 he saw a nice boar and a big sow with 8 small pigs in the chufa field. He made a stalk and got within 30 yds but they ran just as he was getting ready to shoot. After that we put his hog in the cooler it took both of us to lift his and mine.
Bud had to leave before we got back. The next day I saw 5 small hogs in a wallow and made a good stalk got a 25 yd shot missed and all the other hogs ran straight at me, but I only had one arrow with me. I never did find my arrow.

We had a great time and Andrew is a great host, Charlie did a great job helping us. This is a great place and we will definitely return. We killed some nice hogs 175-200lbs but with the sign we saw there are some really big ones down there. We saw tracks that were over 3.5 inches wide.

Lee and I shot our hogs with Hummingbird Kingfisher longbows and Simmonís Shark broadheads as Lee says that combo is hard to beat.

Hog Hunting Stats for 2 Ĺ days:
Lee 17 sited-1 killed
Bud 32 plus sited-1 miss
Todd 26 sited- 1 killed-1 miss

Thanks Andrew you're a great host, an awesome cook but an even better friend and brother!!

God bless everyone!

Please if you want to go hog hunting and have a truly memorable experience check out www.huntwildthings.com

---
Posted by TradBrewSC (Member # 37182) on :

Congrats!

Sounds like a good time!

---
Posted by Bud B. (Member # 24907) on :

Twice I was in hogs that were everywhere and on one stalk I got about 20 yards from a shooter, with wind in my face and the hog bedded in a trough between standing pines. There was too much vegetation between me and the hog. While waiting and trying to decide what to do, you guessed it, the low country wind did a 180 and BAM! One grunt and the whole bunch was gone.

On the miss I was trying to stalk up to a bunch that was also rooting in pines. There were two bunches in this spot, so moving was difficult with so many eyes nearby. They were rooting at a good clip, so once into a reasonable range for me and with the hog quartering away I drew back and loose the arrow. Flight was perfect. And just over the hog's back and into a large pine it went. The Ace head buried deep and the THUNK it made spooked the whole lot. While trying to catch back up, the now split group slowed down and started rooting again. I got very close to a nice boar, but a butt shot was all I had. I didn't shoot and then the same low country wind did another 180 and they were gone at a faster pace this time. And into a very thick area.

All total I lost count at 32 hogs. It was more than that, but a solid 32 were counted by me.

I had one group of 10 young hogs, roughly 40lbers, sense I was near. They were confused and huddled into a bunch. They backed their butts to one another and formed a circle and then began a low guttural growl, almost a hum in sequence, until one took off running and all followed. I had never seen that on any video nor have I ever heard of hogs doing that. It was neat, yet kinda spooky at the same time. I thought I was about to be bum-rushed by a bunch of piggies!!

Andrew is, as always, the best of hosts. And we can't say enough about Charlie, either.

I'll be back in October.

Thank you, Andrew, for a wonderful, albeit short, time at Wild Things!!

---
Posted by rbcorbitt (Member # 35446) on :

Great hunt and story! Let me know when you guys are heading back down!

I've got a credit on hold with Andrew!

---
Posted by Bud B. (Member # 24907) on :

Week one of the 2015/2016 season. Bob.

---
Posted by Bisch (Member # 17432) on :

Congrats, guys!

Bisch

---
Posted by Phillip Fields (Member # 9937) on :

Sounds like a great hunt.

---
Posted by Good Stuff (Member # 34600) on :

I would love to go do this with you guys!

---
Posted by Flingblade (Member # 21996) on :

Great story, thanks for sharing! Looking forward to the pics when you can post them. I was there last spring and must agree, Andrew runs a great camp! I plan to return at some point in the future.

---
Posted by Red Beastmaster (Member # 820) on :

I was anxious to hear about your hunt. Sounds like you had a fantastic time! Great job!

Our group just sent deposits for our next hunt. I can't wait to go back there. It's a special place, run by a very special friend.

---
Posted by Bud B. (Member # 24907) on :

No pics from me...sorry guys and gals.

---
Posted by Bud B. (Member # 24907) on :

And I can say this...gators have invaded the camp pond. We lost count at 18 sets of eyes one night using the flashlight. One set was quite wide. Probably 6" between them. That's a big'un!!

---
Posted by herndondt (Member # 34508) on :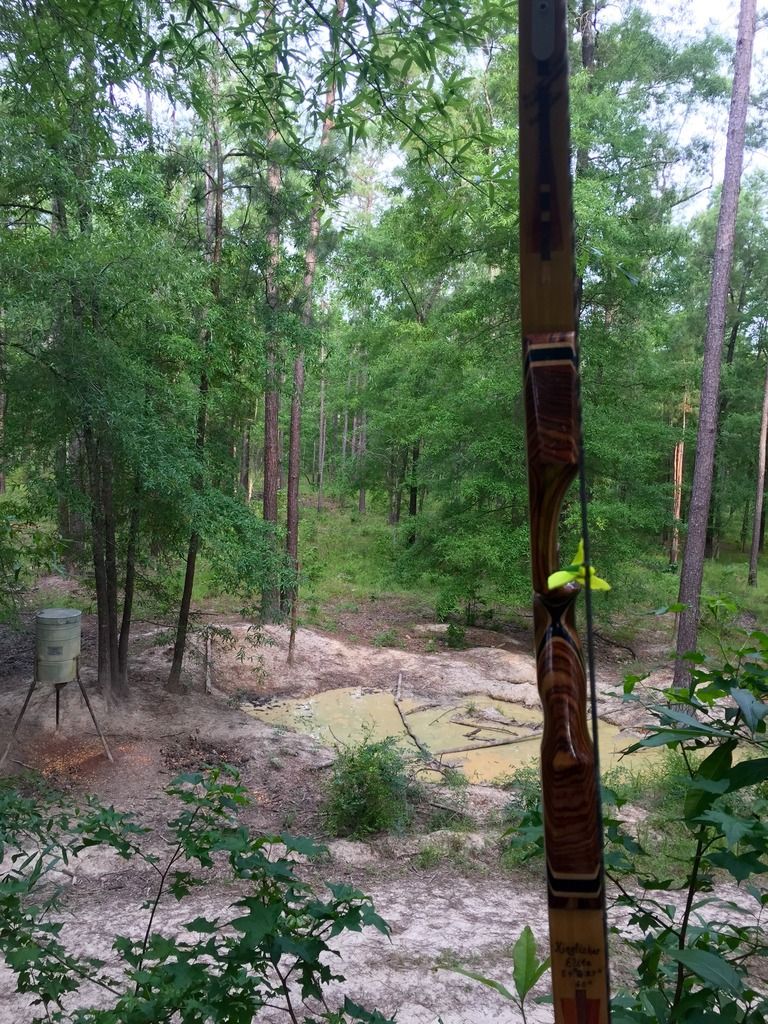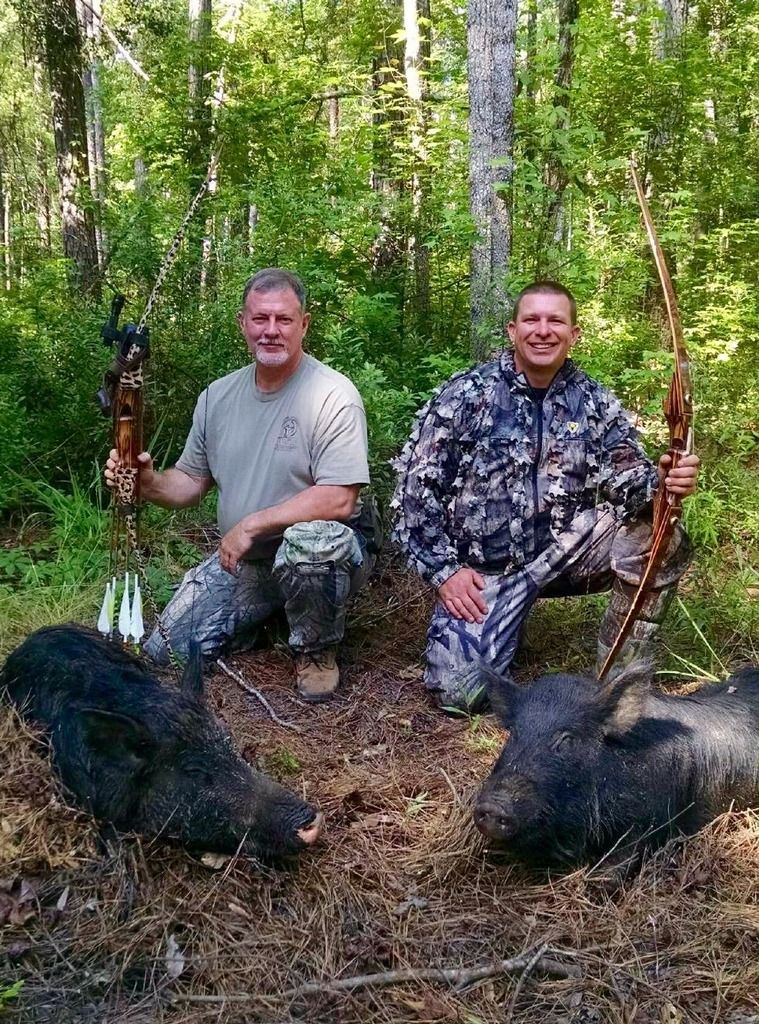 This is the 2 in the road the first evening we were there.

---
Posted by Rick Butler (Member # 7393) on :

Great story, can't wait to get back down there.

---
Posted by smokin joe (Member # 15756) on :

Well done. I'll see you down there in October.

---
Posted by herndondt (Member # 34508) on :


---
Posted by Big Lefty (Member # 17790) on :

Sounds like an awesome hunt! Congratulations and thanks for sharing the story and pics!

---
Posted by rbcorbitt (Member # 35446) on :

I wanta go play!!!


Congrats Todd and Lee!

I am sure Ben at Hummingbird Bows is happy with the results!
---
Posted by suburbanirma (Member # 9621) on :

Good going, Todd. Great looking hogs. Did you see any 'dillas?

---
Posted by herndondt (Member # 34508) on :

Well Tom.............................




I saw 4 on this trip. I stalked up to 3 and shot at one. I nicked it because there was blood but they all took off and ran into a hole. The 4th one I was on stand and it was a nice one but it just stayed in the thick brush. I couldn't get a shot. SOOOOO!!!

I haven't harvested my trophy yet!! Maybe this next trip in October
---
Posted by herndondt (Member # 34508) on :

Thanks Bob! We missed you on Saturday at the STAR shoot. Come on down in October with Bud, Joe & I.

Ben is really happy with our success. We are really happy with our bows. He makes some deadly accurate works of art that's for sure.

---
Posted by Cyclic-Rivers (Member # 21222) on :

Looks Like a grand time. Congrats on your Hogs!

---
Posted by Izzy (Member # 10828) on :

Congrats fellas. Just spoke to Andy tonight and Im ready to go back.

---
Posted by Whitetail Addict (Member # 43100) on :

Congrats guys! Sounds like you had a great time.

Thanks for the story and pics.


Bob

---
Posted by rbcorbitt (Member # 35446) on :

I'm in for October!

Come on Izzy! Join some Southern TG members for a good time!

---
Posted by rolltidehunter (Member # 21755) on :

Good shooting

---
Posted by Izzy (Member # 10828) on :


quote:

---

Originally posted by rbcorbitt:
I'm in for October!

Come on Izzy! Join some Southern TG members for a good time!

---
Late March for me sir, the last week. My birthday weekend. I killed a hog there on the same weekend in 2014. October is deer season here, no place on earth Id rather be. I sure would like to meet up with you though and convince you to leave my St. Judes bids be!


In all seriousness Im thankful for folks like you. You make a big difference for St. Judes.

---
Posted by rbcorbitt (Member # 35446) on :

Ha! Sorry my friend!!

Look forward to hunting with you sometime (Feb. '16 will be tuff 'cause I'll be in Louisiana with Fred G killing hogs and eating Fred T's great Cajun cooking
).

You will be in my thoughts, though!

Looking forward to sharing a campfire with you soon!!

---
Copyright 2003 thru 2018 ~ Trad Gang.com ©

Powered by Infopop Corporation
UBB.classic™ 6.7.1