This is topic some big boars getting killed at Wild Things! in forum PowWow at Trad Gang.com.


To visit this topic, use this URL:
http://tradgang.com/noncgi/ultimatebb.php?ubb=get_topic;f=1;t=148085

---
Posted by sticksnstones (Member # 24842) on :

Last week was a really good hunt at Wild Things!

As always, my work is piled up like crazy now that I'm back. As I catch up on that I'll start posting some pictures and I promise you that you will not want to miss the ending! All I ask in exchange for this tale is a little patience as I tell it.

If you are in my inner circle and know the story I'll ask you to keep it under your hat until I can tell my version first. There is always time for the truth later!

Thom

---
Posted by pdk25 (Member # 12864) on :

Nice! Looking forward to the rest of the story.

---
Posted by Bisch (Member # 17432) on :

I'm in!

Bisch

---
Posted by wooddamon1 (Member # 26099) on :


---
Posted by Anointed Archer (Member # 4286) on :

Bring it on Sir Thom!

---
Posted by Mike Vines (Member # 7379) on :

This sounds like it is gonna be good.

---
Posted by 23feetupandhappy (Member # 18774) on :


---
Posted by Flingblade (Member # 21996) on :

The devil's in the details Thom and as Bon Scott said, "I'm all ears".

---
Posted by Terry Green (Member # 3) on :


---
Posted by carbonflyr (Member # 22990) on :

lord knows i'll be all ears
---
Posted by Cyclic-Rivers (Member # 21222) on :

Tease! I'm tuned.

---
Posted by ranger 3 (Member # 3123) on :

Can't wait

---
Posted by Pointer (Member # 11915) on :

Stay tuned fellas...I was on this hunt..you won't wanna miss this

---
Posted by daveycrockett (Member # 6663) on :


---
Posted by sticksnstones (Member # 24842) on :

Alright, lets get this show on the road!
***
Friday January 1st 2016
This is going to be a very different trip than the usual!

Andrew had 4 hunters booked in and confirmed, then ended up with a trip that conflicted with the scheduled hunt. We talked it over and I felt confident running the camp (minus cooking) with Charlie's assistance.

Doug of Camp (h)Ambush fame is a good cook, and he was able to take the time to come feed the troops. Doug and I have hunted together here many times and even brought in a few hogs together over those trips. Heck one hog ended up with both of our arrows in it, but that's an old story now.

He agreed and put together a menu including things from his freezer like line caught Alaskan coho salmon, his award winning venison chili, and a venison stew that I've heard about for a long time.

Since New Years Day falls on a Friday, I pack my stuff into the truck and leave my house by 4pm. I arrive at Doug's about 7:30 in time to enjoy a great dinner with Doug and his wife. She made some sort of Italian baked sandwich with a few types of salami, a white cheese, and a chopped olive spread. It was FANTASTIC! She also picked a nice bottle of red to go with it. It was hard to give up on good conversation, but I had to head to guest quarters by 11pm to get some rest for the drive.
***
Not a bad first day of 2016!
Thom

---
Posted by sticksnstones (Member # 24842) on :

***
Saturday January 2nd 2016
Travel day and the weather is perfect for it! Doug and I toss in the last minute stuff and start rolling at 5am towards Estill.

We grabbed a coffee and filled the gas tank in Bowling Green Ohio, then don't stop for anything but gas until Columbia SC. We really wanted to get this drive done and get back to that special place.

Doug needed a reprint of his SC hunting license and some last minute grocery purchases so we did that in Columbia. The trip down highway 3 was uneventful minus lots of deer crossing at peak hour.

We arrived at the camp gate at 8:30pm and scare a stray dog out of his bed. Weird, his bed is as clear as can be just a few feet from the gate. Seems quite nervous, maybe abused before abandoned?

We unload the hunting gear into the bunkhouse, then unpack the groceries into the lodge. We ate a late dinner then went to claim our bunks for the week. Easy to get to sleep after that many hours on the trail.
***
Not much to say about a 16 hour drive, tomorrow we string the bows...
Thom

---
Posted by sticksnstones (Member # 24842) on :

***
Sunday January 3rd 2016
Itís good to wake up in camp! Doug and I get up around 7am and have some coffee. Doug gets a wrangle on the kitchen, stove, pots, pans, etc. He makes some eggs and bacon for us.

We set out on the Gator and swap memory cards at Charlieís Field, Gumbo, Blue Top, and in the camp camera across the pond. I also put out a new camera at Hog Wallow.

On this trip we also take bolt cutters and a hammer along with my safety harness and climbing sticks. We knocked down old steps and stands at Wild Fire, Hog Wallow, and over on the ditch by Blue Lake Field. Very good day! We found the raccoons disabled the feeder at Pine Field, so we doctored it up enough to hold until Charlie can really fix it.

I look at the Picnic area and itís even deeper than two weeks ago. I snap a picture of Doug for perspective, itís nuts.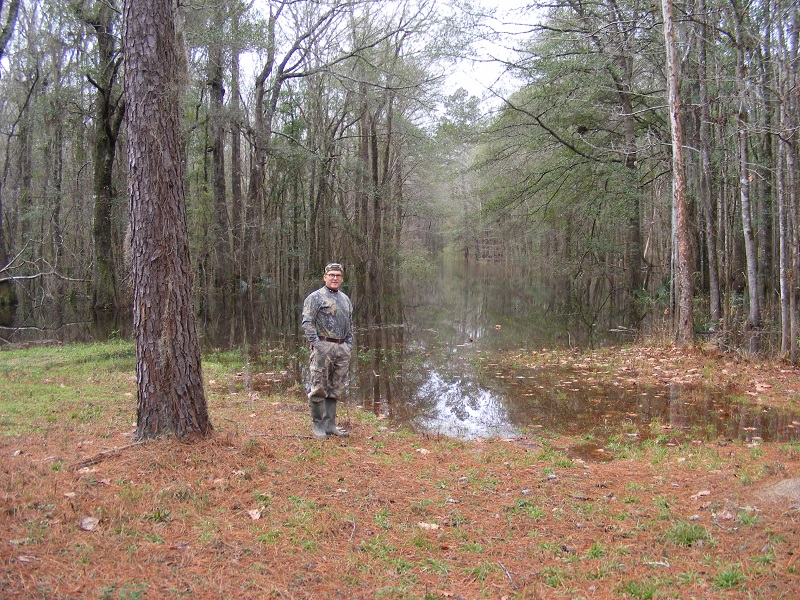 Later in the week these trees would be underwater too!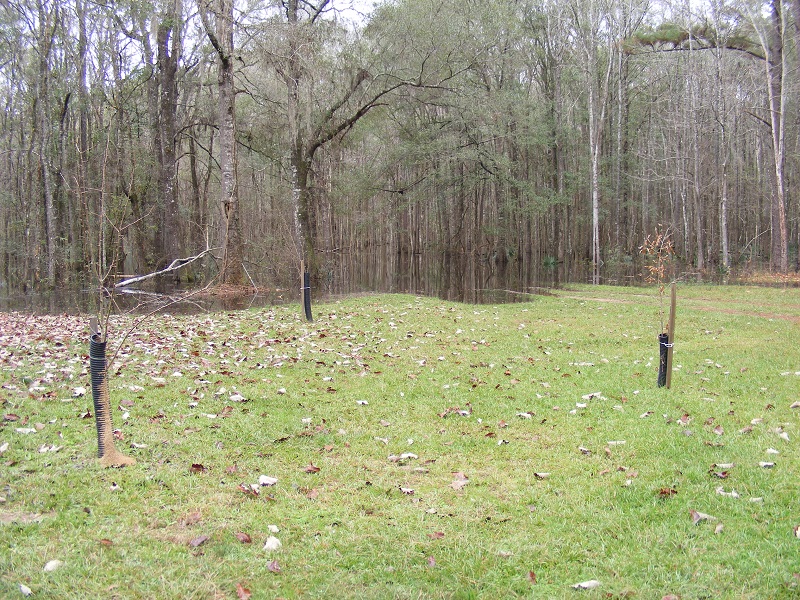 Back in camp Doug browns up some venison and makes his famous (and award winning) chili for our dinner. Doug wants to sit Blue Top to do a night sit, That is the only feeder going off at 7pm, 8pm, and 9pm with a new Blind Side-R light I just put out two weeks ago. I really want him to get a pig tonight so he can fully focus on cooking the rest of the week!

While I have been pursuing this one really big boar for almost a year and a half, this trip is about handling logistics and trying to get all the guys into pigs. I decide I want to minimize pressure in any way I can. I decide to put up my Lone Wolf in a big tree over the "camp feeder" and that will save one extra stand for a first-sit.

We clean up, do some shooting, and climb into our spots at 4:30. I see nothing as the temperature drops over the next 5 hours. I come down at 9:50 and walk to camp to warm up. Iím just starting to get a little worried about Doug when the headlights come around the corner. I tell him my very short tale about nothing, then he tells me a much longer one!

The hogs came in a full 2 hours earlier than what the trail cameras were showing! They were there before sundown but they stayed to the far side of the feeder offering no shot. After darkness fell they stayed at the far end of the feeders throw for quite a while. Eventually they got close enough to set off the motion sensor and they would just stand there and feed. Apparently a few weeks to get used to the light was good enough!

He was presented a nice shot on a good meat pig, and he put a good shot into it! It trotted off silently while the rest kept feeding. The next few times he started to draw on a hog the light would go out forcing him to let the string down. About 4 draws later it came together again and Doug shot a second hog! The motion light turned off right as the arrow impacted, but Doug wasnít as happy with that shotís placement. After that a hog fight broke out and he sat and listened to the melee at about 15 yards.

By 9pm it was quiet and he found blood and most of his first arrow which had passed through he first hog. He packed up to come back to camp.

As he was walking out he heard hogs off the side of the road, he shined his light on 3 of them at about 30 yards. He then saw a few more closer ones to his right. They let him hold the light on them and cross an opening to just under twenty yards. He held his flashlight precariously in his bow hand and drew an arrow back. Release was terrible and the arrow settled into the mud without touching the hog. Back to camp he comes.

We decide to leave it all til morning, at 44 degrees it would be just fine! We both enjoyed two helpings of that chili (did I mention it was award winning
)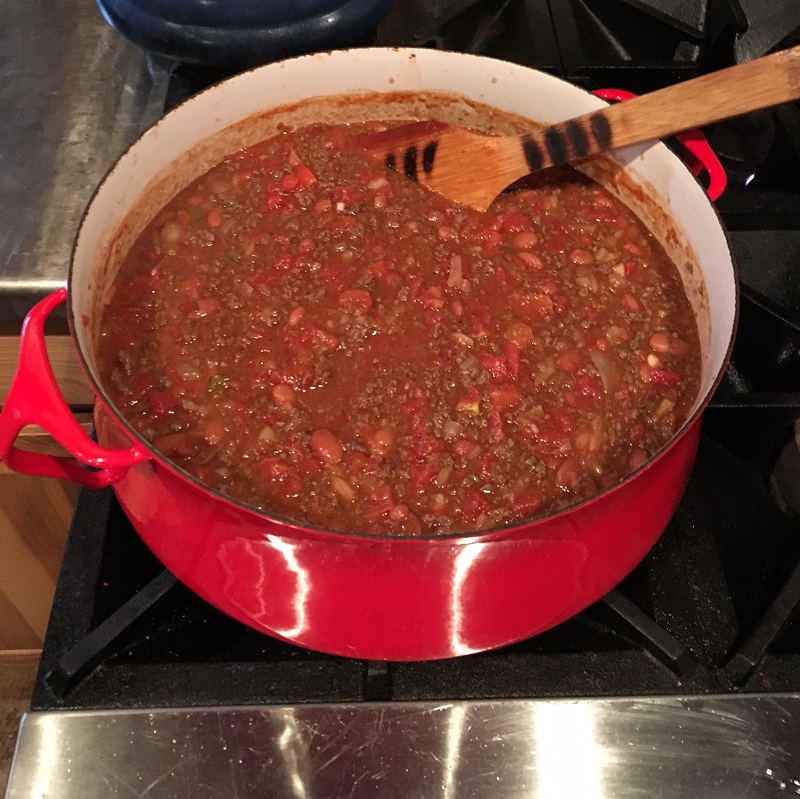 Off to the bunkhouse about 10:30pm.
***
Busy day ripping out old stands, busy night for Doug shooting his bow!
Thom

---
Posted by Pokerdaddy (Member # 24679) on :

Can't wait to hear the whole story!

---
Posted by sticksnstones (Member # 24842) on :

I've gotta pause the story here for tonight, but tomorrow's installment should get us up to the biggest boar I've heard of falling to a single arrow in a long time.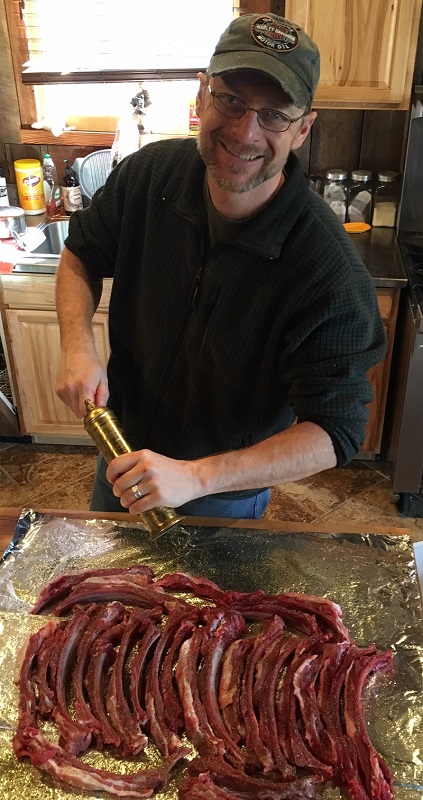 How about that for a delicious teaser?
Thom

---
Posted by yth-mnstr (Member # 2105) on :


---
Posted by Cyclic-Rivers (Member # 21222) on :

This is getting good fast!
---
Posted by Rick Butler (Member # 7393) on :

Good stuff Thom!

---
Posted by 23feetupandhappy (Member # 18774) on :


---
Posted by J. Cook (Member # 20751) on :

I need to get down there one of these days - pretty sad considering it's < 3 hours from where I live.

---
Posted by smokin joe (Member # 15756) on :


---
Posted by Longbowlogan (Member # 25677) on :

I'm in for the rest of the story!

---
Posted by tracker1 (Member # 27357) on :

Yes this hunt sounds like a great time

---
Posted by pdk25 (Member # 12864) on :

[QUOTE]Originally posted by sticksnstones:
[QB] I've gotta pause the story here for tonight, but tomorrow's installment should get us up to the biggest boar I've heard of falling to a single arrow in a long time.
QUOTE]


Now if that isn't a tease, I don't know what is.

---
Posted by Pointer (Member # 11915) on :

"I need to get down there one of these days - pretty sad considering it's < 3 hours from where I live." J.Cook

You should do that...If I lived where you live I'd be there a 3 times a year!

---
Posted by Pierre Lucas (Member # 7908) on :

Oh boy! Waitin' is killin me.

God bless,

---
Posted by hawkeye n pa (Member # 2645) on :

Waiting! And geesh that some high water!

---
Posted by sticksnstones (Member # 24842) on :

Alright fellas, back on it!
***
Monday January 4th 2016
Up and having breakfast early, coffee is good and strong. Doug seems quite invigorated for some reason, it might have something to do with the hopes of a short trailing job.


Charlie shows up just as we are suiting up and getting ready to go search for hogs at 8am. We get on great blood at the spot of the shot, but it starts spreading out as it apparently hit it's stride heading back towards the Bent Pine. We lost and found blood many times. The deep and wide pockets of standing water made it extra tricky. About 300 yards in I heard a huff and I snapped my head up to see Doug pulling an arrow from his quiver and looking into the cane about 40 yards ahead of us. I looked down to find my own fingers putting an arrow on my string.

We closed with that clump of bush intent on killing, but found nothing when we got there. The beds we found were void of blood. It was a bust. We put our arrows back into the quivers and Doug reaches for his prescription glasses that he had hung on his binocular harness to find that they are not there. They are somewhere between where he is standing and where he heard the huffing sound... About 50 yards of ankle deep water.

Without the use of his close up vision, we resume tracking. Yeah, this is when things started looking really bad. We search on that first hog until almost 1pm. The blood never really got good, then tapered off to really bad.

We go back to the blind and try to pick up on the trail of the second pig desperate to pull something out of this situation. There was no sign of second hog or the arrow that hit it. Although despondent at the time, I coax Doug into snapping a quick picture before we give up the track.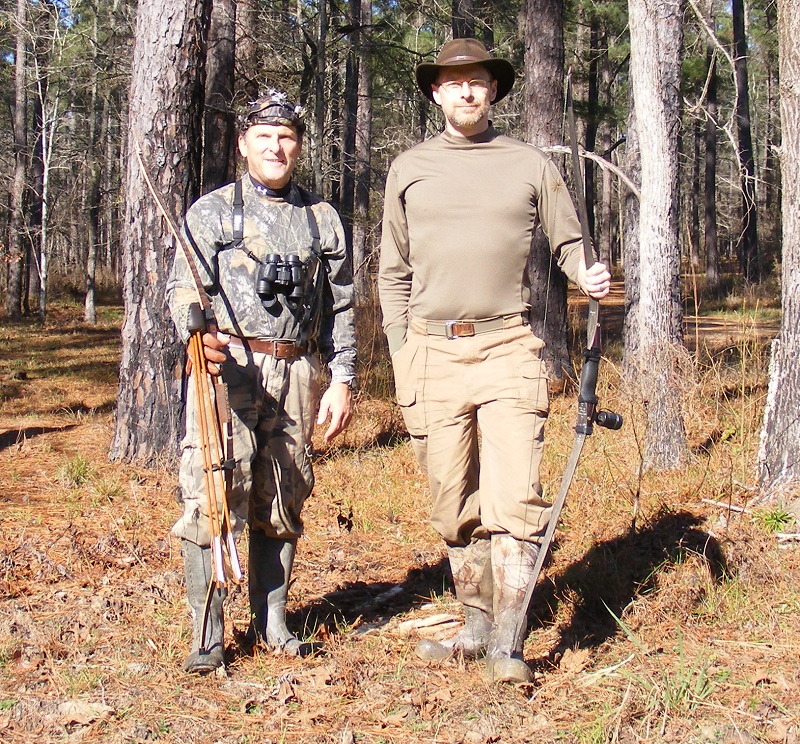 We pick up his clean miss arrow on the way back to camp so he has one to put back in his quiver for tonight. Charlie agrees to stay for lunch and sample some of Dougís chili. Did I mention it was famous? We sampled that pot pretty hard but we figured there was enough left for dinner for 4. As good as it is, there is a limit to how much chili should be served this early in a week long camp!

After lunch Doug and I run to Estill to get a couple things at Wiggins, some reading glasses at the dollar store to hold Doug over, and a few loose ends at the IGA before returning to camp. I try to send a message to Bryan and his son Keith who should only be a few hours out, not sure if it got through or not.

We need to shuffle some frozen goods between the freezers in the new camp and the old camp. On the way back around from the old camp we take the camp roads and find a little black hog about the size of a football all by itself in the Cohens Bluff Field.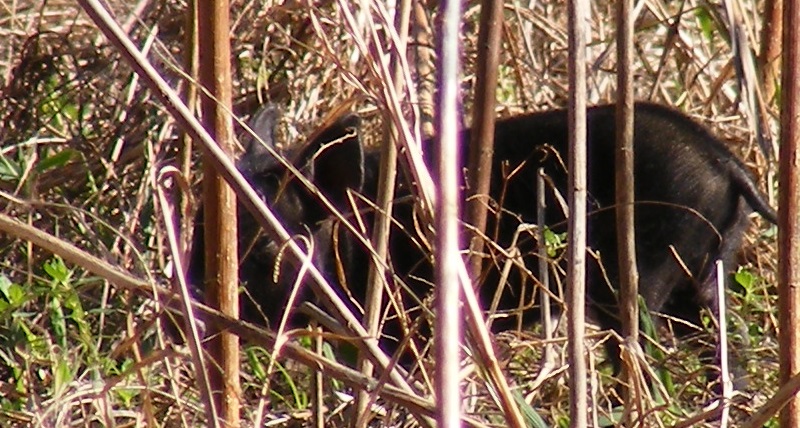 I know RC loves the challenge of catching a live piglet for a picture before release, but I'm worried I might blow out my knee trying to catch this guy! I get a few snapshots of the cute little feller and we leave him be.

Back in camp I am staring at the aerial photo of the property when Bryan and Keith arrive in camp. Itís great to see Bryan again, we've hunted before and had him as a guest to our camps at Compton Rendezvous and Great Lakes Longbow Invitational. I feel like I know the guy pretty good. It's also great to finally meet his son for the first time. Doug and I talked it over and thought it best to just relax for the evening and skip any hunting activities. We have a final round of Chili with these guys and then settle in to sharpen broadheads while these guys unload gear and string their bows.

* Quick aside as I publish this to tradgang; we turned this broadhead sharpening into a little contest and I sharpened 3 of Doug's Steel Force single bevel broadheads. Those suckers are HARD steel! I got them shaving sharp, but holy cow! Bryan mentions that they have a lifetime sharpening clause and points it out in a catalog off the coffee table. I'm relieved that as a Tuffhead fanatic I know how to sharpen a hard single bevel head.

Itís only 9pm when we are done with this, but they started off at 3am for the drive here and our hog searching exhausted us as well. Lights out at 9:15pm. Are we getting old???
***
Thom

---
Posted by pdk25 (Member # 12864) on :

Keep it coming.

---
Posted by sticksnstones (Member # 24842) on :

***
Tuesday January 5th 2016
Up The guys want to get up early and go stalking. I make the coffee and help Doug with the bacon while he makes ďmustard scrambled eggsĒ. What do you know, they are pretty good!

The guys come over and we talk about places they could stalk this week without messing up the evening sits. I suggest a path from the picnic area up to Gumbo, along Craigís Trail, and up the pond up to the Upper End Field. They strike out for the old camp to check out Craigís Trail.

Doug and I bundle up in every piece of clothing we brought with us and set out in our convertible in 31 degree weather to go pickup cameras. If you want to know what I look like when I'm cold and cranky, this is it: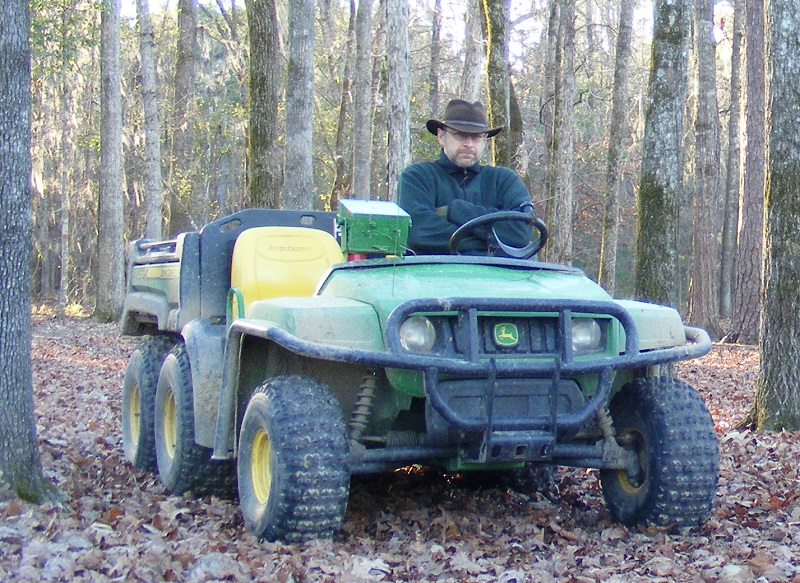 We pull all cards, cameras left running at: Camp Feeder, Charlies Field, Pine Field, Blue Lake Field, and at Cohenís Bluff Field I leave my new A7i in video mode to see how that looks.

We found and pulled out an old ladder stand out of the woods over by Crossroads and put it on the pile of old stands in the old camp. When we get back to the new camp we take apart the old sign that was leaning on the bunk house and put it on the lumber pile over by the old shed. That thing was a handful! I don't know if Andrew wanted that gone or not, but it needed to go.

I go over the pictures, nothing shocking beyond the number of deer and the bucks in particular on camera. Hogs have cleared out of Blue Top after our tracking, might take them a while to settle back in. I make a fire outside and ponder things for a while. I take a piece of paper and schedule out groups of feeders to sit each night appropriate to the number of hunters we have each day. I pray I can put all these guys on hogs this week as the South side of the property looks to be one or two stand short for six guys.

When the guys come back they give the report. They covered all 3 areas plus a little more this morning. I guess I didn't say that those areas should have been covered over the course of their 3 days of hunting. I'm worried it's too much scent.

We eat grilled panini sandwiches. For tonight I want to put Bryan and Keith into the best stands I have access too and in the middle of the property Wild Fire and Hog Wallow are looking great right now.

I tell them to descent and be ready to be on stand by 3:00. They plan to take red headlamps and sit until 7pm. I ask Doug to deploy them via Andrewís truck, and then to sit the 2nd Hardwood Flat near Bent Pine for himself. He agrees it sounds like a solid plan and takes them out.

He takes his headlamp and will bring them back for Venison Stew. Not award winning, but spectacular in itís own right. I will go to Blue Top. There hasnít been a pig there in 48 hours, but they will come back eventually. I will leave at 4:00 and be in there by 4:30. I will sit until 9pm feed goes off and come back right then if I donít hear anything. Better bundle up, itís cold here!

* hunting journal up to date

Driving out of camp real easy in my truck I see 1 hog trotting before Cohen's Bluff Field. Probably 100 pound meat hog. Just on the other side on that field going the opposite direction I see 3 bigger hogs heading the other way. Another quarter of a mile up by Blue Lake Field I see one big sow and 6 piglets (5 black, 1 red) on the left side of the road. The sow crosses into the brush right behind me. The little buggers get confused and start following my black truck down the road instead of following their momma into the cane! I snap one picture of them in my rear view before I continue on. Too cute, but it doesn't turn out.

5:15 I see a deer's eye through the trees. He's a button buck and he starts coming in. I know they are out of season, but if I can beat a deer's eye and nose it's a good sign for hogs. After this little dude, 4 more come in behind him. 4:50 they are at the feeder.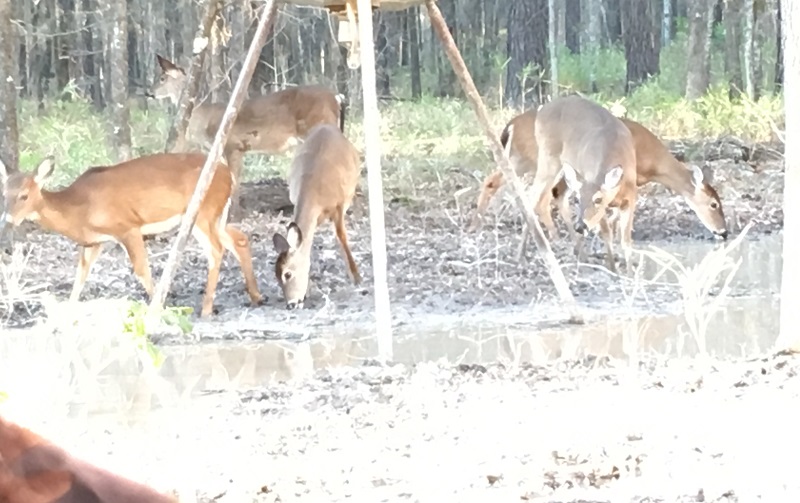 As dark approaches I stick my head out of the blind and say "Get out of here", that saves a little corn for the hogs. Feeder goes off in the dark at 7pm, then 8pm, then 9pm. Maybe I shouldn't have scared away my entertainment. Felt like a long sit.

I pack up at 9:30 and walk out to the truck, load it up and head to camp. I get there and Doug says "what's wrong with Andrew's tailgate?" I'm feeling a little burned crispy after a long sit and I snap "Dude, I don't even know. Do I need to look at it tonight or can it wait for tomorrow?" The glean in his eye was a giveaway "No, I think you should look at it tonight." I put my boots back on, turned on my headlamp, and when I got out there I found the problem. Yep, BDH for the poor truck. Big Dead Hog was stopping the tailgate from closing...

Now before I continue I should say a little something. Bryan has been down to Wild Things a few times before this, but he has never got a shot at a hog before. The time he joined Camp (h)Ambush he hunted 5 days without seeing a hog! Heck the poor guy was the only guy not to see a hog that trip! Short story, the guy has seen the lows of hog hunting. He has paid his dues.

Now this particular night he offers the best stand to his son and takes Wild Fire. No slouch, but I would have put my money on Hog Wallow. He sets up and relaxes. The feeder goes off and a hog starts circling. It comes in to 25 yards and starts circling back the opposite way. He pulls back his string, then lets it down. The boar turns and he starts to pull again before letting down a second time. He begins his draw cycle a third time, but lets it down again. Bryan takes a few breaths and composes himself in the waning daylight. On his fourth draw cycle he hits anchor and his arrow hits true on that boar standing broadside at 25 yards.

The hog ran straight towards the road and seemed to stop at the ditch at last light. It was standing there swaying when Bryan lost his ability to make out the form in the shadows. He climbed down and went and walked along the edge of the road. He was in super sneaky mode, wind was good. Still, there was no sign of the hog.

He went to get his son from Hog Wallow and the two of them returned to the corner in the road. "I lost sight of it right here, right by this log" and the two of them started looking for blood by the light of their headlamps. Keith worked one circle out looking for blood, then circled back in to take another loop. This is when he realized the log had hair on it. The hams and head were underwater, only the torso stuck up into the air.

I wish I had a picture as they found it, but here is Bryan and his first hog!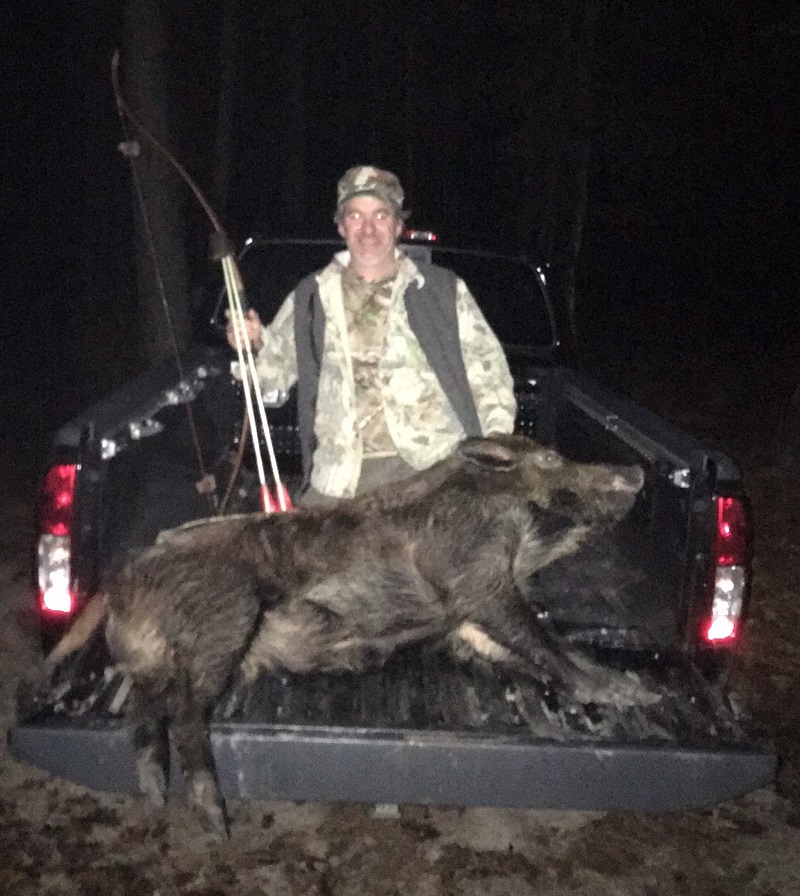 Now this year there was one bigger hog killed, but that wasn't a clean/one-arrow sort of deal. This hog was killed in one shot, and it was kind enough to spend it's last 50 yard run heading straight towards a road. I love hogs like this! I sure hope he's not rank, as I'd love to sample the rib meat on this one!
***
We all enjoyed "all you can eat ribs" for lunch one day, and it was more than ALL of us could eat!!!

This is a #14 Wagner piled 4 levels deep in seared ribs before baking: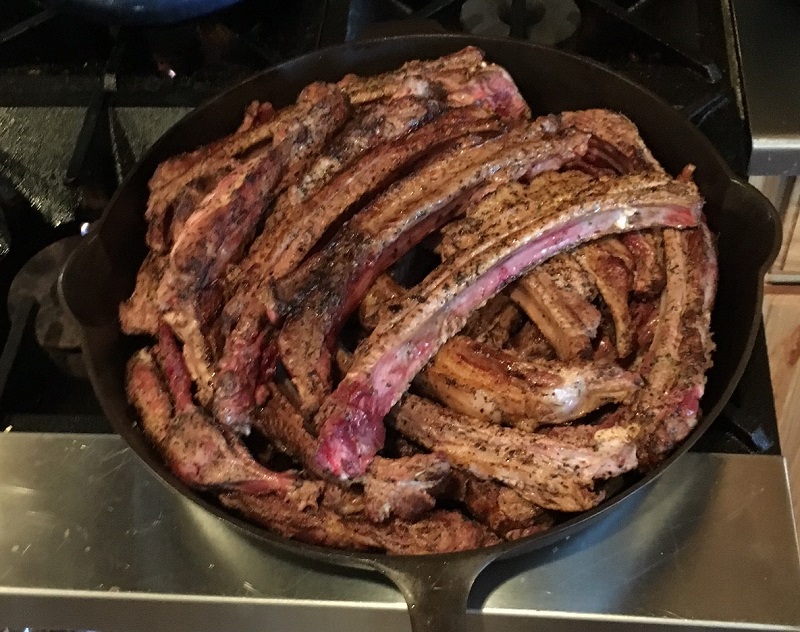 A #14 is 16.5" ear to ear!

And this is after it came out of the oven!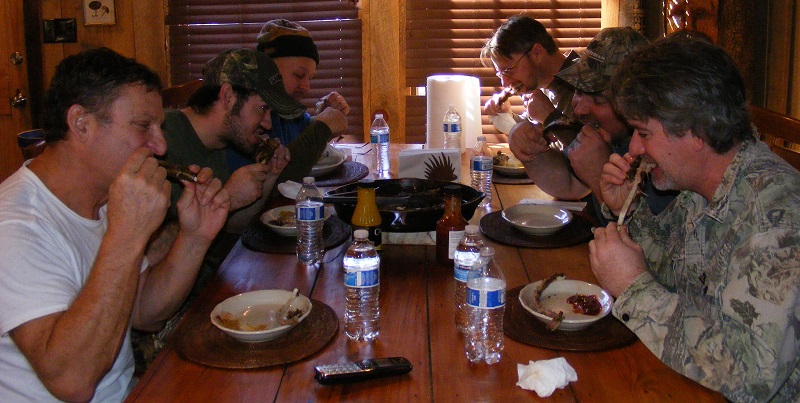 Of course that was a bit later in the week after the rub settled in so I guess I'm skipping ahead. Man, that was some delicious hog!!! Entrance and exit wounds took out two ribs, otherwise there was no meat wasted on this pig! I bet that skillet and those ribs were almost 30 pounds as they came out of the oven!

Big congrats to Bryan from Indiana for keeping his composure in waning daylight while starring down a big boar! Heck of a great shot!
Thom

PS thanks for the ribs!!!

---
Posted by Bisch (Member # 17432) on :

Looks like a great time so far!

Congrats to Bryan on his first hog!

Bisch

---
Posted by sticksnstones (Member # 24842) on :

***
Wednesday January 6th 2016
After dressing out that boar last night, we go back to the skinning shed after breakfast. It starts easy but the shield is thick and hard. The skin wont drape once we get past half way down the torso. I think this might make a nice hide-on tan so I drape the skin over my cooler in the walk-in. We put the tenderloins and backstraps on ice, as well as the front quarters. We also hang both rear quaters at the same time. Bryan gifts the ribs to camp meat and I get to work on those. My Lucas Forge "Packer" does quite the job slicing sternum and working spine joints. It's nice to have a really good knife and this one has been getting a workout lately!

After butchering Charlie and I head out to do some chores around the property. In the process I stick the Toyota at "Pocket". Charlie shows me where the differential lock is and un-sticks it. After that run we get the Gator and I get it stuck in the gumbo at Cohen's Bluff Field. Simply put, this stuff is slick as snot after a rain. No, I take that back. Snot could only aspire to be this slick. While Charlie and I are hooking up chains and a come-along Brian and Keith show up. They just bumped some hogs and got some shots off. We unstick the Gator and then start figuring out whats up.

We know Keith shot one hog and missed it with another arrow. We know Bryan wasn't successful in connecting on his followup shots either. We get on last blood between Charlies Field and the 11 Acre Field. I work into some black briar and find where it's swerved a few times. We work that blood trail until dark and we huddle up. The hog in question has been hit once, and blood is light and sparing. The arrow has passed through but the color, and amount of blood is not promising. At dark we call off the search. I wish I knew some magical way to not have to deal with lost hogs...

Back in camp we have two new hunters, John and Val. At this point it's too late for anyone to go out so we sit this night out too. Doug serves up some of that line caught Alaskan coho for dinner.
***
20 hogs seen. 4 shots taken. 1 hog hit, and nothing in the cooler. These are the hard days...

This is it for tonight, but tomorrow I'll post a bit about Bryan's other hog and maybe I'll start the part about another hog...
Thom

---
Posted by Bud B. (Member # 24907) on :

If I could, I'd train a hog blood tracker dog exclusively for Wild Things. Hogs sure are tough critters.

Good writeups, Thom.

---
Posted by sticksnstones (Member # 24842) on :

Yeah Bud, I've been looking at some dachshunds myself. I really think they'd help on the hogs. Since a string tracker won't try to creep up into bed in the night I'm starting with that personally.

Here we go!
***
Thursday January 7th 2016
I wake up at 4:45 to the sound of the coffee maker and it's automatic timer. Now I won't say I'm superstitious, but as a trad bowhunter I am. I woke up from a dream where I was in the edge of the woods shooting hogs with my longbow. BEST DREAM EVER! Last time I had a dream about killing pigs in this camp I shot a nice meat pig that night.

Five minutes later Val is over for his first morning cup. As a coffee guy, I truly appreciate his dedication! We have a few cups and start the next pot as the rest of the crowd shuffles in. Doug whips up some eggs and bacon.

I grab John and we do a Gator run to pick up camera cards and do a camera swap. This will be the one day of the week where I need to put 6 guys on stands with the property cut in half for flooding, then on the Southern 1/3rd of the property to prevent over pressuring the hogs. John and I talk hogs for the whole ride and while reviewing pictures back in camp. I've seen a few hunters over the years that "flipped the switch" and became real hog hunters almost overnight, I pray this is that trip for him.

About 1pm everyone is back in camp and these ribs have been cooking for almost 4 hours. I pull them out and they finished out PERFECT!!! You all saw the picture above, we mowed into these things without mercy! For a 215 pound boar that I've been told on numerous occasions should be inedible, it was one of the best meals I've ever eaten. A silence fell over six guys like I've rarely heard as we devoured rib after rib. No appetizer, no sides, no dessert. We ate ribs until we couldn't eat any more. Charlie arrived in the middle of this and after some serious prodding ate a few. Even more ribs were left even after all of that. That boar didn't smell bad, and it certainly ate good! We all encouraged Bryan to keep the backstraps and tenderloins as well as the hams from that boar. Front shoulders and scraps should be only bits for sausage on that boar!

I put together a plan for the evening sit. Val is normally a blind guy so he takes Dave's Field. John got the debrief on Blue Lake Field during our Gator ride. He knows the ways in and out, and sign shows he's got a better than average chance there for his first sit. The section between these two got tromped on trailing the day before, but there were several sightings and the camera took some pictures overnight. Keith takes the prime spot at Charlies Field, and his dad takes the "marginal" spot at the 11 acre field. He might be the first guy to sit it for all I know. I've seen hogs run there during daylight, it's as good of a chance as any. Doug breaks away from the pack and goes just a little North to Hog Wallow. There is no denying it's a solid choice. With this section of the property covered, I decide to sit my hang on stand across the pond. Sure it's cheating, but I'm just looking to resupply my empty freezer at this point....
***
Things are about to get interesting, toss on a log and pour a cup, I think I can finish this story tonight.
Thom

---
Posted by sticksnstones (Member # 24842) on :

***
The guys go out, I do a descent shower and paint my face. Everything about tonight feels pretty good.

I climb up over the camp feeder at 4:20 just ahead of the timer going off. 5:40 I hear a woof about a hundred yards off. Yep, nice sow and four little ones. They look 40-50 pounds. I stand up.

I hear another woof, they are 80 yards out.

The next woof has them about 40 yards out with only 20 minutes of daylight remaining.

Just after that they charge in. I'm tempted to take a shot on her at 18 yards off to my 10 o'clock but she is trotting and I let it go. They run to the feeder and it's not an awesome distance/angle. I wait.

It takes a little time, but they start to move from the feeder to a brush pile straight in front of me. This is setup at 12-14 yards and there are many ears of corn hiding inside of it. The little ones start grabbing ears and running into the bushes below my tree to eat them. I setup and shoot a little video so I can remember the sound of the four of them snacking at less than 10'.

The sow comes around, I'm guessing she's 120-130 pounds and would be great to eat. She is nervous but offers an acceptable shot for a few seconds before she moves again. She grabs an ear of corn and runs to the base of my tree. I'm looking between my ankles and through my stand down at her when I see her nose go up. She bolts into the shadows behind me, but the other 4 stay. 6:10.

These little dudes keep running back and forth, now in front of the new Blind Side-R light that is lighting up the area. They just run back and forth, there are usually 1-3 of them in front of me at any given time for the next half hour or so. Just waiting...

6:44 I see a big nose in the bushes at my 12 o'clock. It starts to come into range. I knew my girl would come back!

As the hog comes in I have a little one between us. If it clears...

The little one steps to the left, but now the hog has it's nose straight towards me again. Gotta wait...

A little one runs behind it as it turns broadside. Still have to wait...

It walks forward until it's in some twig cover. The little one walks off. If it will just come to the near side of this brush pile...

It comes to the near side of the brush pile, only 10 yards, but stops moving facing straight away from me. Gotta wait some more...

It turns again to broadside with it's nose to my right. I think "it would be nice if that front leg came forward." Not required, but I gave a second of pause and the leg moved forward...

"Well Thom, this is what you come here for." I don't recall the draw or anchor, but the spot is forever burned into my mind.
***
Thom

---
Posted by sticksnstones (Member # 24842) on :

***
As I let go of the string I saw my nocturnal burn a path straight into the spot I was looking at. I'm so confident in the shot until the instant I realized it didn't pass through!

I shoot a 770 grain arrow out of a 64 pound longbow. I shoot stupid sharp 3:1 single bevels. I do everything I can to ensure I always get a pass... But this time I don't.

As the hog breaks into a trot I'm relieved to see the arrow is sunk deep into the hog and the string tracker is playing out as the hog goes.

10 yards, swerving to the right a little. 20 yards, still no squeal. 30 yards or so, slowing down. Stops. Few sideways steps. Breathing. Nock is swaying in the dark. Few more stumbling steps. Nock disappears. String stops moving. I wait.
***
Thom

---
Posted by Bud B. (Member # 24907) on :

Hmmmmm. Sounds quite exciting and successful!!!

---
Posted by sticksnstones (Member # 24842) on :

***
So I'm basically staring across the pond at the camp and I hear the hogs come back in. I put another arrow on the string, but I promise the next shot has to be at least as good as the last one or I won't draw back.

7:30 a truck pulls into camp, I see the lights in the distance and as I climb down the second truck arrives. I mount my string tracker to a tree and walk back to camp.

I ask around and John saw 14 but didn't get a shot off, Val 0, Keith 0, Doug 1 but no shot, and Bryan 1... and he shot it! Another big boar walks in just before dark on him, he pulls back and shoots it clean. Just like his boar two nights before it runs *50 yards and falls over in sight. It's already on the tailgate when I get to camp.

This hog looks even bigger to me than the last looking at the ears, width of skull, hoof size, and of course his cutters.

Bryan went from seeing 0 hogs in 5 days to killing 2 NICE boars in 3 days! Here is what that one looked like with some lights on it.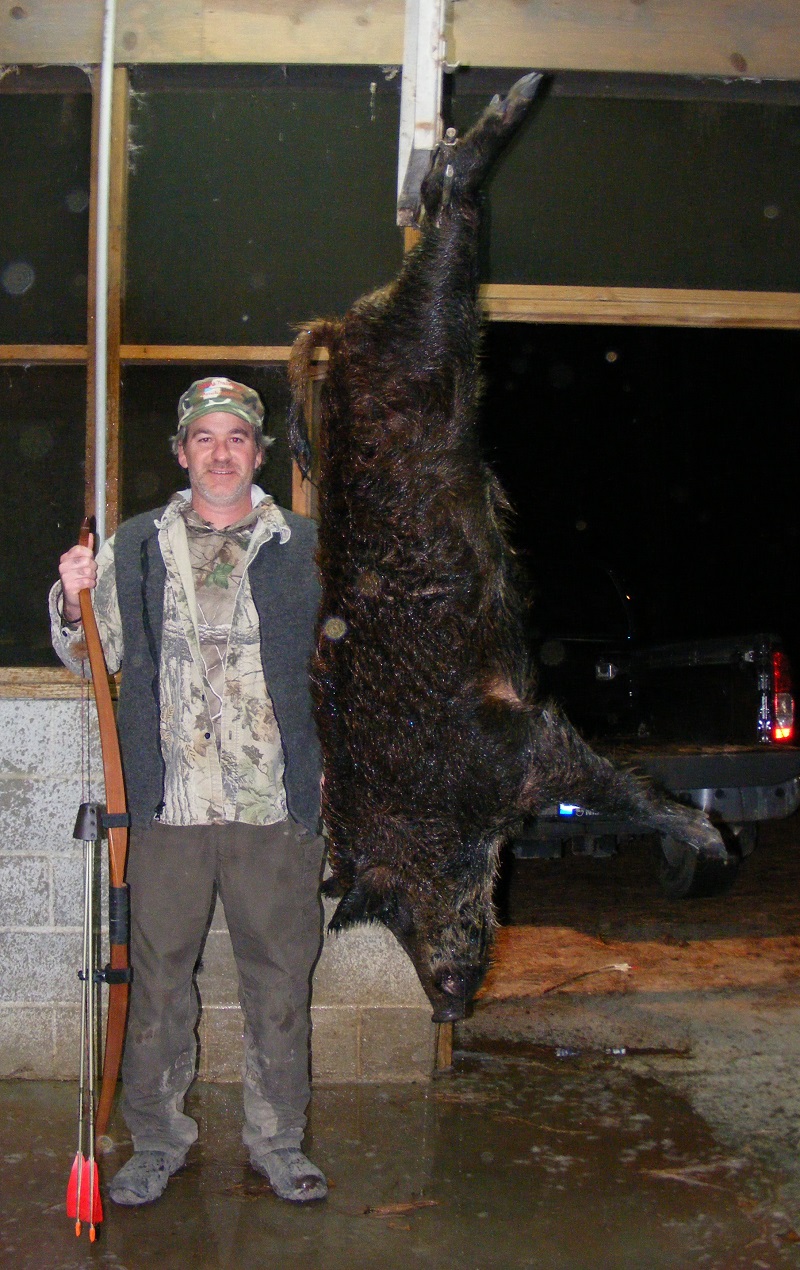 Nice hog! ACE SHOT!

Everyone wants to know if I got a shot at the huge boar that had been hitting that feeder. I said I had a nice sized sow come in with 4 little meat pigs, I put a good shot on the best of the bunch. I offered to the guys if anyone wanted to come follow the string with me. Bryan and Keith were in.

Now this next part gets a little interesting.
***
Thom

---
Posted by sticksnstones (Member # 24842) on :

***
I have my headlamp on and angled off to the left so I can shoot by it if needed. I put an arrow on the string and I use the V created by the broadhead and the arrow shaft to lift the string off the grass. I start following the string ready for a follow up shot if things aren't as I imagine.

Bryan exclaims "Look at all this blood!" I look down and sure enough there are sprays and smears everywhere. We are painting our boots following this trail!

At the edge of the brush I see a hog, but it can't be my hog. Oh no. I shot a nice little meat pig. This is a BIG pig! My arrow is snapped off next to it glowing in the dark. My string is still anchored to my broadhead inside it's chest. It is laying where I saw my hog fall, but this isn't a meat pig.

The dark can do funny things to your perspective.
***
Now which picture do I want to share...
Thom

---
Posted by sticksnstones (Member # 24842) on :

OK, I think I found a nice one.

Here is a picture that John took of Bryan and I with our hogs on the spot mine fell:



What a pig! I'm only sorry that my noggin is blocking his pig a little. I'm 6'4" and 210 pounds, this dude is big!
Thom

---
Posted by BowHunterGA (Member # 4952) on :

Great stuff Thom! A HUGE congrats bro! You earned that one!!!!!

---
Posted by Bud B. (Member # 24907) on :

Did you scale it, Thom? My guess would be 300lbs at least.

---
Posted by sticksnstones (Member # 24842) on :

***
The next couple hours are pretty funny. Five of us load it into my truck and I snap a picture for my "what is dead in Thom's truck" photo album. Remember this truck is only two months old and it's already hauled 4 hogs and a deer to the skinning shed!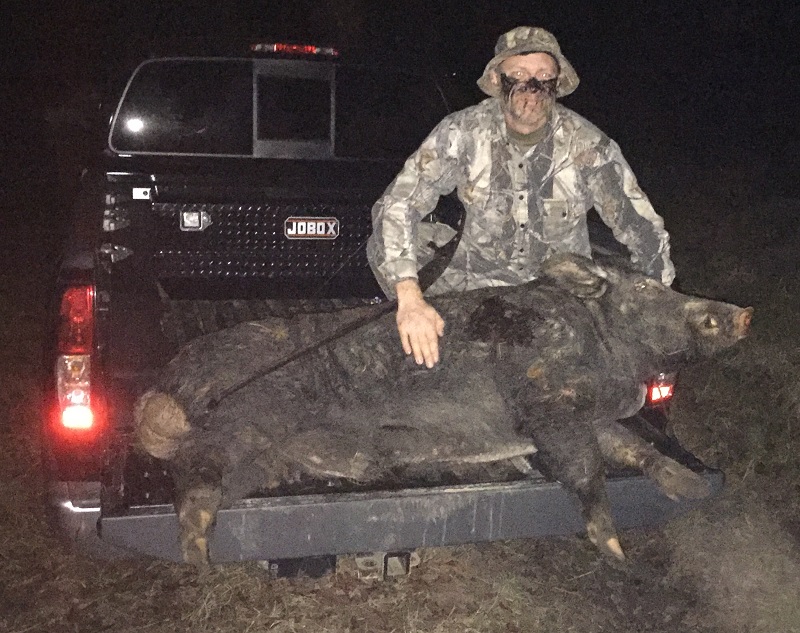 We get the pigs back to the skinning shed and make a plan for the morning. We put these buggers on ice. I got a picture in the cooler but it breaks my "never get behind an animal for a picture" rule. I will say these hogs and the hanging hams from earlier in the week LOOKS GOOD!
***
Thom

---
Posted by sticksnstones (Member # 24842) on :

It's getting pretty late, I guess the end of the story will have to come tomorrow. Here is the last picture from that night: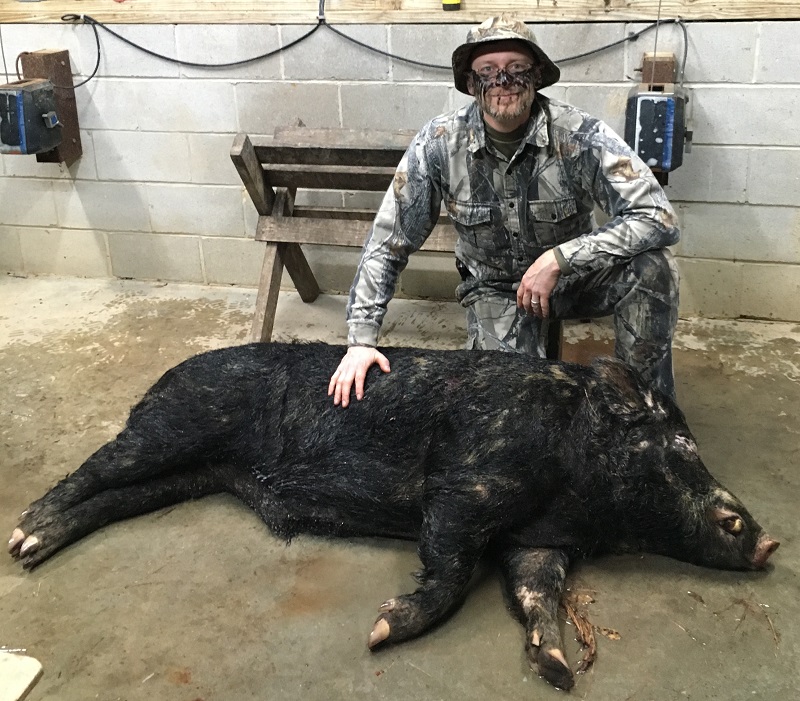 Bud, the winch wouldn't lift it. I had to wait a day to find out myself. I'm gonna ask you to do the same

Thom

---
Posted by Flingblade (Member # 21996) on :

I really need to start getting to bed earlier but I had to stay up tonight and follow along with this story. Great tale Thom and great boar! I always enjoyed eating Oklahoma calf fries when I lived there. Looks like you've got some South Carolina grape fruit for the frying pan there! Great week at Wild Things!

---
Posted by Izzy (Member # 10828) on :

Wooooooo eeeee! Thats some nice hogs getting hung in the shed. Congrats fellas.

---
Posted by Guru (Member # 616) on :

Wow congrats fellas!!!
---
Posted by ESP (Member # 23117) on :

That sure is a big one.

---
Posted by Onions (Member # 11946) on :

Good stuff Thom!! Look forward to hearing more about this at Friday night archery! See you there!

chris <><

---
Posted by wooddamon1 (Member # 26099) on :

Congrats guys, looks like an awesome camp. Those food pics had me slobbering!
---
Posted by Cyclic-Rivers (Member # 21222) on :

Sure is a Big one Thom. Congrats to you and the rest of the successful hunters.

---
Posted by Terry Green (Member # 3) on :

Many congrats guys I'm tickled pink for you.....

way to go that's a hunch you'll never forget !!!

---
Posted by Pierre Lucas (Member # 7908) on :

Wow...outstanding.

God bless,

---
Posted by Stickbow (Member # 751) on :

OH MAN...I got the itch

---
Posted by pdk25 (Member # 12864) on :

Great boar! Congrats!

---
Posted by Rick Butler (Member # 7393) on :

Congrats again Thom! What an incredible hog. If anyone deserved to take a trophy like that it was you.

---
Posted by drewsbow (Member # 3040) on :

congrats
---
Posted by DanielB89 (Member # 37294) on :

I am curious to know the weight of that hog!


also, what will you do with him? Did you grind him? I have heard that pigs that large are "not worth dealing with", so what do you guys do with them?

I killed a pretty decent one last month and my grandpa just ground it all into sausage. I have heard that for larger hogs you can mix something with the meat and it will get rid of the stink, but I don't know.


Thanks for sharing this thread.

---
Posted by Bisch (Member # 17432) on :

Yep, that is a big ole "sow" right there!!!!


I tend to do the same thing in the dark. I always guess them way smaller than they end up being!

Congrats to you and Brian!

Bisch

---
Posted by sticksnstones (Member # 24842) on :

Thanks everyone!!!

This was a very rare wild hog. It stopped traffic in Estill, of course I'm not sure if that takes too much to do... But it did.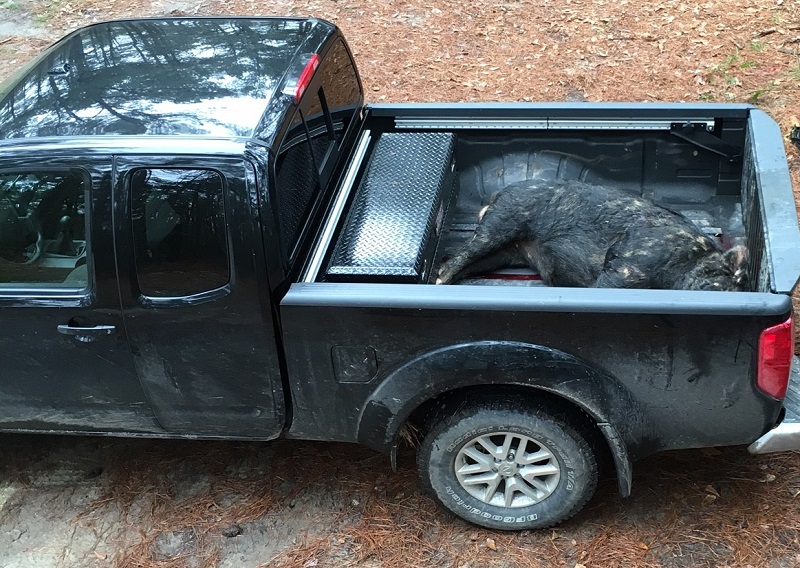 Charlie and I were on the way to meet up with a taxidermist at the meat processor's place and we dropped in to show Mary Beth the hog. Once the tailgate went down cars starting pulling off and people came out to get a look and take a few pictures. All the locals had said that they had seen a dead hog or two like this in the past, and everyone was VERY congratulatory about my success. I guess it's not just big in my yankee longbow hunter's eyes.

This one old timer said "I don't know if I'd trust my rifle to shoot one like that, what bullet are you using?" I had my bow still strung behind my seat so I handed it to him. This is when the guys looked like this:



"One shot at 10 yards, 40 yard recovery."



Of course that not why I hunt hogs, or tell the story of my "nice little meat sow" but it was priceless to see the reactions!

Here is the last picture I have with him, a few minutes later the caping started.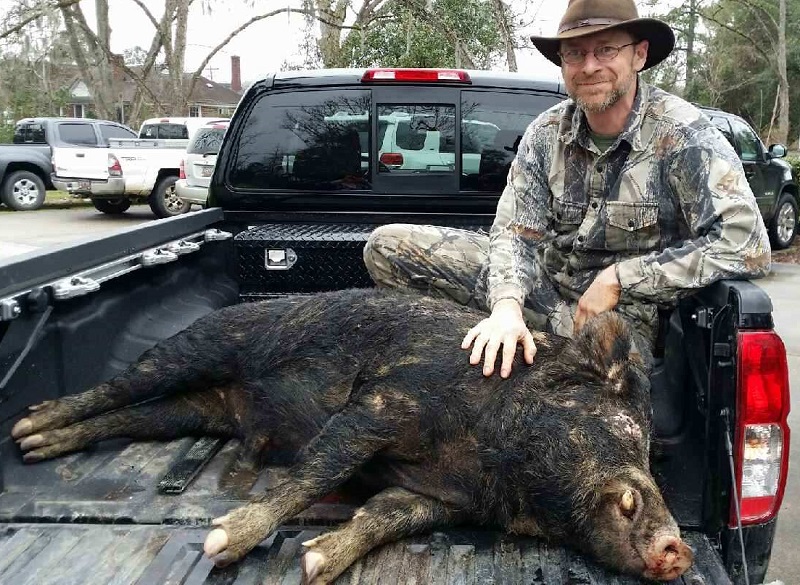 This year different guys have been eating the hams, ribs, and tenderloins out of some 200-240 pound boars and the reports (and what I ate personally) have been VERY good. I wanted to do some more adventurous cuts on this guy, but due to the caping process I just had this whole pig ground for sausage. There was almost no boar smell to him or any of the other ones shot this trip. I bet it tastes delicious.

I'll cover the rest of the week when I'm off the clock, I've been on this break a little too long already! While this accounts for all the hogs we put in the cooler, we still had some fun getting into hogs and I want to share that too!
Thom

---
Posted by jonsimoneau (Member # 1224) on :

Wow. What a hunt. Congrats to all involved!

---
Posted by Red Beastmaster (Member # 820) on :

Ya done good brother! I'm really happy for you Thom.

Congratulations to the rest of the crew!

---
Posted by KAZ (Member # 23991) on :

Wow, that is awesome!
Well done & congrats!!! Are you getting it mounted? That's what I think of when I hear "caping"...
---
Posted by MCNSC (Member # 2161) on :

Congrats, on a beautiful hog, sure is big and ugly.
Thanks for taking the time to share the stories.
I have got to get back there sometime.

---
Posted by Matty (Member # 10632) on :



Awesome fellas!

---
Posted by WESTBROOK (Member # 8854) on :

Congrats, what a week!
---
Posted by 23feetupandhappy (Member # 18774) on :





Man that's a lot of sausage!!!!!!!

Thoroughly enjoying the tale so far!


---
Posted by sticksnstones (Member # 24842) on :

Thanks everybody! It's so cool seeing so many names of guys I've hunted with over the years chiming in. I am a blessed man in deed!

I'm going to take one post to cover all the simple facts and numbers, then we'll talk about Friday and Saturday.

The bow is my new Black Widow PLII takedown. Yep the one I ordered when I thought I was heading to Africa, the same one I dropped my treestand on last month. 66" 64@30.

My arrow shaft is a Black Eagle Outlaw in .300 spine from my friend Steve at Simply Traditional. Broadhead is a Tuffhead 225 grain. Custom one piece adapter/insert at 235 grains was turned by Jon Hand of Nebraska. Last thing on my arrow is a Nocturnal. I left it lit so I could put it on my special arrow rack and it's still glowing tonight more than 8 days after the shot.

My bow and my arrow are connected via a string tracker. When it comes to hogs, I'm a firm believer.

This hog never moved in the daytime. I have not caught a daylight picture of him in 16 months of setting cameras. Last month Elusive Wildlife Technologies released a new product called the Blind Side-R. I got two of the first units off the line and I shot this hog using one of them. It had been set in motion detect mode for 3 weeks before I sat it.

OK, hardware aside lets talk about the weight. Years ago I realized that the biggest scale in camp only went to 320 pounds. I was sure that someday we'd bottom that scale out. I gifted the camp a scale certified to 880 pounds. Last week, for the first time, we officially needed it: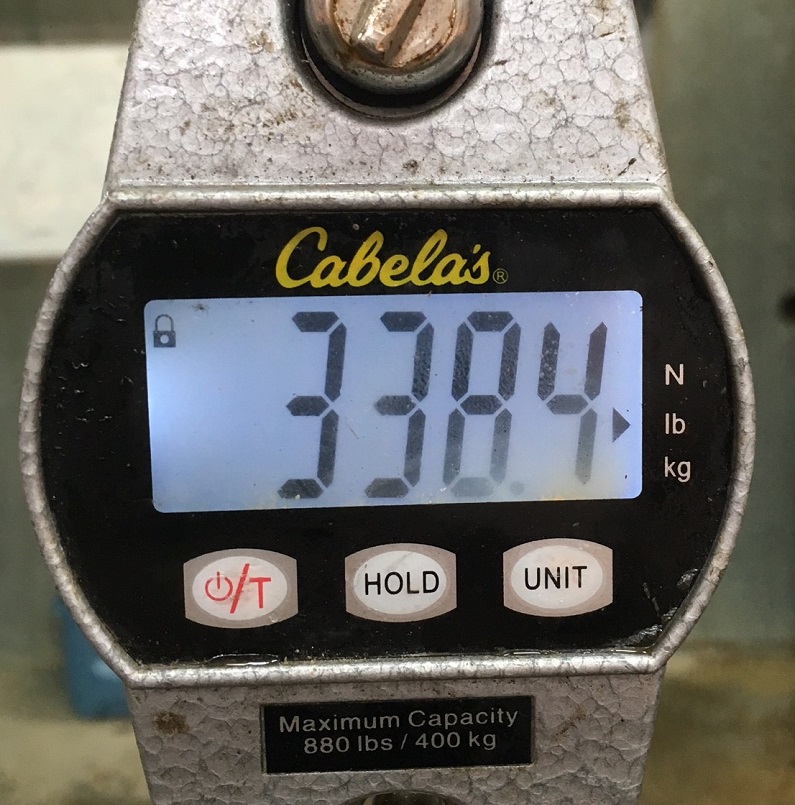 As for caping, yes he is getting a shoulder mount. By the time the camp opens for the 2016/2017 season he should be hanging in the lodge. While that might look amazing on my wall in Michigan, his home was the low country. That property was HIS turf. It was my privilege to get to visit him there, and see him a few times over these past few years. It only seems right that I should have to pack up and drive a thousand miles to visit him on his turf again.
Thom

---
Posted by BowHunterGA (Member # 4952) on :

Thom this last post is just "you". Since I met you back in 2012 on that very piece of land I am always amazed at the thought you put into everything you do. Your tribute to this animal which most people consider invasive and easy to hunt is no less that exactly what I would expect from you. I can't wait to see it on the wall of the lodge. You embrace the spirit of the hunt and I am proud to call you my friend!

Again, congrats on your success. Sure wish I had been there to share the moment with you!

---
Posted by Bud B. (Member # 24907) on :

Nice. He outweighs me well over 100lbs. Stalking him would've been scary. Dang scary.

---
Posted by Bud B. (Member # 24907) on :

Is it possible for the taxidermist to age him, Thom?

---
Posted by sticksnstones (Member # 24842) on :

***
Friday January 8th 2016
This day was messed up! Drank coffee and ate breakfast until 8am. Charlie arrives at camp and we all head for the skinning shed.

Charlie looks at my hog and you can see the wheels turning. I end up on the phone with Mary Beth who is searching the internet for taxidermists, calling the state wildlife biologist, and coordinating additional freezer space.

While she is running the show from Estill, Charlie and I dress/skin/and start butchering on Bryan's second hog. While we do this, Bryan heads to Wiggins to buy another big cooler to fit the rest of his first hog and all of his second. By the time he gets back we are ready to pack all the meat into ice for his trip.

We hung my hog and snapped a few pictures, then we sorted out the plan with the taxidermy. We went through Estill on our way to the rendezvous. (That story removed as the basics are above.)

By the time I got back to camp Bryan and Keith were well down the road. The guys have already eaten when I get back from town so I eat a few coney dogs and we put together a plan.

In doing our "zone attack" plan, we need to sit the North end of the property tonight. Best stand is Pine Field, Val wants to take that one. It's mirror is Gumbo so Doug agrees to sit that one. I will take Val out in my truck, Doug will take himself in. Sycamore is knee deep in water, but there is still a third stand on that circuit. Running cameras let us know it wasn't a primary location so we skipped it. Instead John set himself up to sit the late night feeder at Blue Top.

I put the guys out, and at the appointed times I brought them back. Friday was a complete BUST! 0 hogs seen! For all the days like yesterday, it feels like we have one like this!
***
If you guys are watching the other hog thread going on right now, you'll notice Irv's last POST where he talks about the enjoyment of seeing someone take their first deer or hog. This is just like what I say about all of my joy in fly fishing being in other's catching their first trout. The best thing about what is coming next is that it has nothing to do with me. I hope I do it justice.
Thom

---
Posted by sticksnstones (Member # 24842) on :

***
Saturday January 9th 2016
Last day. Can't hold anything back!

Thursday's excitement has died off a bit. Well for most, but not me. Friday's logistics are in the past, that is set for fire-and-forget. The only thing to consider now is what to do today! John and I do a camera run that was neglected yesterday in the commotion, and we review the pictures at the lodge.

Doug has isolated a section of road between a bedding area and a daytime browse area, he takes off to go sit all day, then move into the nearest adjacent feeder when he hears it go off. That's one guy down.

John, Val, and I decided to stalk several sections of grass along the Eastern boundary. We get a bit cut up in the process but don't see any hogs to my dismay. We head back to camp at 2pm.

Cameras show that a few groups of hogs came into the camp feeder... er "Thom's Stand" last night. Val has a stool in a natural blind ready to go on that.

John pulls me aside. We have a good talk, almost entirely I listen. As he lays out his idea I can see the switch has been flipped. Only two days ago he was asking all kinds of questions and guessing at what a hog might do given this or that. Now he is telling me what he thinks they will do, and how he should position himself to have the best chance at capitalizing on their presumed behavior. This is a 180 from the John I met less than 72 hours ago.

Doug takes himself out, Val will walk over to his spot when the time comes. I take John to where he wants to be and drop him off. I do suit up and I take a sit at Wild Fire. Now what is REALLY funny to me, I'm walking into that stand and I realize that I've NEVER sat that stand before! I'm not sure of the best approach, but I take a back route through the woods. It's a very enjoyable sit with plenty of deer to keep me company.

At dark I go meet Doug. Poor guy gave it his all, but zero hogs seen by him too. He heads back to prepare our dinner, and I do a few chores on the far North end of the property. At dark plus one hour I go get John.

What an exciting night for him! He kicked out two on his way in... and learned a good lesson in the process! After that a twitchy sow came in, he spent some time trying to figure out if she'd give a chance or not. Two boars broke into a fight in the distance, all he could do was sit and listen to the melee in the shadows. While that was sorting out a whole sounder came in. In the middle of things coming in and running off he got a shot at the twitchy sow. It didn't come together, but at least there wasn't an injured hog. He told me all of this on our way back to camp. When we get there we find that Val is back in camp, he's called it on his spot for the night.

I pull John aside and convince him to go get on that stool! Hogs have been coming in every night about 30 minutes later than this and it's as good of an option (or better) than any other Hail Mary.

He goes out and the rest of us guys are pretty much glued to our binos from the other side of camp. Long story short, the hogs came. A bunch of them ran in and started feeding between John and the lodge. In my rush to get him out there I failed to fully describe the angles of the light and shooting lanes to focus on. John not having this knowledge, but seeing hogs at 20 yards, decides it's up to him to make it happen and he starts stalking in with a weak green lens headlamp. The sound of his feet on unseen twigs ends the opportunity with a bunch of hogs at about 15 yards.

Over dinner I can clearly see John is a different man than I met a few days ago. I can see where he is equally excited by how close he got, and disappointed that he didn't get to carry that return all the way to the end zone.

I think of this as a "bowhunter going after hogs" versus "a hog hunter with a bow". His experiences today remind me of what makes a turkey hunter a turkey hunter, an elk hunter an elk hunter, and a hog hunter incurable. Welcome to the brotherhood!
***
Sunday morning we all loaded up and headed for home, this is a trip I will never forget!!!
Thom

---
Posted by glenbo (Member # 21544) on :

Congratulations on an exceptional hog. Thanks for taking us along.

---
Posted by Izzy (Member # 10828) on :

Great story bud. You do the place justice.

---
Posted by KAZ (Member # 23991) on :

Well done...

---
Posted by smokin joe (Member # 15756) on :

WOW!!!!!!

What a trip you guys had. Lots of action and memories made.

Tom, I'm very happy that one of the wide-body pigs fell to your arrow. Great job! And a great story.

I'm still looking to get a few days off in the spring and get back down there.

Congratulations to all.
---
Posted by Pointer (Member # 11915) on :

This was a great hunt and Thom and Doug are the very best guys to share a camp with. Thom deserved to arrow that giant...he worked real hard at getting us into hogs on this trip..setting cameras, pulling them and recording the data. His guidance was superb. I wish I hadn't rushed my shot but it was all part of the learning process for me. There are several things I know much better for next time. I'd been to Wild Things twice before and although those trips were certainly enjoyable this one was taken to a new level for me mostly because of Thom's efforts to get us into hogs.

Seeing his reaction after he realized what his "meat hog" really was will stick with me for a long time lol.

I can hardly wait to get down there again

---
Posted by T-D (Member # 34508) on :

Congratulations Thom and the rest of the guys who connected! Thom that is a great hog you deserve it.

---
Posted by MCNSC (Member # 2161) on :

Thom, love the way you want to honor the hog, you can tell from the pics that he is an old warrior. Very fitting that he stay near the swamps that were his home. I bet a lot of smaller hogs are glad he is gone though.

---
Posted by doug g (Member # 16288) on :

Thom, So glad to have been with hunting with you again, but especially on this one. You definitely deserved this pig. I fear Rick and I created a Monster, your evolution since your first hog hunt with us has been unparalleled by anyone. It is always a blast to hunt with you, and for me to be there when you were at a loss for words after shooting that pig........PRICELESS. John, Val, Keith and Brian the pleasure was all mine, it was great to be your humble cook.

---
Posted by WESTBROOK (Member # 8854) on :

Congrats you guys! You had a red hot week.

What did Brian's hog weigh? they look well fed to say the least.

Thom I'll track you down at K'zoo and we'll chat some.

---
Posted by bisket (Member # 36771) on :

I am very happy for you Thom. I have never been on a hog hunt...but feel like I have now. Thanks for sharing your story. Very nice!!
-Mark

---
Posted by sticksnstones (Member # 24842) on :

Thanks everyone! John, I'm glad you're good with how I recounted the hunt. You came a long way in those short days, it was really fun to watch. I hope we get you back into them next time, I'll bring my knife.

I'm glad a few of you were there to see me fall apart and start stammering after seeing it! It'll be your jobs to make sure I don't leave that part out when this story comes out around the fire in the years to come.

Bryan's hogs fell just on each side of 200 pounds. It was interesting that the one that weight 215 had a smaller head and tusks, but the one that was 180 had a stout head and nice cutters. He's getting them both done in a European mount, if he shares any pictures with me I will post them back.

Eric, I'll see you in two weeks! I should be there all weekend.

If I missed any questions along the way I sincerely apologize, feel free to send a PM or an email.
Thom

---
Posted by Mint (Member # 5900) on :

Congrats on the hogs taken. Great story guys.

---
Posted by maineac (Member # 15727) on :

Congrats to all. I think your "big" in the title was an understatement.

---
Posted by beaunaro (Member # 19888) on :

Thom,

Biggest one I've seen here in Florida is around 300#s.

You've done yourself proud.

Congratulations to you and Andrew.

When I get a little time off, I am going to book a hunt with you guys.

---
Posted by LCH (Member # 19872) on :

Thom and gang congrats on your success. I went last May to wildthings it is a great place. What I liked best was remote and no cell service. I was fortunate enough to get a nice sow about 200lbs. My buddy Todd got a nice boar around 175lbs.
I saw some tracks coming out of the swamp that were big enough to lay four fingers in, looked like a small cow track. There are some big hogs there.LH

---
Posted by sticksnstones (Member # 24842) on :


quote:

---

Originally posted by maineac:
Congrats to all. I think your "big" in the title was an understatement.

---
Big is big! I got a call from the processor and I've got 120# of sausage to coordinate. A little less as a ratio, but with the weight of the bones and hide I'm not too surprised.

BTW, Charlie saw one "in the same class or bigger" on Monday. I don't know yet if this is a new hog moving into the territory or just an adjacent monster.

Irv, make sure I know when you're coming and I'll put in for a little sick time!

Lee, you guys did great for such a short trip. This dude could have laid the track once those hoves splayed out. They did look like they belonged on a cow!
Thom

---
Posted by LCH (Member # 19872) on :

Yes Thom Todd and Bud were very familiar with the areas. One thing we learned real quick was trying to spot and stalk those hogs makes them nocturnal quick.
The track I saw was a long way from where you killed that beast.
Charlie told us he saw one thats back was as high as the bottom of one of those feeders.
Wildthings is a great place.LCH

---
Posted by sticksnstones (Member # 24842) on :


quote:

---

Originally posted by LCH:
One thing we learned real quick was trying to spot and stalk those hogs makes them nocturnal quick.

---
Oh boy Lee, you're playing with a powder keg here. I'll share my perspective with anyone who wants to ask, but most people don't want to hear what I have to say.

I learned a bunch about the perils of stalking from some rifle operations in Texas that used to offer money back guarantees, and I had a series of insightful short chats with Irv at Compton's Rendezvous after that. Using this info I prepared a week long hunt strategy and we gave it a test run in December.

As a group we harvested 5 animals between 6 hunters with 100% shot opportunity. In addition we failed to recover 4 animals, and had a few clean misses. We left camp to hunt at 3 hours before sunset each day. That's right, one sit per with no stalking. Directly in/directly out.

While we didn't get the "thrill" of stalking, we did to sleep in, enjoy a leisurely coffee/breakfast. Do tons of practice shooting in camp. Sharpen heads, air out gear, descent, map the winds and carefully chose our plan routes for putting everyone in their stands. When we went out we knew we had at most 3-4 hours to stay hyper focused and motionless. It might not have been as exciting as chasing a pig into the briars, but hanging stuff in the cooler feels really good too.

The problem on other hunts has been that if anyone is stalking on the land in the mornings or daytime it can ruin the hogs travel patterns thus hurting everyone's chances for that night (and often a few more days to come.) The trail cameras don't lie. It seems even when guys don't see any hogs in an area while stalking it, their scent still shuts down their normal movement between stands.

It's hard to find an entire group who all want to hunt the same way, I'm glad we had a few guys willing to do that trial run. I'm glad to know what is possible.
Thom

---
Posted by Izzy (Member # 10828) on :

Ive enjoyed hunting the old Hog Heaven, Wild Things and the Bacon Strip and must say that Ive seen hogs every time but one, and that was due to bringing a fella who was scared of getting bitten by deadly spiders or eaten by a gator if he so much as left camp. Ive been into hogs multiple times a day in some cases with multiple shot opportunities. Ive stalked a big old boar hog in Texas as well.

Aside from Texas, I have never sat a stand in all those times. In my opinion hogs are a whole lot easier to stalk than deer, I think everyone would agree with me and the chance to do so is always welcomed by this northern deer hunter.

For sure, hunting styles need to be coordinated among the group but if you've got a group of fellas who enjoy still hunting and can get it done right, there is no finer, more rewarding way to hang pork in the cooler for me. The lowland swamps alone are hard to sit tight in without the urge to roam and explore.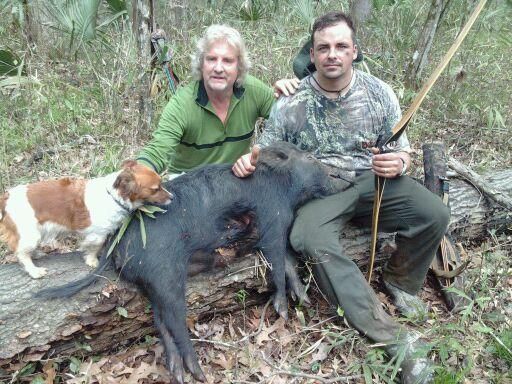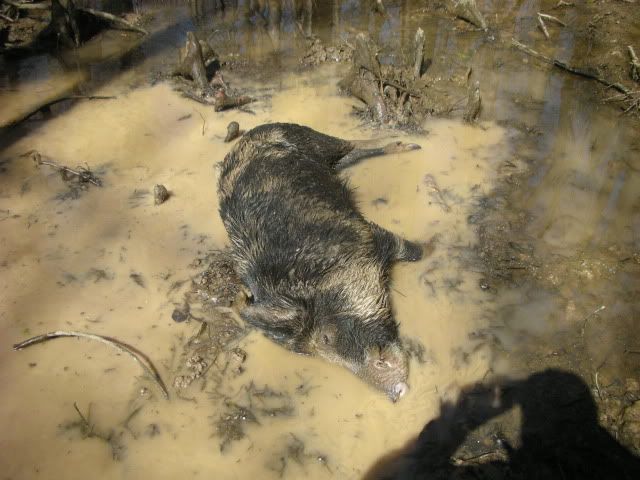 ---
Posted by sticksnstones (Member # 24842) on :


quote:

---

Originally posted by Izzy:
The lowland swamps alone are hard to sit tight in without the urge to roam and explore.

---
I agree with you Izzy! I also killed my first hog there stalking and it was AWESOME! You would certainly miss out on a lot of enjoyable parts of the property if you did just the stand sitting.

Here is a little something more for you to consider since you know the property. What if everyone sat the stands on say the Right turkey foot the first day, then that became the stalking zone on day 2. That evening everyone sits the stands on the Northern 1/3rd of the uplands, that being the stalking zone on day 3, etc. This would keep the stands pristine for their first sit, and any pushing could move pigs towards the stands to be sat later. We toyed with this a few weeks ago, and that's how Andrew ran it for the guys leaving camp today. I know the hunters took lots of shots and had one in the cooler on the second day. Not sure how the hunt finished out, I know weather was working against them especially blood trailing.

Sorry if anyone is reading that last post and hearing a "my way or the highway" tone to it, not at all my intent!
Thom

---
Posted by LCH (Member # 19872) on :

I agree it is fun to stalk but your chances for success are higher if you sit a stand. I don't want to sit a stand someone stalked by that morning. Especially if I am paying to hunt.
Thom I like your idea and that would work Wildthings has a lot of acreage and hogs. Like I said it is a great place.LCH

---
Posted by Izzy (Member # 10828) on :

Im not disagreeing with you Thom, you've got some points. I just would hate to miss an opportunity to miss out on hunting the hard way.

Im going there to decompress and wouldn't dare argue with my compadres plans. Ill do whatever they want. I may even sit in camp a spell and talk with Ol Goldy Locks. Its all good at Wild Things.

---
Posted by Red Beastmaster (Member # 820) on :

The tribe discussed this very thing last week as we shot a 3-D together. Still hunting Andrews beautiful property is why we go. Sitting in a stand may be productive but not our preferred mode of hunting. Two hunts ago our group of eight saw 350 hogs while still hunting. Sure beats sitting swatting skeeters in a tree.

Besides, You aren't going to find many arrow heads from a tree stand!

We have always done our own thing there, used to drive Ray nuts. LOL

---
Posted by LCH (Member # 19872) on :

Everyone should hunt the way they like. I will hunt the most productive way I like to kill critters. There is no wrong way it is about having fun and relaxing and enjoying the moment.LCH

---
Posted by vintage archer (Member # 3422) on :

THOM

GREAT POST .....CONGRATULATIONS ...SOUNDS LIKE YOU ALL HAD A GREAT TIME

---
Posted by sticksnstones (Member # 24842) on :

Thanks Joe, your TuffHead did a great job for me again!!! I wish I could have gotten a picture of the sprays and smears before the rain washed away the blood trail. It was something!

Dave, I've been thinking about the Tribe's hunt quite a bit lately. I'm up for sitting if you guys want but I'm planning on wearing some comfy shoes and doing some chasing with you guys. When in Rome!
Thom

---
Posted by Red Beastmaster (Member # 820) on :

Thom, I didn't realize you were going to be in camp. That's great! I'm sure the guys will be thrilled.

We kidded Blaine and told him this year he has to get out of your back pocket and hunt on his own!


I have news. Check your PM.

Dave

---
Copyright 2003 thru 2018 ~ Trad Gang.com ©

Powered by Infopop Corporation
UBB.classic™ 6.7.1