This is topic Don't hunt in hurricanes, a Wild Things update in forum PowWow at Trad Gang.com.


To visit this topic, use this URL:
http://tradgang.com/noncgi/ultimatebb.php?ubb=get_topic;f=1;t=151827

---
Posted by sticksnstones (Member # 24842) on :

Well it was an interesting hunt at Wild Things two weeks ago.

SmokinJoe and I arrived early to do some work ahead of what we intended to be a 5 day hunt. The first day we pulled 4 stands down in the swamp, replaced some straps on a bunch of existing stands, went through the trail camera pictures. Other than an incredible amount of pictures of hogs, deer (including some really good bucks), a coyote, and a nice bobcat, not much to say about that first day.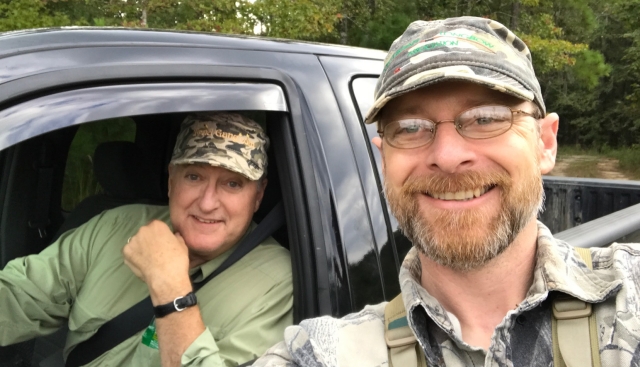 Second day we setup 4 ladder stands and put out my hang on. Andrew took a trip to town around lunch time and when he came back he had some news. Hurricane Matthew was on it's way and we might have to close camp and evacuate. This was on Monday and our hunting wasn't scheduled to start until Tuesday. Given the possibility it might be our only chance to take a sit, Andrew told us to suit up and get out there.

Did I mention this boar before?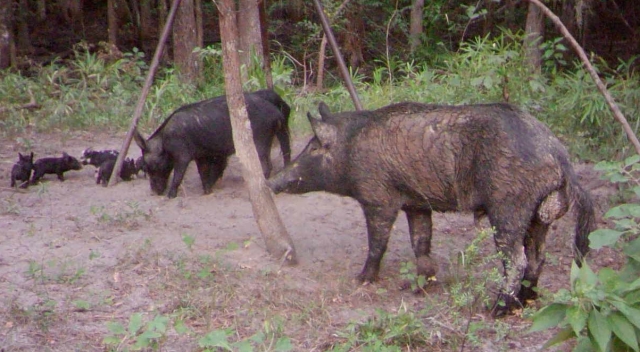 I think I did, this picture was from early July. He took over a bunch of the turf on the South part of the property and he's been busy kicking tail and working on the ladies. Trail camera story was very amusing regarding this fella.

I had told a bunch of the hunters that I wouldn't hunt this boar for 1 year. It feels right to give everyone a chance to go after a really magnificent animal like this. Well tempation came strolling in around 7pm. We spent 25 minutes together with him patrolling with 15 yards of my tree looking and waiting for sows. He never ate a piece of corn, just sniffed up everything and then rubbed his body all over it. It was very amusing until it started to get dark and I realized I was going to have to evade a young, cocky, territorial boar on my way out of the stand. I've had a few wounded animals get a little cagey on me, but this was the first one that gave me some legitimate concern.

Luckily I scraped some bark coming down and he decided it best to look for companionship elsewhere.

The next day we wrapped up the last two stands and took a tour out to hog lake. swirling, nasty wind ruined the next evening. Weather reports were worse and evacuation of South Carolina was underway. Being on the main route out of Hilton Head the drone of highway traffic was constant. Andrew called the hunters coming in for a 3 day hunt and let them know they might get between zero and one day of hunting if they came down. Everyone thought it best to reschedule, a very wise choice in my opinion (and ratified by even more swirling winds as feared.)

We gave it one last shot by getting into the swamp and we did hook up with a few groups and gave chase. We got close a few times, but not quite stickbow close. With that we packed it up and left before the storm hit.

Andrew got tied up in it a bit. They thought the worst was over and he tried to get from Estill to camp but only made it about 4 miles out of town. While he was trying to get out, two big oaks fell behind him causing him some trouble getting back. After a few days they got electricity and water back, cellular signal came sometime later. I've gotten a few messages relayed from Mary Beth, but I haven't talked to Andrew since last Sunday. I know he and Charlie have been on the property everyday running saws, but I don't know the exact nature of the damage. I will post back here when I know more.

I gotta say I really enjoyed getting to know that boar a little bit, just a real shame how the weather really hurt us on this hunt. Hopefully the November crew can get it done!
Thom

---
Posted by achigan (Member # 39387) on :

Glad to hear no one was injured, especially the boar
. Looking forward to my time down there in late January.

---
Posted by Pointer (Member # 11915) on :

Wow...amazing restraint Thom! I may have broken my word if he were 15 yards from my tree.

---
Posted by BrushWolf (Member # 24340) on :

Glad we chose to stay home on this one. We were all packed up for our three day hunt and backed out at the last minute. We will be there in nov. Man I
hope to see your boar
. Talked with Andrew a couple of days ago it sounded like some timber got blew down but they were getting things back in order. Glad to here you guy made it home before things got bad.

---
Posted by sticksnstones (Member # 24842) on :

Jim/John, he is a wonderful beast to behold. I hope when someone shoots him that they kill him good, I'd hate to make him angry!

Mike, I would have loved to have hunted with you, but man the weather was terrible. I think we were at the peak of the acorn drop to make it even worse. I'm guessing those high winds cleaned out the trees, I hope they are much more cooperative for you guys signed up in November. I've hunted with George and I've heard good things about Brad. At this point the last two slots are unfilled so you might have extra elbow room at the dinner table. If you got those big game licenses you'll want to catch up with Andrew on those. There are a few bucks I think should get pruned if opportunity arises for a hunter with the right licensing.

Of course there are some beauties too. I don't even have a camera in the area where Andrew saw one of the best bucks of his life, but I did get many pictures of two bucks the Joe and I liked. Here are some pictures of the 8 point Joe was hoping to catch, the the 6 point I liked.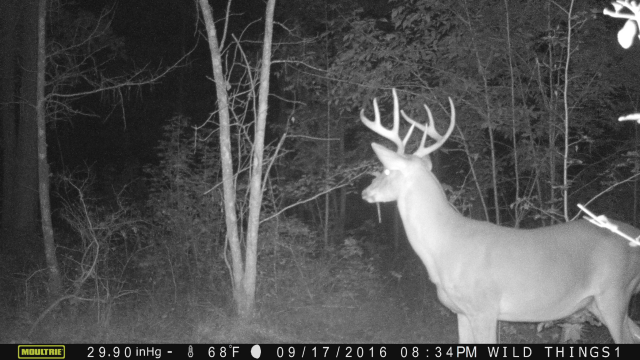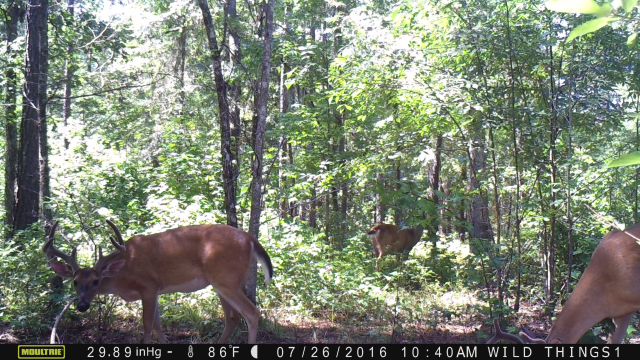 Of course that six is in velvet in the picture, but the bases are substantial and the width is remarkable. There were a few other 8 points with shorter G1s that I don't think would have got a pass from either Joe or I. Just a few to get you thinking about what might be "go or no-go" for you when you get there. Does are plentiful too, I think I recall Andrew getting 80 landowner doe tags for this tract this year.

Thanks for the update on the land, I was fearing it would have been worse than that.
Thom

---
Posted by Bisch (Member # 17432) on :

Yep! Hurricanes can mess things up just a bit. Glad yall are good, and prayers up for rverybody who was affected by the storm!

Bisch

---
Posted by Bow man (Member # 13512) on :

Tracey and I are looking forward to joining you down there in Early December

---
Posted by Terry Green (Member # 3) on :

Wish I would have made it over....really miss that place and would have loved to seen ya'll again.

Don't pass anything like that again Thom!!!....he's not the only one on the property and he might get hit by a Mac Truck next week chasing a sow.

Great vid!

---
Copyright 2003 thru 2018 ~ Trad Gang.com ©

Powered by Infopop Corporation
UBB.classic™ 6.7.1