This is topic D&M Custom Arrows in forum Product Reviews at Trad Gang.com.


To visit this topic, use this URL:
http://tradgang.com/noncgi/ultimatebb.php?ubb=get_topic;f=31;t=001238

---
Posted by Sharp Shooter (Member # 14996) on :

Received these in the mail today from Gary Hall at D&M custom arrows. Super Nice!! Thanks Gary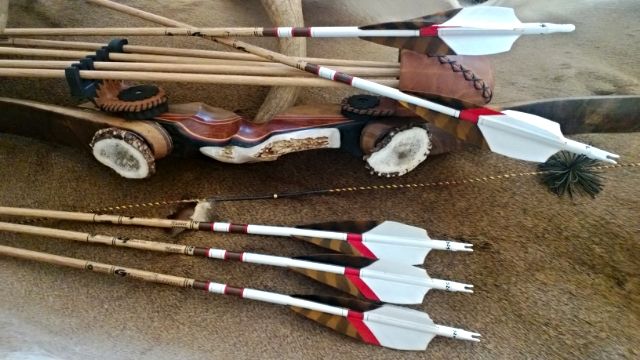 ---
Posted by GreyGoose (Member # 33491) on :

Almost too pretty to shoot. Visually matched to your stringed instrument, too.

---
Posted by pred80 (Member # 17800) on :

All I have to say is a STAND UP GUY AND TOP NOTCH SERVICE never a thought about ordering from Gary he makes arrows eye candy even if you don't want em :thumbsup:

---
Posted by Keith Zimmerman (Member # 2714) on :

X2

---
Posted by Bowitis (Member # 11031) on :

Great looking arrows & better service!

---
Posted by A. Secco (Member # 35331) on :

X2

---
Posted by Tradmike (Member # 43192) on :

Gary does great work and is a great guy. I usually build my own, but have ordered several dozen from Gary. Never disappointed with his arrows and service

---
Posted by chris K. (Member # 9587) on :

He is just finishing up with my second set of arrows I have ordered from him. Good guy to work with and he does really nice work.

---
Posted by Kingstaken (Member # 10937) on :

Gary does incredible work. He did a red white and blue set for my sons eagle scout ceremony he has pics on his website.
Today I received the red banana set he has on his TG sponsor page for my nephew who just started shooting longbow. No matter how great they lQQk in pics, their even better lQQking in person. Great craftsmanship.
Now I'm waiting for a set he's building for me now.

---
Copyright 2003 thru 2018 ~ Trad Gang.com ©

Powered by Infopop Corporation
UBB.classic™ 6.7.1