This is topic "Everlast" Archery Tab in forum SPONSOR'S CLASSIFIEDS at Trad Gang.com.


To visit this topic, use this URL:
http://tradgang.com/noncgi/ultimatebb.php?ubb=get_topic;f=48;t=002863

---
Posted by Redcon1 (Member # 45996) on :

I am a new Associate Sponsor and longbow hunter and got tired of using inferior shooting tabs that have finger holes that are usually too tight and I don't like 3 fingered gloves as I usually wear gloves when hunting and the 3 finger gloves don't fit over other gloves. I looked at Olympic style competition tabs and came up with a design that works extremely well.

My tabs feature the following:
*3 layer construction
Backing layer--is supple but strong tanned bison hide.
String layer--High Quality Tight Grained Leather
Palm stiffener is made from Vegetable Tanned Leather--Choose from Rigid or Limber.
*Hand Stitched
*Completely adjustable--this tab utilizes a 1/8" shock cord finger loop with a cord lock that allows you to use bare handed or with a thick glove in cold weather.
*1/4" wide slot--to minimize nock pinch.
*Outlasts other types--(with reasonable care) and gets slicker the more it is used. Although calf hair tabs provide a quick release, most available wear quickly and can be difficult to find that fits right.


In an effort to make this a truly customized tab, please make your selection from the following options:

Shooting Tab Customization

1.) Right or Left Hand
2.) Size: JR (new),SM, MED, LG (Will be confirmed by width measurement) SEE MEASUREMENT PHOTO BELOW
3.) Split Finger or 3 Finger Under
4.) Palm Section: Limber or Rigid (a Rigid palm helps some keep their hand in a proper position much like the Olympic style metal palm tabs).
Colors may vary but all will be earth tones.

These are $27 Shipped (US Only) PayPal and many other forms of payment accepted.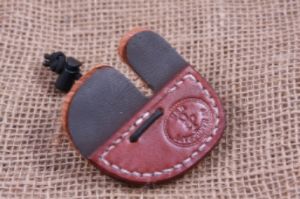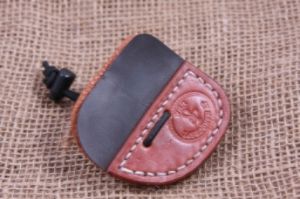 ---
Posted by FerretWYO (Member # 13052) on :

I like those

---
Posted by Redcon1 (Member # 45996) on :

Deleted

---
Posted by Redcon1 (Member # 45996) on :

Removed

---
Posted by Redcon1 (Member # 45996) on :

I now have 3 sizes (SM, MED, LG) in both models (Split and 3FU) to get the absolute best fit. I have come up with a formula based on the width measurement of your 3 fingers. The formula works for both models and takes into account the arrow notch for the split model.

Please provide the width measurement of your 3 fingers when ordering (SEE PHOTO)


---
Posted by Redcon1 (Member # 45996) on :

Check out the product review of my tab by Rob DiStefano:

http://tradgang.com/noncgi/ultimatebb.php?ubb=get_topic;f=31;t=001388

---
Posted by Redcon1 (Member # 45996) on :

Based on a suggestion from a customer, all tabs going forward will have two sets of finger loop holes that yields further customization on where the tab sits on your fingers. I will post a photo showing the new mod. Thanks!

Jeff

---
Posted by Redcon1 (Member # 45996) on :

I have also added a new size: JR. This is primarily for youth and smaller framed women and come in both Split Finger and 3FU. Thanks!

Jeff

---
Posted by Redcon1 (Member # 45996) on :

Fall Hunting Season is right around the corner and I would love to build one of my custom tabs for you. Good Shooting!!

Jeff

---
Posted by Redcon1 (Member # 45996) on :

Christmas time is a great time to have me make you a customized tab! Happy Holidays...Merry Christmas!

Jeff

---
Copyright 2003 thru 2018 ~ Trad Gang.com ©

Powered by Infopop Corporation
UBB.classic™ 6.7.1